Ballot 23: Tim Wakefield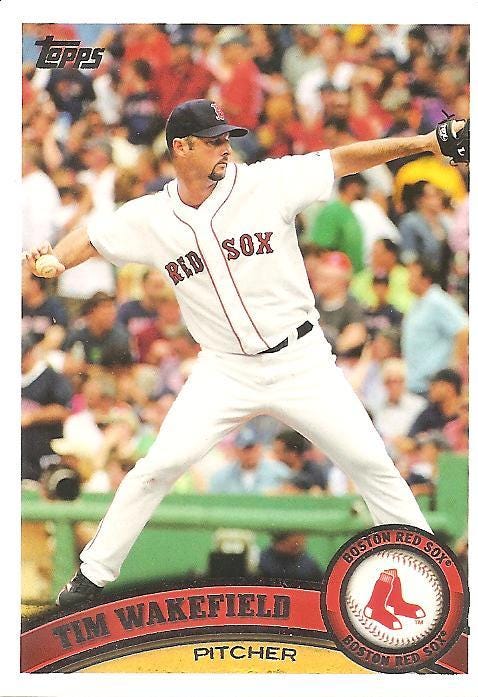 Tim Wakefield
Played 19 years for two different teams
All-Star won exactly 200 games in his career 34.5 WAR, 3.9 WAA
Pro argument: Great knuckleball pitcher of his time.
Con argument: His knuckleball got hit a lot.
Deserves to be in Hall?: No
Will get elected this year?: No
Will ever get elected?: No.
* * *
Knuckleballs are the closest thing to witchcraft that I know. As part of my research*, I have come to the conclusion that there are three basic kinds of performance magic.
*Don't know if I mentioned this, but I'm writing a book on Houdini in today's world.
First, there is the magic trick. This can be a simple or complicated trick, that doesn't matter ... what makes it a magic trick is the secret. The magician knows something you do not and uses that information through sleight of hand or misdirection or optical illusion, through mirrors or strings or elaborate machinery, to spark surprise and awe and happiness.
Good magic tricks ARE wonderful ... that is until you learn the secret. Then, for most people, they lose their astonishment (OH, you had the deck stacked the whole time, well, what's the fun in that?). This is why revealing magic is not just forbidden in the magic community, it's plain wrong. It subtracts wonder from a world where wonder is already in short supply.
Second, there is magical art. These are bits of magic that become no less impressive even if you understand how they are done because it is the skill of the performer that makes it awesome. Teller of Penn and Teller does a gorgeous illusion with coins and goldfish.
This is such a beautiful trick that knowing the secret does not diminish it at all. Teller is like Yo Yo Ma on the cello or Louis CK at the microphone or Jennifer Lawrence in front of a camera or Francisco Lindor ranging left for a ground ball or Steph Curry with a split second to shoot. Even if we know HOW they do it, the act remains magical.
And then, third, there's witchcraft. This is a different thing. Witchcraft happens when the magician can show you the secret -- absolutely show you step by step by step how it's done -- but the thing itself still remains beyond your grasp. You still can't do it. You still can't understand it.
Tim Wakefield could take a round baseball with stitches of thread, the sort of baseball you and I have thrown all our lives, and with the simplest of motions make it dance so violently that a professional baseball player couldn't CATCH IT much less hit it. There's no way to comprehend that no matter how many times you see it, no matter how thoroughly you understand aerodynamics, no matter how many knuckleballs you try yourself ("Hey, I think that one moved!").
That is witchcraft. Wicked witchcraft.
Yes, it's true, Wakefield is not the only person who could it. There have been a few others. In the last 75 years, there have been, I would say, nine prominent Major League knuckleball pitchers.
1. Phil Niekro
2. Joe Niekro
3. Hoyt Wilhelm
4. Charlie Hough
5. Tim Wakefield
6. Tom Candiotti
7. Wilbur Wood
8. Bob Purkey
9. R.A. Dickey
There have been a handful of others who dabbled in the dark arts -- Jim Bouton came back as a knuckleballer, Steve Sparks threw it, Gene Bearden, Steven Wright throws one now - but basically it comes down to those nine. In 75 years. I have thought about writing a fantasy book called "The Nine Knuckleballers," in which wizards are born to use their great powers to change the world. Instead they use them to get batters out and make catchers look foolish.*
*Publishers can reach out to me here.
Wakefield began his life hating the knuckleball. It's a sweet story. He and his sister Kelly always wanted to play catch with their Dad, Steve, who had promised himself he would never say no to a game of catch. Noble thought. Of course, as a Dad who has made similar promises to my own children, you still have to find ways to escape or else you will spend your entire life doing nothing but playing board games or watching "Friends" reruns. Steve's way of escaping was to start throwing knuckleballs in those games of catch.
"Dad," little Tim would yell. "Stop!"
"Dad," he would scream, "Seriously. Stop. It's not funny."
"DAD! QUIT IT! THROW THE BALL FOR REAL!"
Eventually, Tim would say he'd had enough of knuckleball catch, and Steve would get to go inside and relax.
After a while, Steve showed Tim how to throw the knuckleball so that he too could irritate and infuriate his friends. Hey, my Dad taught me a couple of card tricks and how to juggle. It's kind of the same thing. Tim had his own baseball life, a real baseball life. He was a hitter. At the Florida Institute of Technology, Tim hit a school-record 22 home runs his junior season. He was taken in the eighth round by Pittsburgh as a first baseman. He was going to be a big league slugger.
He just threw those knuckleballs to teammates to drive them crazy.
"Wake," his Watertown manager Stan Cliburn used to tell him, "quit goofing off. Throw the ball right."
It was a parlor trick, a fun illusion ... that is until Tim Wakefield hit .189 with no power for Watertown in his first year. When you hit .189 with no power as a first baseman in low-A ball, well, the next thing that happens is you get released. And The Pirates were ready to release him. But then they had that quirky thought: "Hey, what about that knuckleball he throws around as a joke? Maybe he could do something with that thing."
Wakefield did not want to give up hitting, of course. But, he quickly realized -- hitting had already given up on him. If he wanted to stay in baseball he would need to harness that voodoo pitch.
In his first full year as a pitcher, in Salem, Virginia, he went 10-14 with a 4.73 ERA, which doesn't seem all that good on the surface. But the Pirates were blown away. He had never thrown the knuckleball seriously, but already he threw it with so much movement that hitters often looked foolish. They weren't bothered by the walks or the home runs allowed. They could see: the black magic was there.
Wakefield made it to the big leagues in 1992, and he was terrific. He started 13 games down the stretch for a Pittsburgh team in a pennant race, and the Pirates won nine of them. He gave up just 76 hits in those innings, finished with a 2.15 ERA. He even got a couple of first place Rookie of the Year votes even though he played less than half a season. He pitched twice in the National League Championship Series against Atlanta ... and won both games. This was Harry Potter on the first day of flying lessons.
And then, well, like with any magical story, it all went horribly bad. One year later, the knuckleball betrayed him. He could not throw it for strikes. Hitters teed off on it. Sure there were days when he commanded the disobedient pitch -- he threw back-to-back shutouts to end the season, a five-hitter against the Cubs and a four-hitter against the Pirates. But there was s more dreadful days. The Pirates -- the team that had discovered that Wakefield knuckler -- lost faith. They sent him back to Buffalo, where he was dreadful. And then they released him. Wakefield was devastated.
Boston quickly signed him and put him on a program with the magical brothers act, Phil and Joe Niekro.
Wakefield would pitch for Boston for the next 16 seasons. It began in glory. His first year, the Red Sox won 18 of his 27 starts, the league hit just .227 against him, he had a 2.95 ERA and finished third in the Cy Young voting. He looked like he would be a star.
The next year, his ERA ballooned to 5.14, he walked 90, he gave up a staggering 38 home runs.
Hey, this is the story of a 66-mph pitch that dances to its own rhythm. Through 16 years, Wakefield saw fire and he saw rain. He saw sunny days that he thought would never end. He saw lonely times ... well, hey, James Taylor is a Red Sox fan. He pitched more than 3,200 innings in his career -- 3,000 of them with the Boston Red Sox.
He walked a lot of batters (1,205 -- 51st all time). He hit a lot of batters (186 -- ninth all time). He threw a lot of wild pitches (134 -- 50th all time) and he singlehandedly caused SEVEN different Boston catchers to lead the league in passed balls at some point.
But he also won 200 games, struck out more than 2,100 hitters, and pitched until he was 44 years old. He pitched regularly for the Red Sox team that ended the drought. The only two pitchers who won more games for the Boston Red Sox are Cy Young ... and the guy who won the most Cy Young awards, Roger Clemens.
Witchcraft.
As the years go on, you will sometimes hear a pitcher called the last knuckleballer, sort of like the last Jedi. Don't believe it. The wonderful thing about the knuckleball is that a new wizard always comes along. Now it's Steven Wright. Soon it will be someone else. This is the joy of baseball ... and magic ... and life. Someone will always come along to baffle the mind, pitch on the edge, drive catchers out of business and make us all believe again.