Ballot 22: J.D. Drew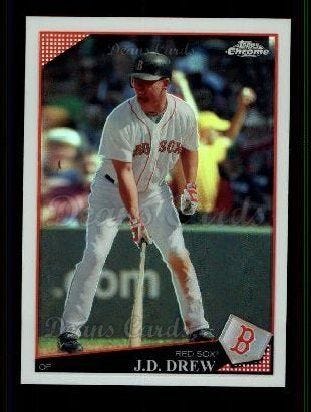 J.D. Drew
Played 14 years for four different teams
All-Star hit 242 home runs and twice had OPS seasons over 1.000. 44.9 WAR, 25.0 WAA
Pro argument: Good all-around player whose 25 wins above average is better than dozens of Hall of Famers.
Con argument: He couldn't stay healthy long enough to put up Hall of Fame numbers.
Deserves to be in Hall?: No
Will get elected this year?: No
Will ever get elected?: No.
* * *
J.D. Drew was one of the first Scott Boras clients to crash against the system. Drew was all-everything as a junior at Florida State. He won just about every award -- the Dick Howser, the Golden Spikes, the Sporting News award, the Baseball America Award, All-American, everything. He hit 30 home runs and stole 30 bases, he hit .455, this guy put the "Can't" in "Can't Miss."
And so Philadelphia drafted him second overall in the 1997 Draft. (behind fireballer Matt Anderson) and offered him some deal around $2 million. This is generally how things were done then before Scott Boras came along. Draft a star. Offer him $2 million. Go celebrate.
Scott Boras said Drew wanted $10 million.
The Phillies were outraged by this blasphemy. What? Ten million? He had never played a single game in the big leagues! Madness! Outrageous! They only slowly and reluctantly raised their offer until it was around $2.6 million, the largest draft bonus ever.*
*Technically, the largest draft ever was more than $10 million in 1996 to another Scott Boras client, Matt White. But that was a different situation; Boras used a draft loophole to make White a free agent. The Phillies offer was the largest ever for a drafted player.
Boras countered by saying Drew wanted $10 million.
Well, the Phillies had enough. Whatever, they said. Go on and sit it out. Have fun NOT playing baseball. So Drew went to play ball for the St. Paul Saints, and he re-entered the draft the next year, got drafted by St. Louis, and got more than twice the money than Philadelphia had offered.
Offbeat story: I remember asking Kansas City Royals general manager Herk Robinson in 1998 if he would consider drafting Drew the second time around. The Royals were basically at the bottom of the barrel at that point, and they had the fourth pick in the draft. No, they certainly did not have the money to pay Drew what Boras wanted, but if they drafted Drew they would have something else: Leverage. I mean: Was Drew really willing to sit out ANOTHER YEAR? To me, drafting Drew seemed like a bold, all-in poker move.
Herk Robinson, however, was not a poker player. He called me crazy, and I probably was.
Instead, the Royals drafted a different Boras client, Jeff Austin, who held out seven months, and, in the Royals' opinion, lost quite a bit of his stuff during the holdout. He was supposed to be Major League ready, but instead he stalled and ended up making only seven big league starts. Well, such was the Royals' life in those days.
J.D. Drew made it to the big leagues with St. Louis and had his first J.D. Drewish season* in 2000 -- that is to say, that year he hit .295/.400/.479, with 18 home runs, he stole 17 bases, he played good defense and, somehow, he made almost nobody happy.
*Funny, he doesn't look Drewish.
Why did J.D. Drew always feel like a disappointment? Well, sitting out a year for more money probably didn't help perceptions (they booed him mercilessly in Philadelphia). Then, there were the injuries. Drew just could not stay healthy.
Guess in how many of Drew's 14 seasons he got 500 at-bats.
Answer: One.
But even more than the early holdout, even more than the injuries, there was a whisper that followed J.D. Drew his whole Major League career. The whisper said: "He doesn't care enough." Drew's talent was overwhelming. He could hit. He had power. He could run. He could throw. But, people whispered, there was something missing. He was aloof. He showed little-to-no enthusiasm. Where was the passion? Where was the grit? Where was the heart? This stuff is deadly serious inside baseball.
Again and again and again and again people around baseball moaned: "Why doesn't J.D. Drew want to be a great player?"
In 2001, Drew hit .323/.414/..613 with 27 homers -- that's Hall of Fame stuff -- but it did not change the perception. Why? He only managed to play 109 games. He hit .154 in the National League Division Series against Arizona. The whisper only grew louder.
In 2003, the whisper went public. In Buzz Bissinger's book "Three Days in August," Cardinals manager Tony La Russa made the point repeatedly that Drew was wasting his great talent, that he was underachieving like few La Russa had ever seen.
"Later that night …" Bissinger wrote of a dinner he and La Russa had together, "(La Russa) was brooding about Drew, wondering once more whether there was some way to get to him, let that talent pour out in terrific torrents. He pulled out an index card and began to write down possible things to say to him, all of which he realized he had said already."
Later that same year, the Cardinals traded Drew to Atlanta in a deal that brought over Adam Wainwright.
Drew was a perfect fit in Atlanta. For the first and perhaps only time in his career, he looked entirely at home. It helped, of course, that he stayed healthy -- this was his one 500 at-bat season -- but it was more than health. He had gone to high school in Georgia, and of course he went to college at Florida State, and so this really was where he grew up.
That year Drew hit .305/.436/.569 with 31 homers, 118 runs, 118 walks, 93 RBIs, 12 stolen bases and excellent defense. It was a season that in many years would win the MVP. He had an 8.3 WAR that year. Yes, J.D. Drew had arrived, and while he still was not running around like Willie Mays out there, well, he looked about as happy as he had looked playing baseball. It seemed like Atlanta was exactly the right place for him.
He promptly signed a five-year, $55 million deal with a team as far away as possible, the Los Angeles Dodgers.
Then, more Drewish stuff. He missed half of his first season with the Dodgers. But in 2006 he had another nice year. He hit .283/.393/.498 with 20 homers, 100 RBIs. The Dodgers won 88 games and made the playoffs for only the second time in 10 years. Drew told reporters how happy he was. He told the Dodgers how happy he was. It seemed Los Angeles was exactly the right place for him.
He promptly opted out of his deal and signed a five-year $70 million deal with a team as far away as possible, the Boston Red Sox.
I don't mean to make this sound like Drew was greedily chasing money … in my book ALL players should get every penny they're worth. Every penny they do not get just stays in the hands of billionaire owners, so I always root for players to max out their deals. Drew did the smart financial thing signing with the Dodgers and then opting out of the deal. Scott Boras knows his business.
But it did add to the already ubiquitous perception that Drew did not care about baseball or about becoming a great player.
Drew hit .265/.370/.455 in his five years with Boston, he made his only All-Star team, and he was part of the 2007 World Championship team. And all those things that people had said about Drew his entire career -- he's aloof, he's not tough enough, he's all about the money -- they said twice as often in New England.
After the Red Sox disastrous meltdown in 2011, Drew quietly retired. When asked a year later if he missed the game, he said that he missed the competition but: "I definitely didn't miss the stress and the pressure and the sleepless nights over whether I could hit a curveball or not."
Did J.D. Drew really have sleepless nights over curveballs? He never showed that side of himself, but it certainly could be true. It's just one more fascinating question about a fascinating career.
J.D. Drew's 25 wins above average place him in the stratosphere of great players (Billy Williams, Dave Winfield, Enos Slaughter etc), but most will never think him as a great player. He made $109 million playing baseball, played in the All-Star Game, won a World Series ring and posted a career 125 OPS+ (same as Yogi Berra and Ron Santo) and yet the enduring memory is of him as an underachiever.
He suffered many injuries playing the game, and still people will think of him as playing soft.
This is simply the Ballad of J.D. Drew. I remember one scout talking about this scrappy underdog player that he loved, and the scout said, "Man, I wish I could put that guy's heart and guts in J.D. Drew." It sounded good, this notion that someone else with J.D. Drew's talent would have become legendary, but I didn't buy it then, and I don't buy it now. J.D. Drew was an outstanding Major League Baseball player, one of the 500 best who ever played this game. That's not nothing.
Drew became an outstanding Major League Baseball player because of his talent … and his heart … and his guts. You can't separate those things. It's all one package.