Ballot 21: Mike Cameron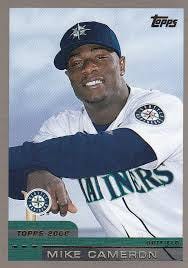 Mike Cameron
Played 17 years for eight different teams
All-Star won three Gold Gloves, hit 278 home runs. 46.5 WAR, 20.8 WAA
Pro argument: Played spectacular center field, ran bases well and hit a lot of home runs (four in one game!)
Con argument: Couldn't quite make enough contact to hit for average or get on base at a Hall of Fame level.
Deserves to be in Hall?: No
Will get elected this year?: No
Will ever get elected?: No.
* * *
I am exactly six years older than Mike Cameron. Have you noticed that when you look at someone's baseball card -- or facts about them on Wikipedia -- if they share your birthday that just jumps out at you as if the letters are in bold or a different color? Mike Cameron was born on January 8, 1973, six years after I was born.
I fear that I have already bored you on that subject.
Mike Cameron did not play baseball his junior year at LaGrange High School in Georgia. His grandmother, Fannie Mae, made him sit out because he failed chemistry. There's something so warm about that story, something so touching; Cameron had moved in to live with grandmother when he 7, not because his parents could not care for him (they lived right down the street) but because her husband died, and he did not want her to be alone. She, in turn, insisted that he become a certain kind of man.
Because he did not play at all as a junior, scouts were only vaguely aware of Cameron when he played ball his senior year. The Chicago White Sox took in him the 18th round between a junior college player named Brian Pelka and a Kentucky senior named Rick Noton. Cameron was sent to the South Bend where he hit .228. He was sent back to South Bend, and he hit .238. He was moved up to high-A Ball in Prince William. He hit .248. Yes, improvement came slowly, by tenths of a point.
Then he went to Birmingham in Class AA and hit .249 -- an improvement of one hundredth of a point.
His breakout year was the next year, 1996 in Birmingham. He was on a team with Hall of Fame ballot-mate Magglio Ordonez and the irrepressible Pete Rose Jr. Cameron hit an even .300, walked 71 times and slugged .600 -- 34 doubles, 12 triples and 28 homers. He also stole 39 bases and played a rangy centerfield. The White Sox had not thought much of his baseball future ... but they were impressed enough by that season to give him the starting centerfield job in 1997, when he was 24 years old.
And so began the turbulent baseball life of Mike Cameron. Frank Sinatra once said of himself, "I'm an 18-karat manic-depressive ... with an over-acute capacity for sadness as well as happiness." Cameron's game had an over-acute capacity for happiness and sadness too. He did not do anything just OK. He was a great outfielder. He couldn't make consistent contact. He was a fantastic baserunner. He would go into death-defying slumps when it seemed anyone could get him out. He could hit with massive power. He never hit .275 for a season in his career. And so on.
And then, as you probably remember, Cameron moved around a lot. A lot. He was traded to Cincinnati for Paul Konerko. He was traded to Seattle for Ken Griffey. He signed with the Mets and was traded to San Diego for Xavier Nady. He signed with Milwaukee. He signed with Boston. He was bought by Florida.* He signed one last time with Washington but retired before the season began.
*Rick: I don't buy or sell human beings.
Ferrari: That's too bad. That's Casablanca's leading commodity.
Cameron never played more than four seasons with any team. He got almost 8,000 plate appearances in the big leagues and the break down like so:
Seattle: 32%
San Diego: 16%
Milwaukee: 15%
White Sox: 12%
Mets: 11%
Cincinnati: 8%
Boston: 4%
Cameron is probably one of the five best players to play for eight different teams in his career. The best is obviously Rickey Henderson, who played for 11 teams. Then you have Gary Sheffield and Kenny Lofton and Bobby Bonds. Cameron is probably next after that.
When you have so many talents and so many flaws and your career is so divided among so many teams, well, it's all but impossible to come up with a clear picture. Cameron never had a season as good as J.D. Drew's 2004 ... or Derrek Lee's 2005 ... or, probably, Melvin Mora's 2004. But year after year, season after season, fly ball after ball ball, he was the better player than any of them.
One thing that was clear was how much fun it was to watch Cameron play the outfield. He had this joy about him, this magical talent for transmitting that joy through his play. Lots of Major Leaguers love playing baseball -- the vast majority of them do -- but it's a whole other thing to LOOK like you love playing baseball. There's so much pressure. There's so much tension. Plus, it's work -- it's serious business. I love writing, but I know that I do not look like I love writing while I do it.
Cameron LOOKED like he was having the best time more or less every moment of every game.
This gift made him a fan favorite in Japan for a time. Cameron played next to the young Ichiro Suzuki, and of course in those days everyone in Japan was watching Seattle games. And they so loved watching Cameron in Japan that, at one point, they invited him to take part in the nation's most popular television competition.
And then, yes, there was Cameron's four-homer game. The date was May 2, 2002, it was at what was then called New Comiskey Park, and the ball was flying out. I mean the ball was FLYING out. That's a home run ballpark anyway, but on that day it was ridiculous.
Jon Rauch started for the White Sox -- he lasted one-third of an inning. It was about as bad an outing as any pitcher has had. He started by hitting Ichiro with a pitch. Then he gave up a home run to Bret Boone. Then he gave up home run No. 1 to Cameron -- straightaway center field.
John Olerud doubled. Ruben Sierra reached on an error by White Sox second baseman Ray Durham ("A little help here, Ray!"). Carlos Guillen lined a single. Mark McLemore reached on a bunt single (Come on Mark!). Ben Davis lined a single. And finally, finally, Jeff Cirillo hit a long sacrifice fly ball for the first out of the inning.
It was after that fly ball that Rauch was pulled from the game. Weird.
In came Jim Parque. He got Ichiro to ground out ... and then he gave up a second homer to Bret Boone and a second homer to Mike Cameron. Cameron's blast was to almost the exact same spot as the first one. Remember, this was just the first inning.
Cameron homered again in the third off Parque (after Boone went down swinging -- no doubt swinging about as hard as he ever had in his life). Cameron yanked this one to left, a no-doubter. So that's the third homer in just the third inning.
Cameron homered the fourth time in the fifth off Parque (after Boone AGAIN went down swinging -- no doubt swinging as hard as he ever had in his life). This one was to straightaway center again, a little bit longer than the first two.
Four homers in five innings; Mike Cameron had a very real chance to become the first player and still only to hit five home runs in a Major League game.
He came up twice more. In the seventh, Mike Porzio plunked him with a pitch because of course he did. And then in the ninth, Cameron launched a line drive to right that pushed Jeff Leifer back toward the wall, but the ball did not quite carry out.
That was probably the most famous moment of Cameron's sprawling career -- well that and the time when he crashed into Carlos Beltran when they were both diving for a ball in the outfield -- but there were dozens and dozens of small moments, home runs he brought back in, big looping strikeouts with two on and two out, gorgeous sprints home from second on singles. And he exuded happiness all the while. Mike Cameron was not quite a Hall of Famer but he made baseball more fun to watch, and that's a pretty good way to be remembered.