Ballot 20: Magglio Ordóñez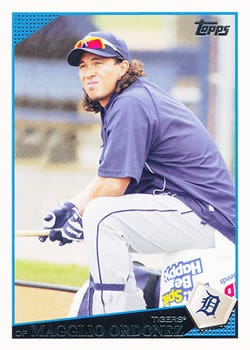 Magglio Ordóñez
Played 15 years for two different teams
Six-time all-star won a batting title and hit 294 career home runs. 38.5 WAR, 11.1 WAA
Pro argument: Could really hit. His .309 career average is 24th all-time among hitters with at least 7,500 plate appearance.
Con argument: A bit too one-dimensional; wasn't good enough for long enough.
Deserves to be in Hall?: No
Will get elected this year?: No
Will ever get elected?: No.
* * *
Magglio Ordóñez would absolutely kill the Kansas City Royals. Every baseball fan in Kansas City would talk about it. There were a handful of players -- Ordóñez, Jim Thome, Justin Morneau and so on -- who would always seemed to light up just a little bit when they played Kansas City. Ordóñez was the king of them all.
The Royals obviously faced Ordóñez a lot because he played his whole career for the White Sox and Tigers and so was always in Kansas City's division. And you didn't even need to look at his statistics to know that Ordóñez LOVED hitting against the Royals. Homers. Doubles. Whatever he wanted. It looked so easy for him with that splendid right-handed swing -- you wondered how the Royals EVER got the guy out.
Sometimes in the press box, you would hear someone say something like, "Man, I'll bet Ordóñez would love to play the Royals every day. If he only faced the Royals, he'd be the greatest hitter in the history of the game."
As it turns out, Ordóñez hit .310/.355/.492 against Kansas City.
He hit .309/.369/.502 against everybody.
In other words: He was exactly the same player against Kansas City as he was against every other team. The man could hit no matter the park, no matter the competition.
* * *
There was something that struck me while watching the movie "Moana." You probably know that the Rock plays Maui, a busted-down demigod who has made a mess of the world and is given a chance to redeem himself. Well, I'm looking at Maui …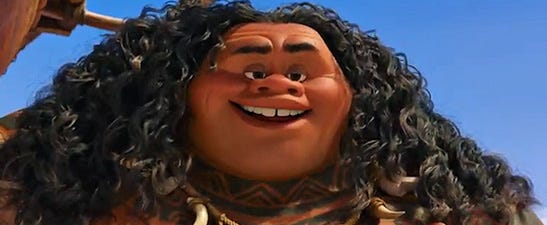 And then it hits me …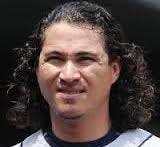 * * *
Magglio Ordóñez WAS a bit of a demigod, at least at the plate. He grew up in Venezuela and was signed when he was 17. He was not an instant sensation -- he didn't hit at all his first couple of years in the minors and didn't hit all that much for two more years after that.
Then in 1997, as a 23-year-old, he reached Class AAA Nashville, and he hit .329 and he never stopped hitting after that. In his 10 full seasons in the Majors -- seasons where he got at least 500 plate appearances -- he hit .300 eight times. He hit .298 one of the other two seasons.
Speaking of Kansas City, Ordóñez was often compared to the Royals Mike Sweeney in those early days -- you know, two young right-handed power hitters who were not great in the field but could flat-out hit. There's actually something to that:
From 1999 to 2003, Ordóñez hit .312/.372/.546 and averaged 40 doubles, 32 homers, 118 RBIs per season. He had a 134 OPS+.
Those same five seasons, Mike Sweeney hit .320/.395/.524 and averaged 34 doubles, 24 homers and 103 RBIs per season. He had a 132 OPS+.
They weren't the SAME player -- Ordóñez was a better athlete. You could probably win a bar bet with the knowledge that Ordóñez once stole 25 bases in a season. He could run a bit in those days. But the big difference between Ordóñez and Sweeney is that Mike did not really have a second half to his career. The injuries wore him down. He hit .300 with 21 homers and a .517 slugging percentage as a 31-year-old. He never got 300 plate appearances in a season after that.
Ordóñez seemed destined for the same ending. He badly hurt his knee in 2004 and did not play in after July. The Tigers improbably gave him a five-year, $75 million deal, a seemingly bizarre choice for a 31-year-old outfielder with a blown-out knee. Sure enough, Ordóñez promptly strained his abdominal muscle and missed three months.
But then, Ordóñez started crushing baseballs again. For the remainder of his four-year deal, he hit .323/.385/.503, won a batting title, made two All-Star teams and was front and center for the Tigers ascendancy after almost two decades of awfulness.
We should talk about that batting title for a minute; in 2007, Ordóñez hit .363 with a league-leading 54 doubles, 28 homers, 117 runs and 139 RBIs. He finished second in the MVP balloting to A-Rod, who mashed 54 homers.
It's that .363 average that stands out, of course -- it's the second-highest average for any player over the last decade (behind Joe Mauer's .365 in 2009).
Batting average, as a statistic, has taken a beating over the last few years -- and rightfully so because it is illogical. Batting average refuses to acknowledge pretty important things like walks. And it calculates capriciously. If you hit a ball that probably should have been caught, batting average gives you an out even though you didn't make an out. If you bunt a runner from first to second, batting average will let you slide on the out you made, but if you dribble a grounder that moves a runner from first to second, that out goes on your permanent record. And so on.
Still, there's something nostalgic about high-average seasons like Ordóñez's 2007 season … because they're basically gone.
Decades with .360-plus batting average.
1970s: 4
1980s: 6
1990s: 10
2000s: 8
2010s: 0
The main reason is those strikeouts. Everybody, even the very best players (ESPECIALLY the very best players) strikes out a lot. And no player who has ever hit .360 or better has had 100 strikeouts. It's basic math -- it's POSSIBLE to hit .360 with 100 strikeouts, but it would be very hard because you give away too many free outs.
Take Joey Votto -- a player who has closely studied Ted Williams. Last year, he hit .326, the fourth-highest total in baseball. And he struck out 120 times. That's not a particularly high strikeout total in today's game but do you know how many times his hero Teddy Ballgame struck out in his .400-season in 1941? He struck 27 times.
If Votto had struck out 27 times, that would have meant putting 93 more balls in play. Based on Votto's batting average on balls in play, that likely adds 34 more hits to his total.
Votto with 34 more hits would have hit .387.
Now, that's obviously an extreme example but the reality is that there just aren't many balanced hitters like Magglio Ordóñez today, players who hit with power even while not striking out like crazy. Ordóñez never struck out 100 times in a season. He never struck out 90 times in a season. He only once struck out 80 times. He grew up in a game that still had sluggers like that -- Albert Pujols, Todd Helton, Larry Walker, a couple of other players on this year's ballot, Gary Sheffield and Vlad Guerrero. Edgar Martinez only struck out 100 times once in his career. You get the point.
Those players are pretty much gone. Of the 35 players who slugged .500 in 2016, 29 struck out at least 100 times. Daniel Murphy could be developing into that sort of throwback hitter; his power jumped this year and he doesn't strike out much at all. Mookie Betts is not a big guy, but he flashed a lot of power and struck out 80 times. Jose Altuve is even smaller than Betts, but he too showed big power without many strikeouts.
So, the Ordóñez way might be coming back into style. Batting average might not mean what is used to, but it would still be fun to see people hitting .360 and .370 again.