Ballot 16 (tie): Trevor Hoffman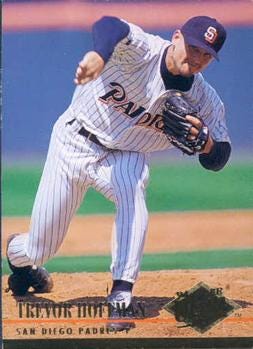 Trevor Hoffman
Played 18 years with three teams
Seven-time All-Star, led league in saves twice, second all-time in saves with 601. 28.0 WAR, 13.7 WAA
Pro argument: One of the most prolific and productive closers in baseball history.
Con argument: Argument is really built around saves, a controversial statistic.
Deserves to be in Hall?: Depends how you feel about closers.
Will get elected this year?: 50% chance
Will ever get elected?: 98%
* * *
One of the coolest things I ever saw on a baseball field was not entirely a baseball thing. It happened on October 20, 1998, when the San Diego Padres were playing the New York Yankees in the World Series. There was one out in the eighth inning.
And all of a sudden a bell started ringing.
And the crowd began going absolutely berzerk.
And ... oh, man, it was cool.
I had not known anything about Trevor Hoffman's Hell's Bells entrance. Nothing. I guess I was distracted that baseball season chasing around Mark McGwire and Sammy Sosa; I had not heard anything about this thing. On July 25 of that year, Hoffman came into a game at Qualcomm Stadium with the Padres leading Houston by a run, 6-5. Hoffman had been fantastic all season (he had not blown a single save), but he was really good in July -- he had not given up a run yet in the month. The Padres were having their best season since, well, ever. Everything was coming together in San Diego, and Hoffman was the perfect symbol for the confluence.
And there has never been a song -- not even Mariano Rivera's fantastic "Enter Sandman" or Ricky Vaughn's "Wild Thing" -- that more perfectly fit the closer. That song has the essence sense of doom you want, you need, when a relief pitcher is coming in to finish off the game.
Here's what that song says: Don't even THINK about coming back. I mean ... PERFECT. First those bells ringing ominously. Something dangerous is coming. And then the melody slowly up, slowly builds up, slowly builds up ... it's absolutely perfect.
And as I understand the story -- from Bob Chandler's Tales from the San Diego Padres -- it was a young Padres' salesman named Chip Bowers who came up with the idea of using Hells Bells. Chip Bowers: You, my friend, have a special place in baseball history. The Padres pulled out the song on the day that Hoffman was attempting to tie Rod Beck's Major League record of 41 consecutive saves. And with those bells at his back and the crowd properly hyped, Hoffman pitched a scoreless ninth, striking out Moises Alou to end the game. A legend was born.
Well, it should be said that the legend of Hells Bells did have a few bumpy moments. The very next day, when Hoffman was trying to break Beck's record, Hells Bells played, and the crowd went crazy and ... Hoffman gave up a game-tying home run to, yes, Moises Alou. So it didn't always work.
But it MOSTLY worked. I mentioned this stat before -- Hoffman had a fantastic 91% save conversion rate in San Diego. With Hells Bells playing, it was 93%.
The fact that any of this happened for Hoffman is a great baseball story, one of the best -- Hoffman was an 11th round pick by Cincinnati as a shortstop. He never pitched in high school. He never pitched in college. He signed for $3,000 with the Reds and promptly proved without any room for doubt that he could not hit well enough to play in Class AA, much less Major League Baseball. All he had wanted was to follow the path of his brother, Glenn, who played nine years in the big leagues as a shortstop and third baseman. That, everyone including Hoffman soon realized, was just not a possibility.
"I couldn't handle the daily grind," Hoffman told SI's Tom Verducci."I could not take that 0-for-four and just put it away."
Hoffman's Class A coach Jim Lett told him to give pitching a try -- that happens now and again when an everyday player with a bazooka for an arm flames out. Tim Wakefield picked up the knuckleball. Troy Percival became a flamethrowing closer. But it's never worked quite as well as it did for Hoffman for a very specific reason: He found a pitch.
At first, he was a pure flamethrower. When he was 23, he pitched in Class A and Class AA and threw 95-plus. He struck out 75 in 47 2/3 innings as a closer. There were some scouts who thought he could become a Jeff Reardon type, heat and sliders.
The Reds management didn't buy it. They left him unprotected and the Florida Marlins, led by Dave Dombrowski at the time, took Hoffman in the 1992 expansion draft. He made the Marlins out of spring training and pitched well enough to interest the San Diego Padres. He was part of a five-player package Florida sent to San Diego for Gary Sheffield. When he first pitched for San Diego, he heard some boos because people weren't crazy about trading away Sheff. By the middle of the next season, though, Hoffman was the Padres closer.
He was still a gas-thrower then. It wasn't until after the 1994 season that Hoffman found his true calling. His arm was hurting -- and his velocity was down. He'd thrown his last 95 mph fastball. He had probably thrown his last 90 mph fastball. Hoffman realized he needed something more and so he developed his change-up, working extremely hard to make sure that his motion for the fastball and change was EXACTLY the same.
That was the pitch that will get Hoffman into the Hall of Fame. The Hoffman change is one of the great pitches of the last 50 years -- his perfect motion made it utterly impossible to tell if he was throwing his high-80s fastball or his high-70s change. And because they looked exactly the same, the fastball was like a rocket ship and the change-up was like Bugs' Bunny's perplexing slowball.
Hoffman was always one of baseball's most likable players, both for teammates and fans. Few appreciated the baseball life the way Hoffman did. He'd grown up around the game. His father, Ed Hoffman, had gained some local fame in Anaheim as the Singing Usher. Trevor used to talk about the joy of going to ballgames with his mother and father and brothers and how sometimes when the Angels were strapped, they would ask Ed to sing the National Anthem. "My father," Trevor said, "was the original closer."
And so, he always seemed to be having the time of his life. Everyone wants to be around that sort of enthusiasm. Everybody wants to root for that kind of enthusiasm.
I think that's part of the reason why it was all so magic on that October day in 1988 -- the bells began to ring and the noise was overwhelming. I felt goosebumps popping everywhere. It was such a cool moment, thoroughly unexpected. The Padres were in the World Series! Trevor Hoffman had become one of baseball's best closers! It was 70 degrees and perfect and the Padres were beating the invincible Yankees and what a time to be alive.
And, no, it doesn't really matter that Hoffman couldn't hold on to the lead -- he walked Tino Martinez and gave up a three-run homer to Scott Brosius. Well, wait, of course it DOES matter, it matters a lot, it was a low point in a wonderful career. Hoffman never got back to the World Series. But I still remember the bells ringing. I'll bet he does even more.
There's one more story about Hoffman worth telling -- again from Verducci. Hoffman met his wife Tracy in Buffalo when he was playing Class AAA baseball. She was a Buffalo Bills cheerleader, and he had to go through various things just to meet her. But eventually -- and obviously -- they did meet and they go out and they did fall in love and all of that. My favorite part was after their first meeting, Tracy was telling her friends about Trevor. She told them he was a baseball player, but he must not be very good ... he had to go somewhere called Instructional League to learn.