Ballot 16 (tie): Billy Wagner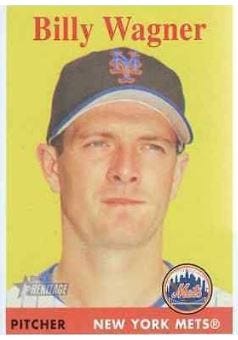 Billy Wagner
Played 16 years for five teams
Six-time All-Star averaged 12 strikeouts per nine innings, saved 422. 27.7 WAR, 16.5 WAA
Pro argument: One of the greatest closers and strikeout pitchers in baseball history.
Con argument: What do you do with relief pitchers?
Deserves to be in Hall?: Depends how you feel about relievers.
Will get elected this year?: 0% chance
Will ever get elected?: 30-40%
* * *
Billy Wagner is right-handed. If you are ever in a situation where you need to motivate people or try to expand someone's view about human possibility, you can start there. Billy Wagner is right-handed. And with his left hand, he threw baseballs about as hard as anyone in the history of this game.
He began throwing left-handed in anger. Wagner's childhood was not easy. He grew up in a tiny farming town in Virginia; his parents married just out of high school. His father went to Vietnam when he was 2. His parents divorced when he was 5. He spent the next ten years of his life bouncing from home to home. When he was 10, he punched his mother's second-husband after he got abusive. When he was 14, he moved into the home of a cousin and felt, for the first time, some kind of stability.
All the while, he would say, he felt this rage that he would unleash by throwing baseballs as hard as he could against a family barn. He had twice broken bones in his arm and right shoulder when he was 7; a friend named Chip had fallen on his arm when they were playing something called hat football. After the cast came off Chip came over for more hat football and broke Billy's arm again.
And so, young Billy Wagner could only throw with all his might when he threw left-handed. And throwing with all his might was the purpose of Billy Wagner's young life.
"When you see that special arm," Tim Purpura, former general manager of the Houston Astros once said of Wagner, "you just know it."
I love that quote because ... it wasn't even Wagner's good arm. What would have happened to Wagner without those hat football injuries? Would he have developed his right arm as well as he did his left? Maybe not (you could even say "probably not) and this leads to an even more intriguing question: Are there others who concentrated their athletic efforts on their dominant arms and legs when the real greatness was locked on the other side? Do all of us have untapped potential in our supposed weaknesses?
There's another fascinating thing about Wagner: He basically taught himself how to throw that hard. That's not too uncommon -- baseball is filled with self-taught fireballers from Walter Johnson to Satchel Paige to Wagner. But here's the thing: When you watched Billy Wagner's throwing motion, you sensed that this was the perfect way to throw a baseball, absolutely perfect, with the glorious leg kick, awe-inspiring balance, and with that power leg drive, the drive that reminded everybody of Tom Seaver. It looked like it came out of a book. But he didn't get any of that out of a book. No coach taught him ("They just said, 'Hey, get on the mound, throw at the mitt and take it from there'). He just figured out how to throw a baseball that hard by, you know, throwing a baseball hard.
No scout or college recruiter made it out to Tannersville, Va., to watch Wagner pitch in high school. He would say that he might have had a chance to pitch at Virginia Tech, but he wanted to play football too so he scraped together whatever money he could and made it to Ferrum College in what the school proudly calls "Historic Virginia." Well, "Historic Virginia" sounds better than "35 miles south of Roanoke."
That turned out to be a good break. Wagner said the Ferrum baseball coach, Darren Hodges, made one small adjustment in his delivery -- his first bit of real coaching -- and instantly he was throwing in the mid-to-upper 90s. Oh the scouts found him after that. As a sophomore, Wagner struck out 109 batters in 51 1/3 innings – that's 19.1 strikeouts per nine innings. The next year, he struck out 133 and Houston drafted him with the 12th pick in the draft.
He was something of an odd prospect – a 5-foot-10 lefty who threw insanely hard but really didn't have a second pitch. He was a starter throughout his minor league career, and he struck out 501 in 415 innings. But when he was called up as a 24-year-old, he was used exclusively as a reliever … and he would be his entire career. He never made a single major league start even though he'd had some success as a minor-league starter. Wagner always said relief pitching better matched his personality anyway. He loathed the anticipation that led up to a start; he used to throw up before games. He preferred being the in pen and just getting the call; it left no time to feel the nerves.
Wagner was an instant sensation in the Astros bullpen. In his first four seasons, he had 101 saves, a 2.35 ERA and he struck out 394 in 252 innings. It's fair to say that baseball had never seen anything quite like him. Through 1999, here are the highest strikeouts-per-nine innings (min. 50 ip).
Billy Wagner, 1999, 14.95 so/9

Armando Benitez, 1999, 14.77 so/9

Billy Wagner, 1998, 14.55 so/9

Billy Wagner, 1997, 14.37 so/9

Rob Dibble, 1992, 14.08 so/9
Wagner was basically doing all that striking out with his fastball. He would throw a curveball once every couple of weeks just to prove that he had one. There was a rumor for a while that Randy Johnson was teaching him the slider, which sent numerous batters into therapy. "He doesn't need a slider," Matt Williams said plainly. That Unit slider didn't really tak (though later he picked one up from Brad Lidge that helped him in the second half of his career). Early on, Billy Wagner was a fastball-fastball-fastball pitcher.
Wagner got hurt in 2000 and had the only subpar season of his career. Other than 2000, Wagner had a sub-3.00 ERA every single year. Other than 2000, Wagner struck out at least 10 batters per nine innings every single year. Wagner ended his career with 11.9 strikeouts-per-nine. It is the highest strikeout-per-nine total for any pitcher ever with 500 or more innings. That speaks for itself.
As far as his Hall of Fame case goes, well, Wagner is hurt by three of factors. One, he bounced around a bit in the second half of his career, pitching for the Phillies, Mets, Red Sox and Braves, and a Hall of Fame case always looks a lot clearer to people when a player has been with one or two teams. Two, Hall of Fame voters have shown a strong interest in saves, and while Wagner saved 422 games – sixth all-time – it pales compared to his ballot-mate Trevor Hoffman's 601 (and it's also less than Lee Smith, who will not get elected, and John Franco, who was off the ballot after one year).
And then there's this: Wagner retired at the height of his powers. He was 38 years old his last year in Atlanta, and he went 7-2 with a 1.43 ERA, 2.10 FIP, 37 saves and 104 strikeouts in 69.1 innings. It was a fantastic season, one of Wagner's best. But he announced in May that he would retire at the end of the season to, yes, spend more time with his family. Unlike the many people who say that, Wagner really meant it. He'd had enough of the criticism, enough of the pressure, enough of the people telling him how to pitch. He wanted to go home and be with his four kids.
In August, when it was clear that he was having an all-world season, Wagner was asked repeatedly if he would reconsider. "I'm retiring," he said. "I don't know how to say it in a politically correct way that anybody's going to believe me. Until I don't show up next year, nobody's going to believe me. Brett Favre (bleeped) it up for everybody."
Even in the months after he retired, people still didn't believe him and pointed out that he had not yet signed the retirement papers. But Wagner really did retire, leaving behind millions of dollars and a bunch of counting stats that might have pushed up his Hall of Fame chances. Mariano Rivera saved 170 games after he turned 39, Trevor Hoffman saved 119, Dennis Eckersley saved 115. If Wagner had done that he'd have saved more than 500 games and might be a better Hall of Fame candidate in the eyes of some voters. He went to be with his family instead.
There's an interesting argument to be made between Hoffman and Wagner. It seems clear that Wagner was the more dominant of the two, but Hoffman was the more consistent. Wagner has the lower ERA and higher strikeout totals, but Hoffman has the impeccable saves record and a longer career of excellence.
I tend to believe if you think one is a Hall of Famer you should also think the other one is – I can't see drawing a line between them unless you are that in love with the save statistic. As of right now, according to Ryan Thibodaux's essential Hall of Fame tracker, Hoffman is getting 72.1% of the vote and Wagner is getting 11%. That doesn't compute for me.