Ballot 14: Jeff Kent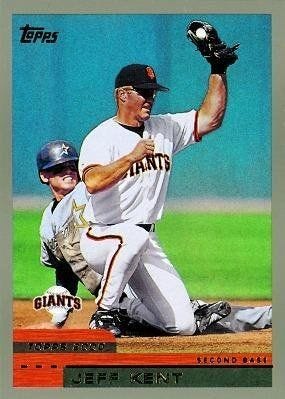 Jeff Kent
Played 17 years with six teams
Five-time All-Star and MVP winner hit 377 homers, most ever for a second baseman. 55.2 WAR, 26.3 WAA
Pro Argument: One of the best offensive second basemen ever.
Con argument: Wasn't a great all-around player.
Deserves to be in Hall?: No idea.
Will get elected this year?: No.
Will ever get elected?: 5-10%
* * *
Let me admit this right up front: Jeff Kent has me stumped. I've spent a lot of time thinking about it, and I think it's the shape of Kent's career that is at the heart of my bewilderment. It also could be that just about nobody liked Jeff Kent.
Kent was a so-so player until he approached 30. He was a mediocre second baseman who couldn't run who popped a few home runs. His core numbers were .269/.324/.455 … he was 5.2 wins better than average … and that was over 2,700 plate appearances, so we're talking an established player.
His comps entering age 29 were:
Kelly Johnson

Dave Nilsson

Neil Walker

Kelly Gruber

Mike Lowell

Bill Hall

Gene Freese

Todd Zeile

Bret Boone

Carlos Santana
OK, so that was Jeff Kent. Fine player. The most WAR any of them had for the rest of their careers – understanding that Neil Walker and Carlos Santana are still playing – was 19.1 by Bret Boone. And Boone's ascendance, you might recall, was a shocker.
From that point on, Jeff Kent hit .295/.365/.516 with 299 home runs, he won an MVP award and he compiled 44.9 WAR which is about as much as the rest of the list COMBINED.
To add to the confusion, Kent had that extraordinary turn during one of the more complicated times in baseball history.
And so, yeah, it's just hard to me to get a handle on Jeff Kent's career.
I guess I should say here: Kent was famously outspoken about PEDs – he at one point called for blood testing. I don't know exactly what that means but it doesn't seem fair to talk about his wild 30s without mentioning it. And his 30s WERE wild, they are more or less unprecedented in baseball history. His 299 home runs from age 29 on is 25th on the all-time list. It came out of nowhere.
Now, there have been other players who emerged in their 30s – Raul Ibanez, Minnie Minoso, Andres Galarraga, Hank Sauer, etc. But you can usually pinpoint a REASON. Ibanez had not really been given a chance. Minoso was in the Negro Leagues for much of his younger days. Galarraga got Coors Field. Hank Sauer had the war and bad luck to deal with.
With Kent, it's all very hard to understand.
Of course, it's the writer's JOB to try to and understand. We can start here: Jeff Kent was an intense ballplayer. I always thought it was telling that the only autograph he'd ever gotten as a kid was John Wayne's --- he never even thought about a getting a baseball player's signature. "I never watched baseball on TV," he told Sports Illustrated. "It's slow and boring. I'm not a fan. Never was."
He was, instead, a perfectionist … and an angry one. He would smash up everything in sight after a strikeout. He was so humiliated by errors that he couldn't even see straight afterward. He played in New York for all or parts of five seasons, and the combination of the New York spotlight and his own self-destructive exactness were a terrible combination. "I didn't hate New York," his wife, Dana, said. "I just hated what it turned Jeff into. It got to a point where anger was consuming him. An unhealthy point."
At the end of his run in New York, the Mets were so frustrated with his second base defense they moved him to third. He was traded to Cleveland and they tried him at first. Nobody seemed to think he could play second base every day. Nobody seemed to think he was worth very much. It was messy, and Kent was miserable … and then in November 1996, the Tribe traded Kent home, to California, to San Francisco near where he had gone to college at Cal.
And it was like starting over. The Giants made him their everyday second baseman. Dusty Baker immediately put him fifth in the lineup, right behind Barry Bonds. By late May, Bonds was moved up one place to third, and Kent was moved into the fourth spot. He was the Giants cleanup hitter. It was an extraordinary mark of confidence for a player who had not resembled a star up to that point in his life.
He had never hit more than 21 homers or driven in more than 80 RBIs.
That first year, he banged 29 home runs, drove in 121 and finished eighth in the MVP voting.
The next year, he hit 31 home runs, drove in 128 and finished ninth in the MVP voting. Those 128 RBIs were the most for a second baseman since Rogers Hornsby 70 years earlier.*
*It didn't hurt to have Barry Bonds walk 130 times in front of him.
And two years later, his crescendo year of 2000, he hit .334 with 41 doubles, 7 triples, 33 homers, 114 runs, 125 RBIs. And he won the MVP award.
In 2002, he hit 37 home runs.
Kent's explanation for his sudden rise was comfort and confidence – he said he'd always tried to do what a team asked of him. When the teams asked him to be a scrappy second baseman, he tried to be that --- tried to cut down his strikeouts and put the ball in play and all that. It didn't work all that well. But when the Giants (and later the Astros and Dodgers) cast him as a power-hitter, he loosened up, tried to drive the ball, his strikeout totals rose but he slugged .500 or better for eight straight seasons.
In the end, Kent ended up with the most homers for a second baseman – by a sizable margin. His 1,518 RBIs are second only to Hornsby as is his .500 slugging percentage. That suggests Hall of Fame.
By WAR though … well, everyone has different feelings about WAR, right? His 55.2 WAR is 17th all-time for second-basemen, and he's smooshed between Joe Gordon and Billy Herman, both Hall of Famers but both elected by Veteran's Committees decades after they finished playing. There are three second basemen – Lou Whitaker, Bobby Grich and Willie Randolph – who have more wins above replacement but are not in the Hall of Fame. None of them got much consideration from the writers (for that matter, neither did Gordon and Herman).
So what you have here is a mystifying borderline case. He's unquestionably one of the best-hitting second basemen in baseball history.
Then again, he wasn't an especially good second baseman – and if he was playing left field his offense would not be good enough to get him into the Hall of Fame.
Then again, he was probably a better second baseman than his reputation – Defensive WAR suggests he was just about average and was actually above average until his last three seasons when he really shouldn't have been playing second base.
Then again … oh, you could go round and round like this forever. If you're a big Hall of Fame guy, Jeff Kent fits in. If you're a small Hall of Fame guy, he is left out. And in my Hall of Fame … heck, I don't know. He wasn't one of the dozen best players on this ballot, and I'd put Whitaker and Grich in first, so I guess that's my answer.