Ballot 12: Gary Sheffield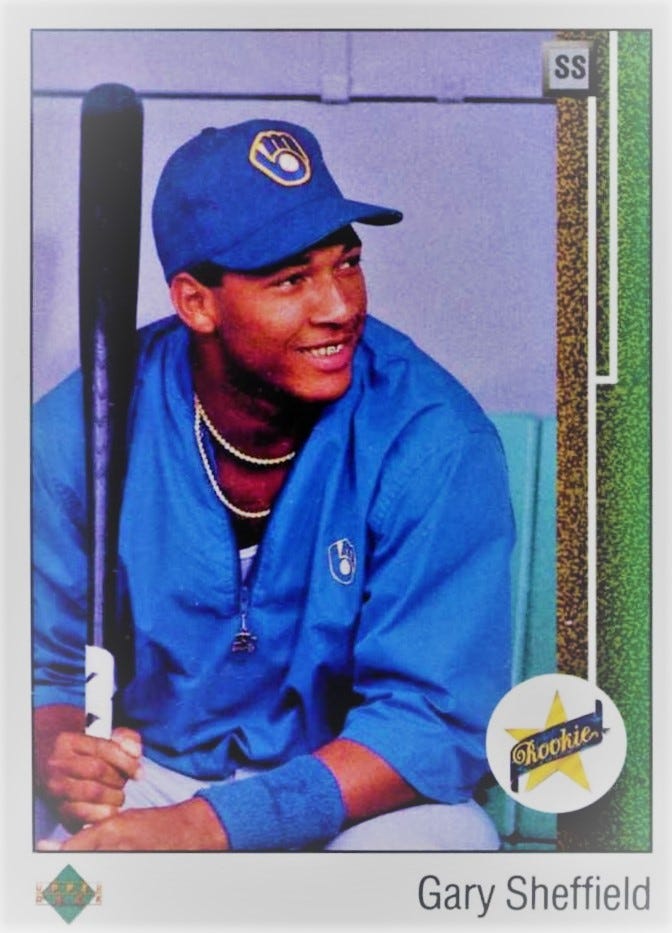 Gary Sheffield
Played 22 years with six teams
Nine-time All-Star won a batting title, hit 500 home runs. 60.3 WAR, 25.7 WAA
Pro Argument: One of the 50 greatest hitters who ever lived.
Con argument: PEDs and was by the numbers an especially poor outfielder.
Deserves to be in Hall?: I think so.
Will get elected this year?: No.
Will ever get elected?: 10-15%.
* * *
Gary Sheffield never struck out 100 times in a season. He never came CLOSE to striking out 100 times in a season. Until he was 35 years old, he had never even struck out 80 times in a season.
Fewest strikeouts for players with 500 home runs.
1. Ted Williams, 709
2. Mel Ott, 896
3. Albert Pujols, 1,053
4. Gary Sheffield, 1,171
5. Ernie Banks, 1,236
This is a particularly compelling part of the Sheffield story because everything about his hitting -- every single thing about it from the way he anxiously twitched the bat while waiting for the pitch to the impossibly hard swing that followed -- smelled of swing-and-miss. This is part of what made Sheffield such a wonderful and frightening hitter. He seemed to be just a little bit out of control. And yet, truth was, he was PERFECTLY in control. He seemed to be swinging like a punch-drunk boxer hoping for a knockout. But he was really a surgeon at the plate. He rarely missed.
The whole idea of the "fearsome hitter" became slightly absurd a few years ago when many argued for Jim Rice's Hall of Fame candidacy. Rice had a perfectly viable -- though marginal -- Hall of Fame case. He led the league in homers three times, in slugging and RBIs twice and so on. He also relied on Fenway Park almost as much as Larry Walker relied on Coors Field and he finished with career numbers that seemed just a little bit short. It was the classic borderline case (as is Larry Walker), and when you have a borderline case you need a great story. The pro-Rice camp found one. They began to push the notion that Rice belonged in the Hall because he was the most feared hitter of his time.
There was power in the idea of Rice as a "feared hitter." For one thing: It was true. Pitchers often talked about their dread in facing Rice. But also: It's visceral. People talked about it, argued about it, celebrated and mocked it. I think the "feared hitter" thing played a very real role in getting Rice into the Hall of Fame, but at a cost. Now, when you talk about someone being a "feared hitter," a lot of people just roll their eyes.
But Gary Sheffield, in my mind, would touch all the terror nerves in a pitcher's body. I can't imagine there has ever been a scarier hitter to face.
Sheffield grew up in a rough-and-tumble part of Tampa; he would talk sometimes of hearing the police sirens all night. Sheffield grew up facing the pitches of his uncle, Dwight Gooden. Doc was just four years older than Sheffield but he never took it easy on his nephew. He never had to. When you grow up on Dwight Gooden fastballs and curveballs, you learn a thing or two about hitting. Sheffield's Little League team made it to the championship game of the World Series. Later, they won the senior Little League World Title.
It was clear from the start that Sheff was a hitting phenom. He was the Gatorade High School Player of the Year in 1986 and he was the first high school hitter taken in the draft. His first minor league season, he hit .365. His second and third and drove in 100 RBIs. "He's a shortstop who hits with power," Milwaukee hitting coach Tony Muser told Peter Gammons. "Yet he makes contact like a Mattingly or Boggs." From the start, his unique hitting ability baffled and amazed everyone around him.
But other things were apparent too ...for one thing, he had no defensive position. The Brewers tried him at shortstop, a position he had not played much growing up. That didn't work at all. He had 39 errors as an 18-year-old in Stockton. They moved him to third base. and that was a little better, but it wouldn't last. He would eventually finish in the outfield where, according to Baseball Reference numbers, he was the second-worst defensive player in baseball history behind only Adam Dunn.
And then there was the rest of it -- Sheffield just did not fit in. For one thing, he did not want to fit in. He wanted to stand out. When he got his signing bonus, the first thing he did was buy a Mercedes and have his gold initials GAS studded into his front teeth. He saw himself as a star and did not understand why others didn't see him the same way. He was booed often his rookie year while he watched Ken Griffey, barely a year younger, being hero worshipped in Seattle. He seethed.
"Baseball wasn't treating me right, my teammates weren't treating me right," he told the New York Times. "It was kind of eating me up inside."
He complained often. He complained about moving to third base. He complained about pitchers not retaliating after he had been brushed back. His manager, Tom Trebelhorn, fined him a grand for not hustling. He was briefly demoted for a time to the minors because the Brewers thought he was faking an injury. He said that, as a black player, the game made him feel like an outsider.
He hit just .259/.319/.376 in his miserable time in Milwaukee, and his last year was disastrous (he hit .194 in 50 games). But through it all, there were moments -- special moments -- when you could see just how wonderful a hitter Gary Sheffield would become. One of those moments came in April 1989, the ninth game of his rookie season, when the Brewers played Texas and Nolan Ryan was on the mound.
Epic things always happened with Ryan was on the mound because Ryan refused to be ordinary, even on a Monday Night in April. Ryan came at the kid with everything he had -- busted him inside with fastballs, tried to break his back with the hard curveball, challenged Sheffield with 95 mph followed by 96 mph followed by 97 mph. Once he threw up and in just to give the kid a scare.
"He shook me up a couple of times," Sheffield admitted.
But Ryan was bit shaken a bit too; No matter how hard he threw the ball, the 20-year-old Sheffield kept turning on it and ripping the ball foul. Ryan simply could not throw the ball hard enough to keep Sheffield from pulling it. So he threw harder, and then harder, and then harder and Sheffield kept yanking the ball foul, a couple of times at home run distance. In the end, Sheffield won on technical KO -- he walked three times. But everyone who saw the duel that day understood that this was no ordinary young hitter.
"Gary," Sheffield's manager and occasional nemesis Trebelhorn said, "can turn on a 38-caliber bullet."
It wasn't going to work in Milwaukee so in March of 1992, after years of lobbying, the Brewers finally traded Sheffield to San Diego. "I just can't stop smiling," Sheff said.
"It's a roll of a dice and a gamble," Padres manager Greg Riddoch said on the day of the deal. "But it's one we're willing to take because we want to be winners."
Well, the winning thing wouldn't happen -- Riddoch would get canned before the end of the season -- but Sheffield, freed from his Milwaukee shackles, unloaded. He won the batting title his first year in San Diego, hitting .330. He hit 33 homers, drove in 100 RBIs, led the league with 323 total bases. He also struck out just 40 times in 618 plate appearances 33 homers -- 40 Ks, that's Joe DiMaggio stuff, Ted Williams stuff, Yogi Berra stuff.
It should be added here that Sheffield said he found the first bit of peace in his baseball life because he followed the path of a teammate -- now a fellow Hall of Fame balloteer -- Fred McGriff. "He became my role model," Sheffield said.
Less than a year later, the Padres traded Sheffield to Florida. The trade happened one week after Sheffield was arrested in Houston after an altercation with a police officer -- the third arrest of his career. The Padres tried to say that they were dealing Sheffield because of his various off-the-field issues. The reality seemed to be that they were shedding payroll. It wouldn't be the last time that Sheffield was dealt away in a payroll-dumping plan. (The Padres got another Hall of Fame ballot member in the deal -- Trevor Hoffman).
Gary Sheffield's hitting -- so much hitting. In 1996, he hit .314 with 42 home runs walked 142 times, led the league in OPS and OPS+ and finished sixth in the MVP voting. The next year was a down year, but in the playoffs he hit .320/.507/.540 in the postseason as the Marlins shocked everyone and won the World Series.
A year later, he was traded in another salary dump. So it goes.
From 1998 to 2003, Sheffield hit .314/.419/.566 and averaged 33 homers, 102 RBIs, 98 runs per year. Those numbers in almost any other time would be mind-blowing -- in the late 1990s and early 2000s, though, they sort of blended into the scenery. In 2004, his numbers actually dropped some -- he didn't hit .300 or have an on-base percentage of .400 for the first time in years -- but he was playing for the Yankees and he finished second in the MVP balloting that year.* It was the highest MVP finish of his career.
*That was the year Vlad Guerrero won it and while I utterly love Vlad, it's absolutely ludicrous that Ichiro did not win it that year.
Sheffield was indeed feared, though I suspect fans and pitchers feared him for different reasons. Fans feared him because he was scary, man, the bat waving, the savage swing, the long home runs, the glare.
Pitchers, meanwhile, feared him because of something else entirely -- there was no way to pitch him. That's always the scariest thing; the scariest person to fight is not the behemoth but the one who will never stop coming. As Nolan Ryan found out when Sheffield was just 20 years old, you could not throw the ball by him. He spit on sliders out of the zone. And he never just protected the plate -- with two strikes he swung just as hard as he would on a 3-0 count. As one pitcher once told me, "If every hitter in baseball started an at-bat 0-2, Gary Sheffield would be the greatest hitter in the game."
The Hall of Fame case is muddled, for sure. Sheffield did hit 500 home runs, and he's 26th all-time in runs created -- only Barry Bonds and Manny Ramirez on the ballot created more. Everything about his offense says Hall of Famer.
But there's the rest of it. He admitted using PEDs though he says he was unaware that they were PEDs at the time. And as mentioned, he was a very, very poor fielder by the numbers -- his offensive WAR is third among players on the ballot, but his overall WAR drops all the way to eighth, only slightly ahead of Vlad Guerrero and Sammy Sosa.
But even when it comes to defense, nothing is simple with Sheffield. I once was having an email conversation with Bill James about Sheffield -- whether or not he was a Top 100 player (he did not end up in my list) -- and Bill was making the argument that Sheffield was underrated defensively and, more to the point, people missed how HARD he played.
"He was insanely, inhumanly intense on the field," Bill wrote. "He took it as a personal insult if you tried to go first to third on him. He came out of the batter's box as if every play was going to be a bang-bang play at first. ... Dustin Pedroia doesn't play any harder than Gary Sheffield did, although Sheffield didn't get much credit for it."
No, he doesn't. With almost half the ballots in over at Ryan Thibodaux's marvelous Hall of Fame counter, Sheffield is down six votes and down to 11.3% of the balloting. Considering he's likely to do more poorly on the anonymous ballots, he could very well finish below 10% and be on the death spiral off the ballot. It's not easy to see what will turn around Sheffield's voting momentum. Maybe as the ballot thins, people will take a second look. He was a legendary hitter. I would have voted for him if I had 12 votes, but you only get 10.