April Fool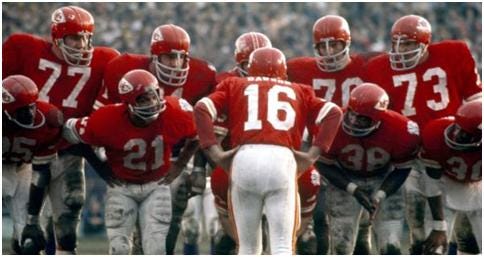 All April Fool's jokes are stupid. Well, OK, maybe not all -- there was the fun George Plimpton thing and there probably were one or two others that worked -- but almost all are stupid. For instance, I'm pretty sure my daughter was just April Fooled into sending me about 20 frantic texts about something being due today that isn't due today. This caused me to make sure it isn't due today. This wasted my time. Basically what I'm saying is: I despise April Fool's Day.
But, I will admit, I did have fun on April Fool's Day 14 years ago, 2001. I was columnist at The Kansas City Star and wrote -- with help from the man himself -- that Hall of Fame quarterback Len Dawson, at age 65, was making a comeback.
* * *
Len Dawson has had enough. At age 65, he is attempting the impossible.
The Star has learned that Dawson will go to River Falls this July to win the Chiefs quarterback job. Dawson signed a one-year deal this week. Terms were not disclosed, and so far, the Chiefs will not comment. A source close to the Chiefs says a press conference may be scheduled as early as Monday.
"These days, with the new rules, all you need to do is be an accurate thrower," Dawson says. "Well, I could always do that."
It's OK to drop your jaw. This is absolutely mindboggling. Truth is, there has never been a comeback quite like this in sports. Yes, Mario Lemieux came back after facing Hodgkin's disease and terrible back problems, but he's just 35 years old. Pitcher Jim Palmer tried to come back at 45, and George Foreman did come back and win the heavyweight championship at age 45. George Blanda played until he was 48.
This is obviously different. Dawson has not played football in more than a quarter century. Heck, it has been almost 15 years since he was inducted into the Pro Football Hall of Fame. He has survived prostate cancer and admits that the last few years, he has not even owned a football.
Still, the more you talk to him, the more you believe he might just pull this off. Dawson played in a time when offensive linemen could not block with their hands, when receivers would get manhandled, when referees did not care at all about protecting quarterbacks. Now, with receivers running free, with quarterbacks better protected than ever before, all you really need to do is take a three-step drop and hit the open man. And, you know, it's crazy, but Dawson could do that. He completed more than 57 percent of his passes in his career.
Hey, once a quarterback, always a quarterback.
"I think the Chiefs have a real problem on their hands," Dawson says. "There just aren't that many quarterbacks around. They're looking at who? Trent Dilfer? Tony Banks? They are just looking for a warm body."
Dawson also points out he's had many fewer concussions than Troy Aikman.
"Hey, if Michael Jordan can think about coming back," Dawson says, "well, why not me?"
Why not, indeed? Dawson knows more about playing quarterback than anybody west of John Unitas. There aren't many guys who know how to play quarterback. Dawson can remember watching Steve Bono stand on the end of the bench, talking to nobody. That's not quarterbacking. He can remember Elvis Grbac wandering slowly to the huddle, head down, like a guy walking into a tax audit. That made Dawson sick. Lenny the Cool was a quarterback. Players loved him. They would throw their bodies in front of bullets or Deacon Jones to protect him. The man led. And that - leadership - doesn't go away. Sure, it's possible Dawson will take a big hit on the first day of camp and say "Hey, whoa, I don't need this. I've got money. I've got the HBO gig. I've got friends. I don't need to get my head kicked in." But Dawson does seem determined. Maybe age is a state of mind.
"I look around and I think 'Where's the common sense?' " Dawson says. "I see a guy throw into triple coverage, and I'm wondering 'What was that guy looking at? What did he possibly think was going to happen?' I'd like to think I wouldn't do that. Maybe it's because these guys never called their own plays. They've had coaches think for them all their lives."
Oh yes, this is one thing Dawson insists upon: He will call his own plays. This, apparently, was the holdup in negotiations. Dawson doesn't buy that Chiefs offensive coordinator Al Saunders, way up there in the booth, can call better plays than Dawson, who's there in the middle of everything. Dawson has spent the last few weeks looking at film, and he plans to call his own plays. The Chiefs have agreed to let him try.
"Here's what people need to remember," Dawson says. "Most plays don't work. It doesn't matter who calls them. But down there on the field, I can see things they can't see in the booth. I can talk to the players.
"I can't even tell you how many times I asked Otis Taylor 'Can you beat your guy?' And he said, 'Yes,' and that meant more than any amount of film watching. I would love to do that with Tony Gonzalez."
Sure, Dawson knows this is crazy. But a man has to try. The Chiefs have one quarterback on their roster, Todd Collins, a man who has not taken a snap in a game for almost as long as Dawson. OK, that's mean. But one quarterback. They are bogged down on the Trent Green trade, they're terrified that Troy Aikman will do serious damage to himself, nobody's too thrilled about Trent Dilfer. So the greatest quarterback who ever played for the Kansas City Chiefs will give it a try. Crazy? Absolutely. But, hey, why not?
"I'm telling you it just comes down to throwing accurate passes," Dawson says. "If you can throw accurate, you put up a lot of numbers. ... I've always wanted to see what I could do with these new rules. I've always wondered."
Wonder no more. Len Dawson's going to River Falls. Mark your calendar. Training camp begins July 27. That's just 118 days from today, which is, of course, APRIL FOOLS' DAY.