American Giants
"There are only three things that America will be remembered for 2,000 years from now when they study this civilization. The Constitution. Jazz music. And Baseball. These are the three most beautiful things this culture has ever created."
— Gerald Early
Someone sent me a newspaper clip the other day about a speech I gave at Kansas State University 15 or so years ago. (Yeah, I've given speeches, what of it?). The clip mentioned that I was in the process of writing a book about Buck O'Neil that would be called "Baseball and Jazz: A summer with Buck O'Neil."
I had forgotten that was the original title of my first book The Soul of Baseball: A Road Trip Through Buck O'Neil's America. In memory, I was the only one in the publishing circle (or among any of our friends) who liked the title "Baseball and Jazz," but looking back, I still like it. I agree entirely with the great Gerald Early. I think that the Constitution, jazz, and baseball are the three greatest American things.
And Buck O'Neil embodied all three of them.
I have thought a lot about Buck the last three weeks while finding myself in the middle of one of the craziest rides of my life. I hope you've been following along. Three weeks ago, Negro Leagues Museum president Bob Kendrick approached me and my Passions in America partner Dan McGinn with a germ of an idea. For a decade at least, Bob has had this notion — and it was often nothing more than a notion — that it would be wonderful to have Major League Baseball players tip their caps to the men and women who played in the Negro Leagues.
It seems a pretty small request … but being perfectly blunt, it never really went anywhere. There are numerous reasons for this … but that's a story for another time. The point here is that this year, finally, it was scheduled to happen. This is the 100th anniversary of the formation of the Negro Leagues in Kansas City, and MLB, along with the MLB Players Association, agreed that something special was in order. In February, they made a joint donation of $1 million to the museum. And they promised a special Salute to the Negro Leagues day at which point, yes, every ballplayer would step out of the dugout and tip his cap. The day was set for June 27.
Then came a global pandemic.
So Bob asked us if we might be able to create something sort of like we did with the photo campaign where we asked people to send in a photograph of something that is bringing them joy. So we told him we'd take a crack at it. We had no budget, literally, zero dollars (I bought the website tippingyourcap.com with my own money). We had no technical support. We had no partners (I run the website with the help of my two daughters). We had no staff other than a handful of wonderful people who volunteered to help. We had almost no time.
Together we created "Tip Your Cap 2020."
It has been one of the great joys of my life.
Over the last week, the four living former presidents all tipped their caps to the Negro Leagues. Four generations of Jackie Robinson's family tipped their caps to the Negro Leagues. Henry Aaron. Magic Johnson. Billie Jean King. Mike Trout. Clayton Kershaw. A dozen Baseball Hall of Famers. Celebrities galore. Politicians across aisles — Tim Scott to Chuck Schumer to Ben Carson to Maggie Hassan — tipped their caps.
Along with thousands and thousands of people.
Heck, THIS happened:
Also this happened: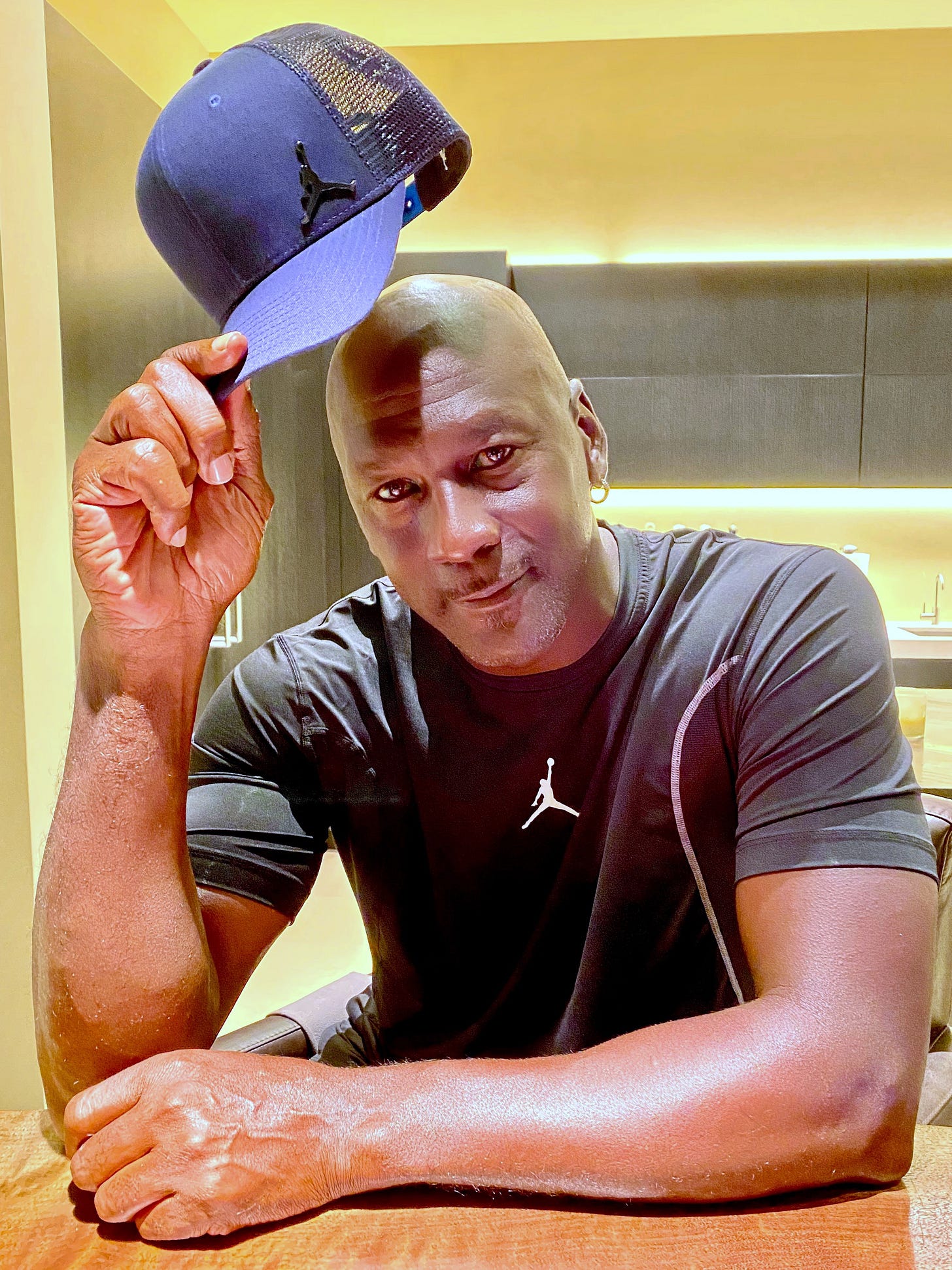 I mean, THIS happened (I realize I already mentioned the former presidents but still):
The three big morning shows not only did stories about this but also tipped their caps. CBS Evening News did a big feature on the Negro Leagues Thursday night and we have just heard that they will be be doing an even bigger version of the story this weekend. Chuck Todd ended "Meet the Press" by tipping his cap. Stories appeared in virtually every newspaper and on every Website in the country.
All along there have been so many incredible, zany, surreal moments — many you can find on that crazy family-run website tippingyourcap.com.
It is still going — the campaign will run until July 23 (which we hope will be baseball Opening Day) — and every day now, we get inquiries from people who want to help, new photos and videos are being sent in and posted on social media, we see wonderful things like the from a bakery in the Philadelphia suburbs:
I have to tell you: I'm in awe. I remember so many years ago when I went to lunch with Buck O'Neil at The Peachtree restaurant (which was then a couple of doors down from the Negro Leagues Baseball Museum — it is no longer in business, sadly). At some point in the middle of the meal, Buck started telling me that somebody needed to write a story about the Negro Leagues as it actually was.
He said that the story had been written as an American shame, which it was — there never should have been the Negro Leagues because there never should have been segregation in baseball. He said the story had been written as a righteous struggle, which it was — the players endured countless humiliations (and daily double- and triple-headers) to play the game they loved. He said the story had been written as history, which it was — the Negro Leagues are a remarkable American history story and an often overlooked part of the civil rights struggle.
But Buck said somebody should write about how the Negro Leagues REALLY WERE with all the color and light and joy and passion and ferocity and brilliance spotlighted. And he said it just like that, somebody needs to write this story, somebody needs to tell it, somebody …
… and I was the only one there.
I tried to do it with The Soul of Baseball. It was my first book, and I undoubtedly made a million first book mistakes, but I put everything I had into it. Buck never got the chance to see it. The last time I saw him, he was in a hospital bed, and I told him I had finished the book, and he asked me to come back again and read it to him. He died days later.
I think he would have liked the book … but in many ways I believe this week, and whatever is coming over the next three weeks with Tip Your Cap 2020, is an even more fitting tribute to him. Across America, people are talking about the Negro Leagues. San Francisco Giants manager Gabe Kapler is quoting Satchel Paige. Rob Lowe is talking about how he will never forget those great players. Reggie Jackson is talking about how he needs to get to the Negro Leagues Baseball Museum "before it gets too late for my butt."
The original cast of the off-Broadway hit "Toni Stone" offers a tribute:
It goes on and on and on … I cannot wait to wake up each morning to see what is next. It's all so wonderful, so inspiring, so beautiful. I know Buck is smiling.