A Zack Greinke Story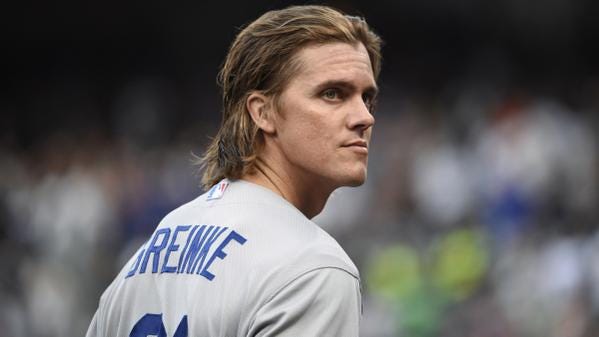 So, I wrote about Zack Greinke for like the 11 millionth time. Whew, I've been writing about Greinke for a dozen years, going back to when he was 19 years old. I relate the first time I ever interviewed him. Fun stuff.
There is another Greinke story I wasn't able to get into the piece, one I think I've told before but I'm not sure. It doesn't really have much to do with anything except, well, it's just a perfect little Greinke story. In 2007, the Kansas City Royals called up Alex Gordon. At the time, you might remember, Gordon was a serious phenom that year, in the same category as, say, Kris Bryant before this season began. In fact, I'm pretty sure Gordon was the first player in Baseball America history to be named minor league player of the year just one year after being named amateur player of the year.
In any case, Gordon came up to the most extreme expectations and he struggled. Man, did he struggle. Gordon has always had this detached nature which suggests he doesn't feel pressure, and he carried himself quietly through the worst of it. But underneath it all, I think it was just too much for him. His swing even now has a hole in it -- it's something he simply has to overcome and it's a daily struggle --and in those early days pitchers just ate him up. The poor guy was hitting .173 in early June, and he'd struck out 55 times in 53 games, and he was taking it out to the field, and even though he still carried himself in that placid and even-tempered way that now marks him as one of the better players in baseball, you could tell: He was seriously lost.
And then, at his low point, Zack Greinke came up to him.
"Alex," he said, and he pointed to the video room. "Follow me. I want to show you something."
Greinke's teammates will tell you: The guy's kind of a baseball savant. He is known for calling just how hard he will throw his curveball the next inning ("I'm going to try for 50 mph"). He sees things nobody else seems to see. Not too long ago, I was talking with Brandon McCarthy, who is one of the smartest guys in baseball himself, and he said that the coolest thing he can imagine doing is sitting next to Greinke during a game and just picking his mind, view the game through Zack's eyes. Others have said the same. He will probably stay in baseball after he's done.
So Gordon was pretty excited when Greinke called him into the video room. He figured that Greinke must have found something in his swing, something small, some little flaw that he could fix and it would turn his entire season around. He followed Greinke to to the monitor. Greinke turned it on.
The video was ... yep: Zack Greinke hitting a home run. Greinke watched it lovingly and then turned back to Gordon.
"Do more of that," Zack said.