A New Year's Voice
I woke up in this new year thinking about Nick Charles. That was a little bit strange. I didn't know Nick well. I could even say that I didn't know him at all. We met in person just once, eight years ago. We spent only a few hours together.
I woke up in this new year thinking about him.
Nick was, you might remember, a sportscaster for CNN in the 1980s and '90s. Well, more than that, he was THE sportscaster for CNN, the original, he and Fred Hickman, together, doing SportsCenter before there really was a SportsCenter. People my age feel a thick nostalgia for those early days of cable television, back when nobody seemed to know what they were doing, back when the graphics were basic and the highlights were limited and you couldn't just watch any sporting event you wanted. You say some of those names — Tom Mees, George Grande, Sal Marchiano, Nick and Fred and The George Michael Sports Machine and the rest — and we can't help but smile a little, not because it was a better time, obviously, but because we were all so much younger then.
Anyway, that was what I knew about Nick.
And then I found out that he had bladder cancer, and he was dying. I went to see him.
This is a strange life, this life of a writer. We are searching, always, but it isn't always clear what for. Truth? Maybe. That's what Hemingway said: Write something true. We tell secrets. We create heroes and villains. We throw words at the ineffable. We line up our strong nouns and active verbs and adjectives (fewer the better) and adverbs (fewer still) and try to put them in such a bewildering order that you laugh or cry or get angry or nod in agreement or -- if we somehow (often by accident) unlock that transcendental combination -- feel something more profound.
Why do we need to do this?
I don't know why I needed to go see Nick Charles in the mountains of New Mexico. And, more, I don't know why he let me come. Still, I went. I remember three things specifically, three things that I woke up thinking about in this new year.
The first thing I remember was walking with Nick in downtown Santa Fe. It was early afternoon, and it was beautiful. Every few steps, Nick would fall into me. I would steady him, and he would take a couple more steps and fall into me again. Neither one of us said a word about it. We just kept going, talking, him stumbling, me catching him, stumble, catch, stumble, catch, all as we both tried to catch our breath in the altitude.
"Do you know what you're going to write about me?" he asked.
"No, not yet."
"Will the words just come to you?" he asked. And then, "I love it when the words come to me."
The second thing I remember was when we went back to his house, and I saw a video collection of Barbie movies for his young daughter Giovanna. My own daughters were young then, and I had seen all of the Barbie movies. So we talked about them, talked about Barbie and the Three Musketeers, Barbie of Swan Lake, Barbie in the Nutcracker and, most of all, Barbie in the 12 Dancing Princesses. Nick cried a lot. I cried too. Those movies were a vicious reminder that Nick would not grow old with his wife, Cory, and he would not see Giovanna grow up.
He also didn't want to stop talking about them.
Every time I tried to change the subject, he brought me back to it.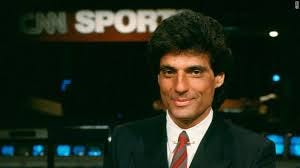 The third thing I remember — the thing I remember most — was the last part. We were standing in his driveway, and neither one of us wanted to say goodbye. There was nothing else to say. We had talked about everything we could think to talk about, sports and Paris, food and love, the books we read and the thrill of boxing and the shadows of our fathers, the agonizing pain he was enduring and the few sweet moments that made him still want to go on. Nick needed to rest. I needed to go. He kept giving me directions, I kept nodding as if I was memorizing the details. I think we both just wanted to make the moment stretch on as long as possible.
"I wish I knew you before," he said to me.
Those were the words that woke me up in the new year, Nick Charles' words from eight years ago, echoing in my head, "I wish I knew you before." They were among the kindest words that anyone has ever said to me. More, though, they were words that so few people would say.
We live in a time — and maybe this is always the time — when just about the toughest thing is to be vulnerable. Open. Nobody wants to be the sucker. Nobody wants to be the naif. Nick Charles didn't care about any of that. "I don't have time for the bullshit," he said. "I just don't. I'm dying soon."
He did die soon; it was a matter of weeks. We exchanged a couple of short emails, but he was in pain, and he didn't have much strength in the end, and anyway, we'd said everything that we knew to say. I guess that's the point. On the last day of last year, I wrote in my journal a few New Year's resolutions:
— Be kinder
— Lose 20 more pounds
— Remind people as often as you can that your book The Life and Afterlife of Harry Houdini comes out in October.
— Tweet less
— Smile more
— Look at your phone less
— Look at your daughters more
— Improve your backhand
— Send typewritten notes instead of emails when you can
— Learn to play the piano (on the list for 25 years now)
— Actually keep a journal
But I didn't wake up thinking about any of those things. I woke up with Nick's voice ringing, a reminder, but not a sad one, that the minutes count, and that words from the heart are the only ones that anyone will remember as the years race by.