A Brief Hall Tour
When people think about the Baseball Hall of Fame, they mostly think about the plaque room -- the huge room that celebrates the players, managers, executives, umpires and pioneers were inducted into the Hall. It's a cool room, no question, but in many ways it's my least favorite part of the place.
My FAVORITE parts of the Hall of Fame are the marvelous little things that are scattered throughout the building, like the colored baseball strike zone inspired by Ted Williams' view of what a hitter's batting average is in all parts of the zone: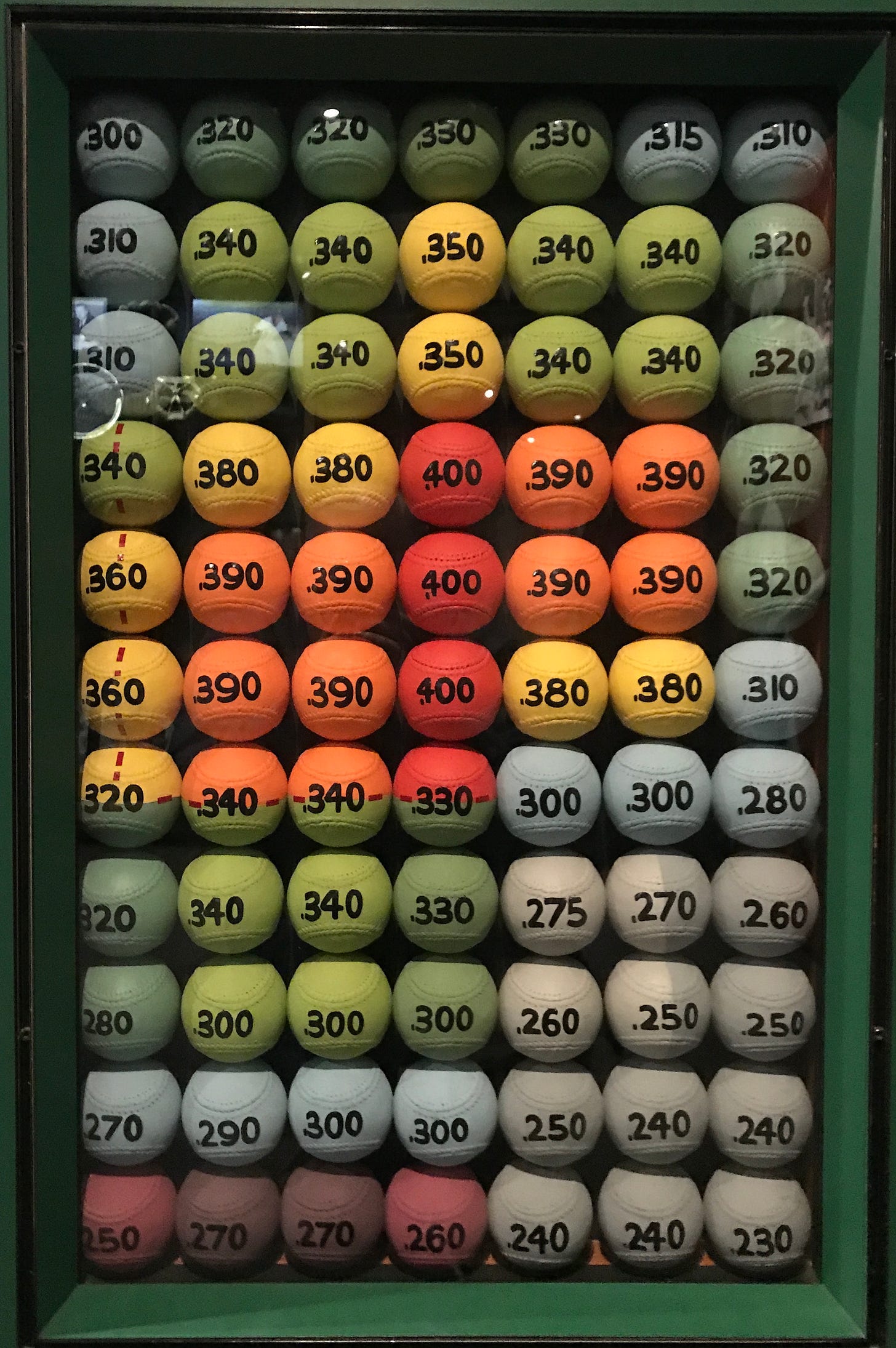 Or a 45 of one of my favorite songs as a child: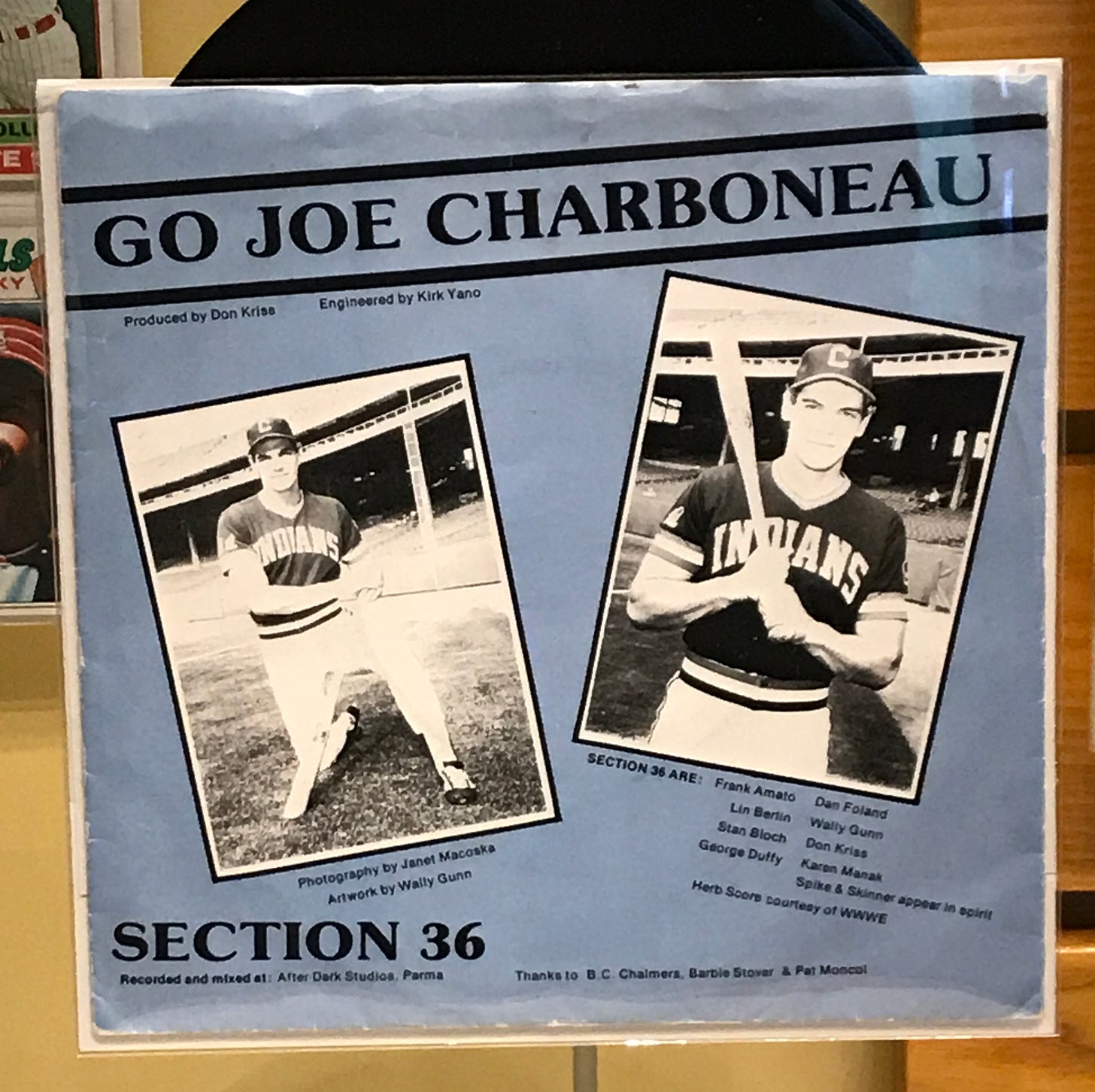 Who's the newest guy in town?
Go Joe Charboneau!
Turns the ballpark upside down?
Go Joe Charboneau!
Ate cigarettes complete with fires!
Go Joe Charboneau!
Fixed his broken nose with pliers!
Go Joe Charboneau!
Plays the game and hears the cheers!
Go Joe Charboneau!
Uses eyelids to open beers!
Go Joe Charboneau!
OK, yes, I made up those last few lyrics ... but they're more factual than the actual lyrics.
You can find this book in the Hall of Fame: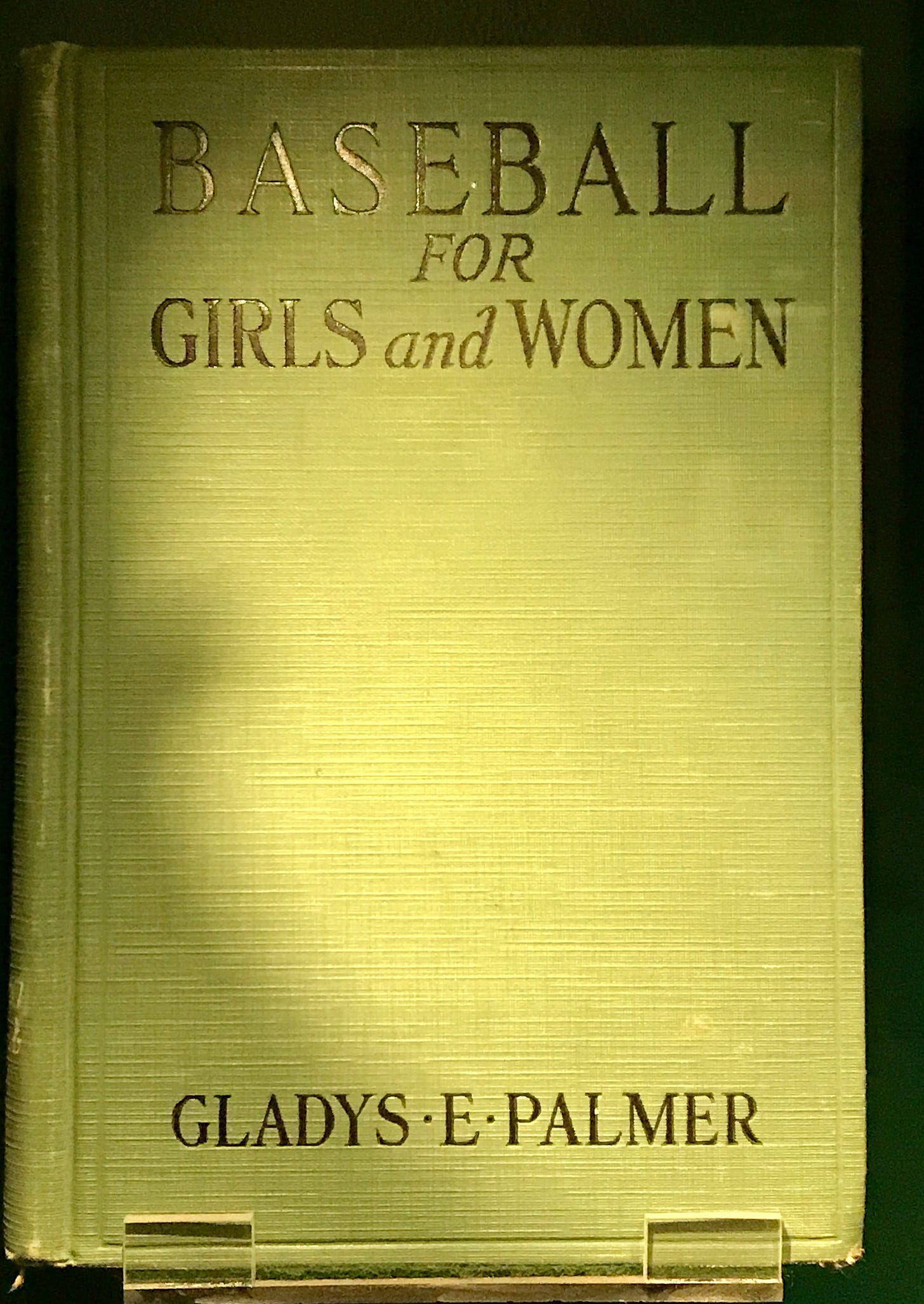 What you have to admire about Gladys E was that she was not going to limit herself to just "Baseball for Girls," or "Baseball for Women," but would cover both genres of the game in one volume.
And there's this joyous little ad for a Washington Nationals first baseman ... in 1868. No Irish need apply.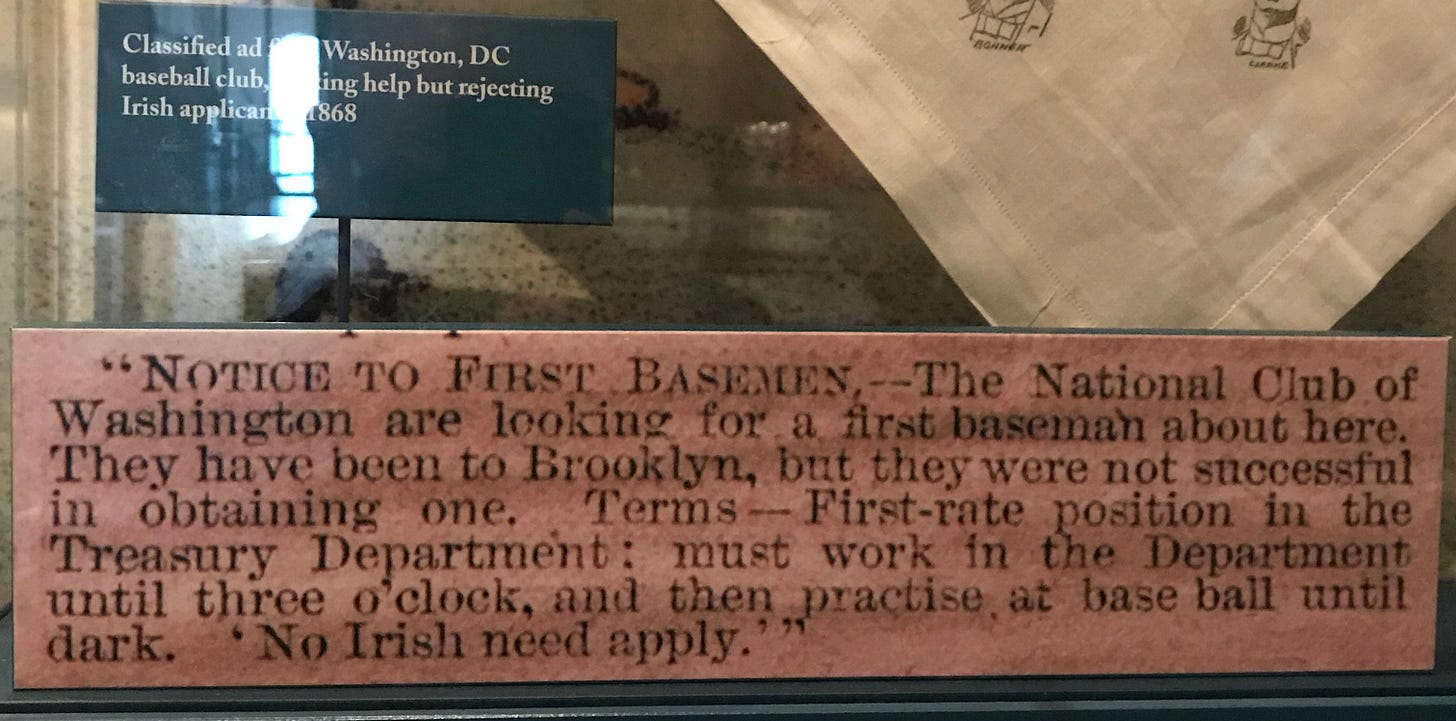 Oh yeah, there's also this: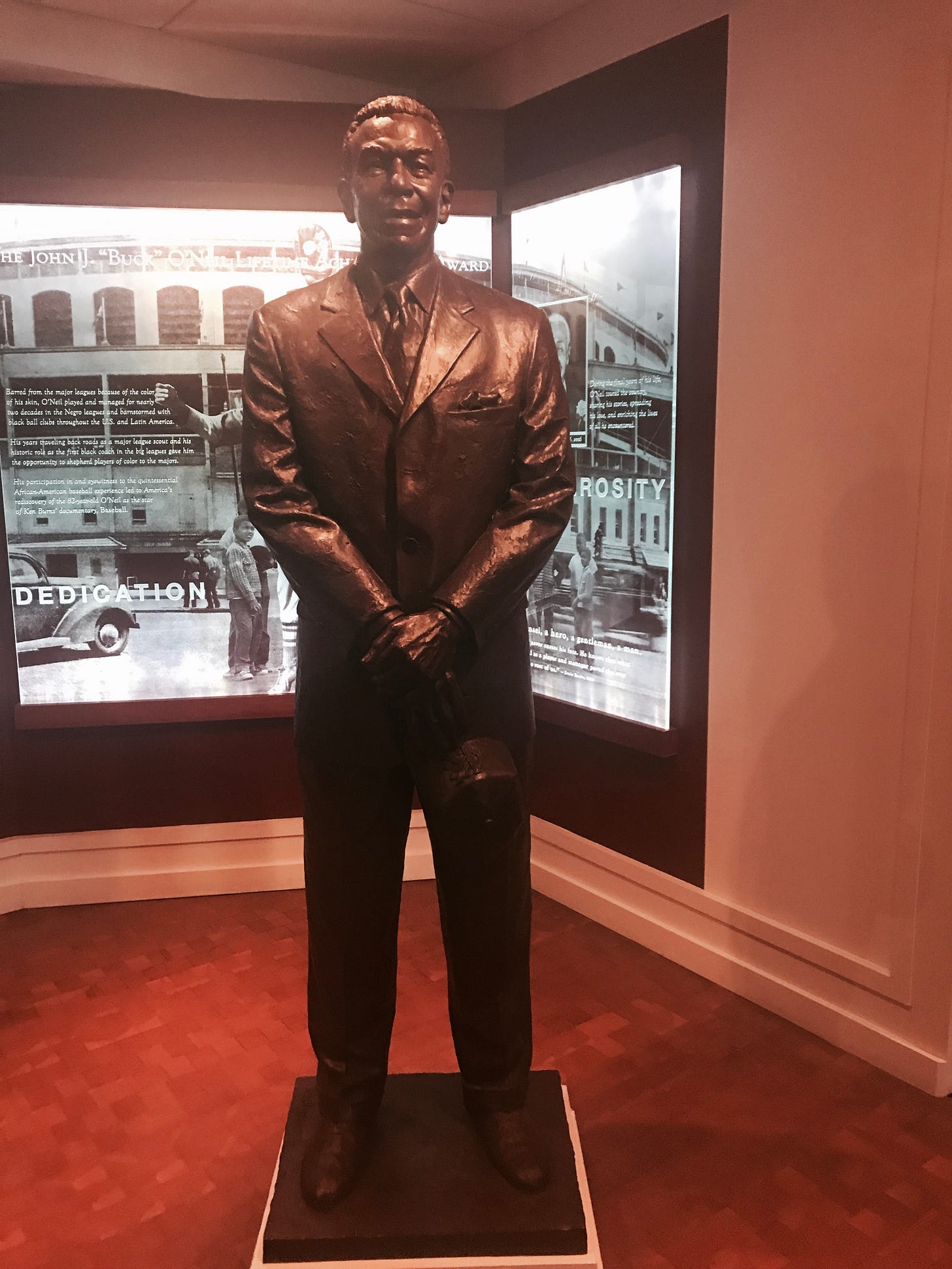 Buck is very much in the Baseball Hall of Fame.
On Friday, though, thanks to my good friend Tom Shieber, a handful of us got a behind-the-scenes tour in the archives of the Hall of Fame. It's the second time I've been lucky enough to get such a tour and I have to say for a baseball nut, yes, the Hall of Fame is amazing, but the archives are heaven. You just stumble upon treasure after treasure. It boggles the mind how much stuff the Hall of Fame has that it simply does not have the room to display.
You walk in the archives, and there is all this stuff there, impossibly awesome stuff, like the glove Gaylord Perry wore for his 300th win of the glove President Jimmy Carter wore when throwing out the first pitch, or the bat Tony Gwynn used for his 3,000th hit. I mention those three -- now multiply that by 5,000. That's how many cool things are there in the Hall of Fame archives.
So let me show you just a few of those things, a little behind the scenes tour for you thanks to Tom. I think you'll really like some of this stuff.
* * *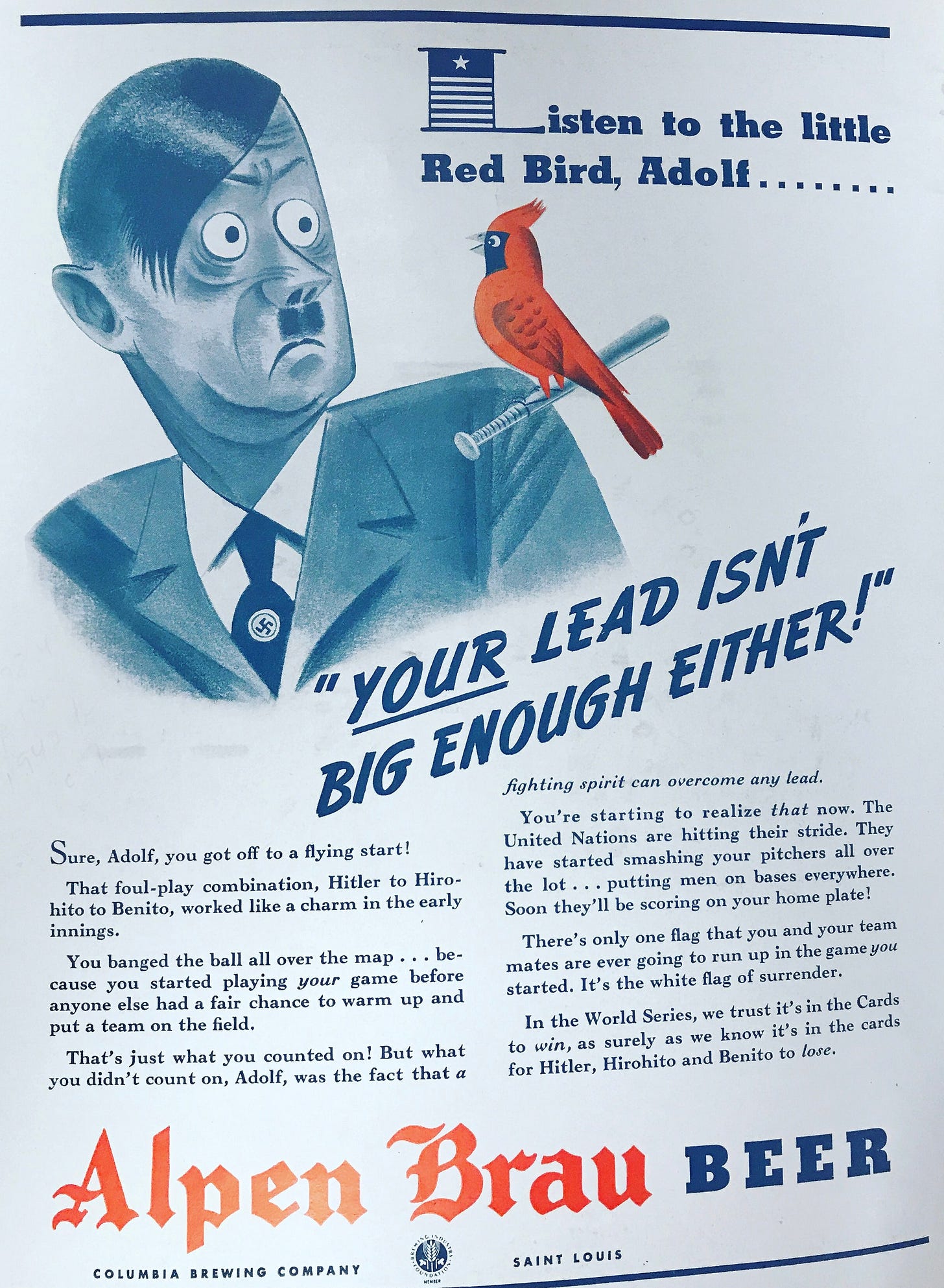 OK, this is an ad that appeared in the 1942 World Series program -- it actually is the first thing you see when you open up the program. So think: This is a few months after Pearl Harbor and a less than two years before D-Day. Please read the whole thing: It's an astonishing blend of sports and Hitler. You just KNOW the guy who wrote this was extraordinarily proud, especially of his "in the cards" pun.
* * *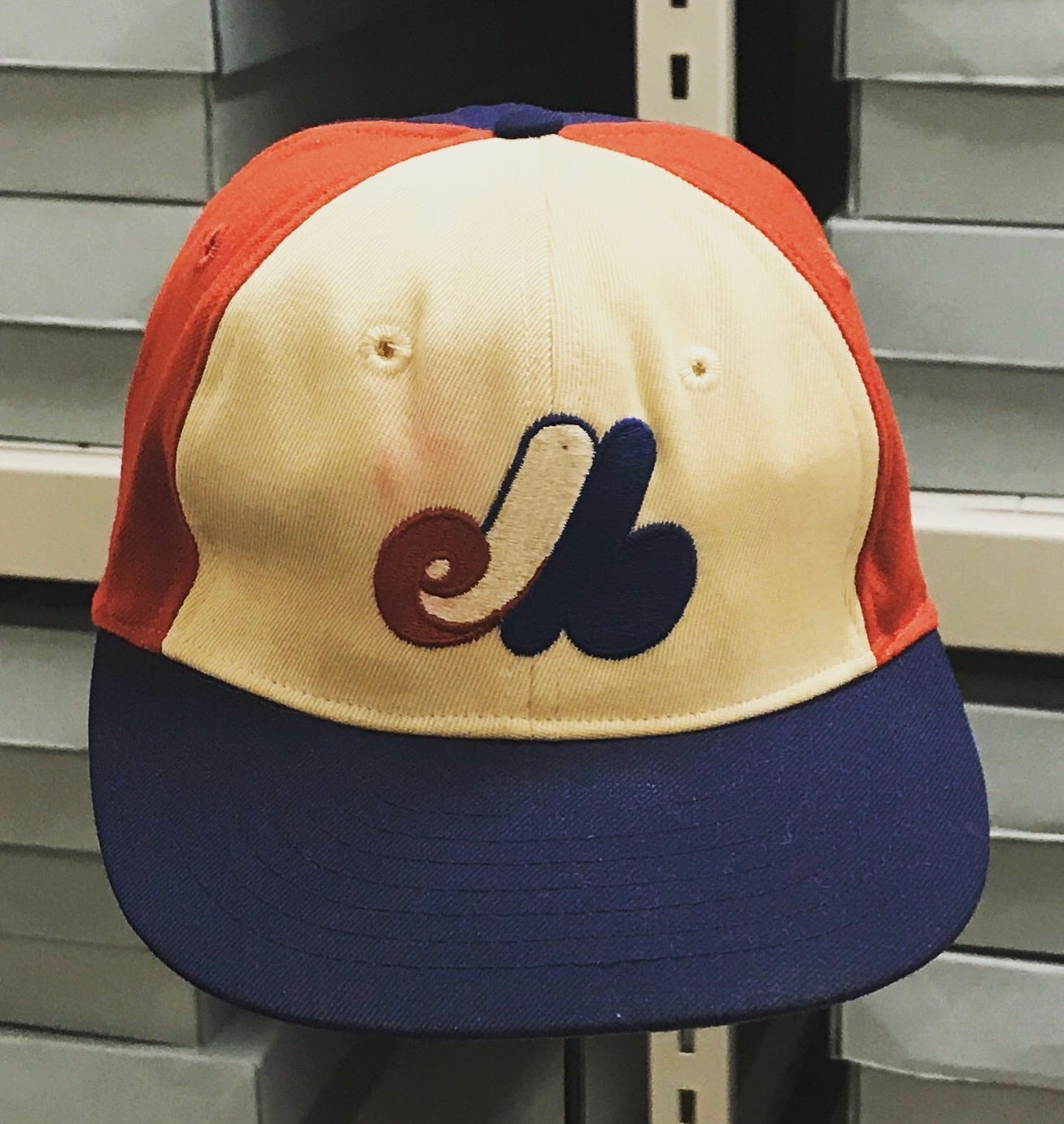 How could you not love that old Expos hat. This figures to be a big weekend for Expos' fans with the induction of perhaps the greatest Expo [outfielder]*, Tim Raines. I suppose a lot of people might say the greatest Expo [outfielder] was Andre Dawson, and it's a close race. I mean, it's REALLY close. Look at this:
Games played in Montreal:
Tim Raines: 1,452
Andre Dawson: 1,443
WAR in Montreal:
Tim Raines: 48.5
Andre Dawson: 48.1
They were very different players in many ways and yet their value was basically IDENTICAL. So much fun to argue about Dawson and Raines.
*Editor's note: For some reason, I really thought I had written Expo OUTFIELDER in this little section. Apparently, I did not -- twice. Oversight. As mentioned in the comments, most people probably would consider Gary Carter to be the greatest Expo of them all ... or perhaps Steve Rogers if there is a leaning toward pitchers. You could even make an argument for Pedro Martinez, even though he didn't play for the Expos for very long. He probably had the best season in Expos history in 1997.
In any case, the hat above was the one Bill Stoneman wore when he threw his no-hitter in 1969 -- on just the ninth game in Montreal Expo history.
* * *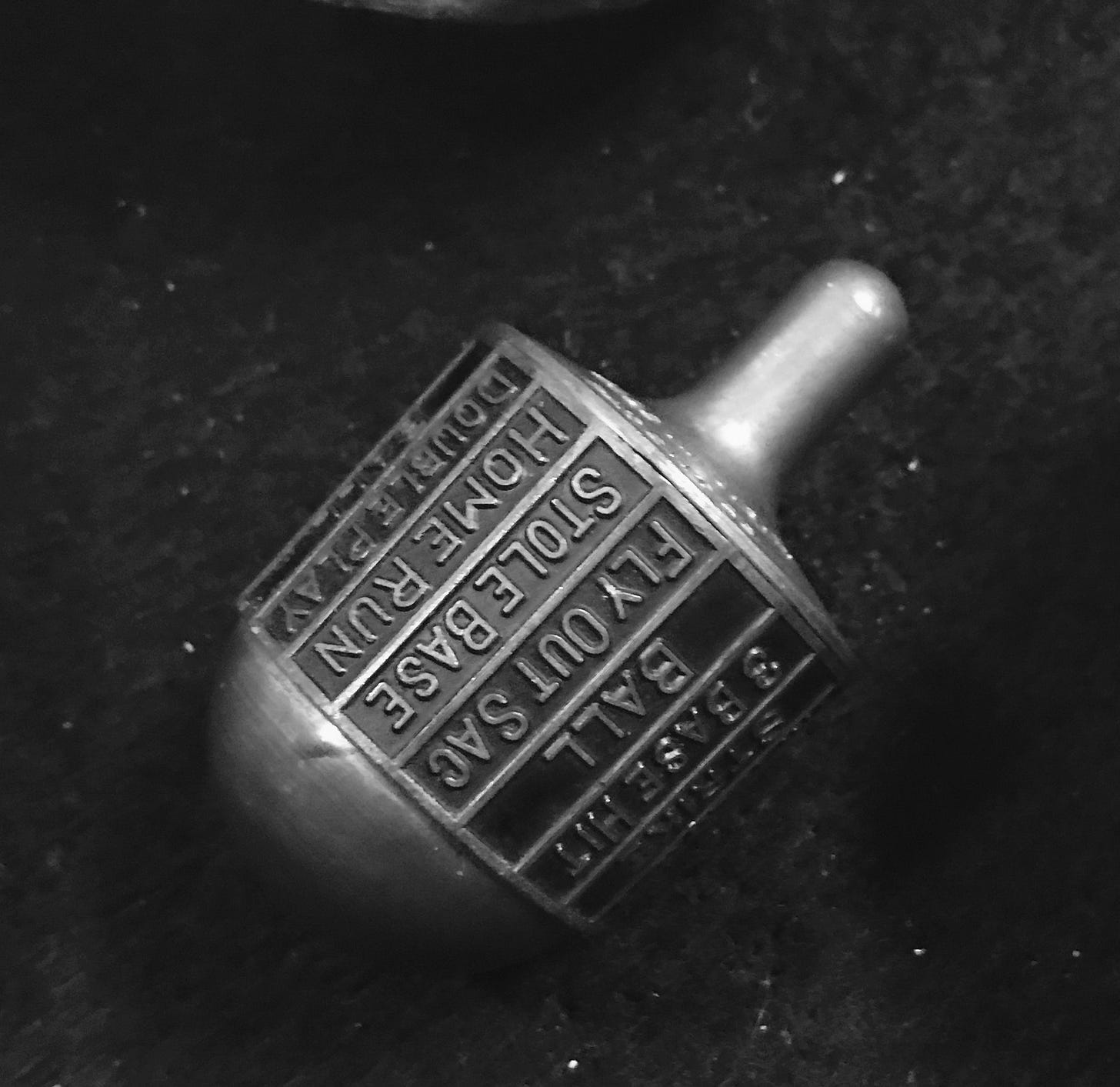 I could not possibly love this anymore -- this was a little game that Walter Johnson promoted (and might have invented). You spin this thing, as you can see wherever it lands there's a baseball action that happens. Fun!
The best part about this: It's a dreidel, right? There's absolutely no doubt about it. This is a baseball dreidel that Walter Johnson might have invented. I mean, you just can't get better than that.
* * *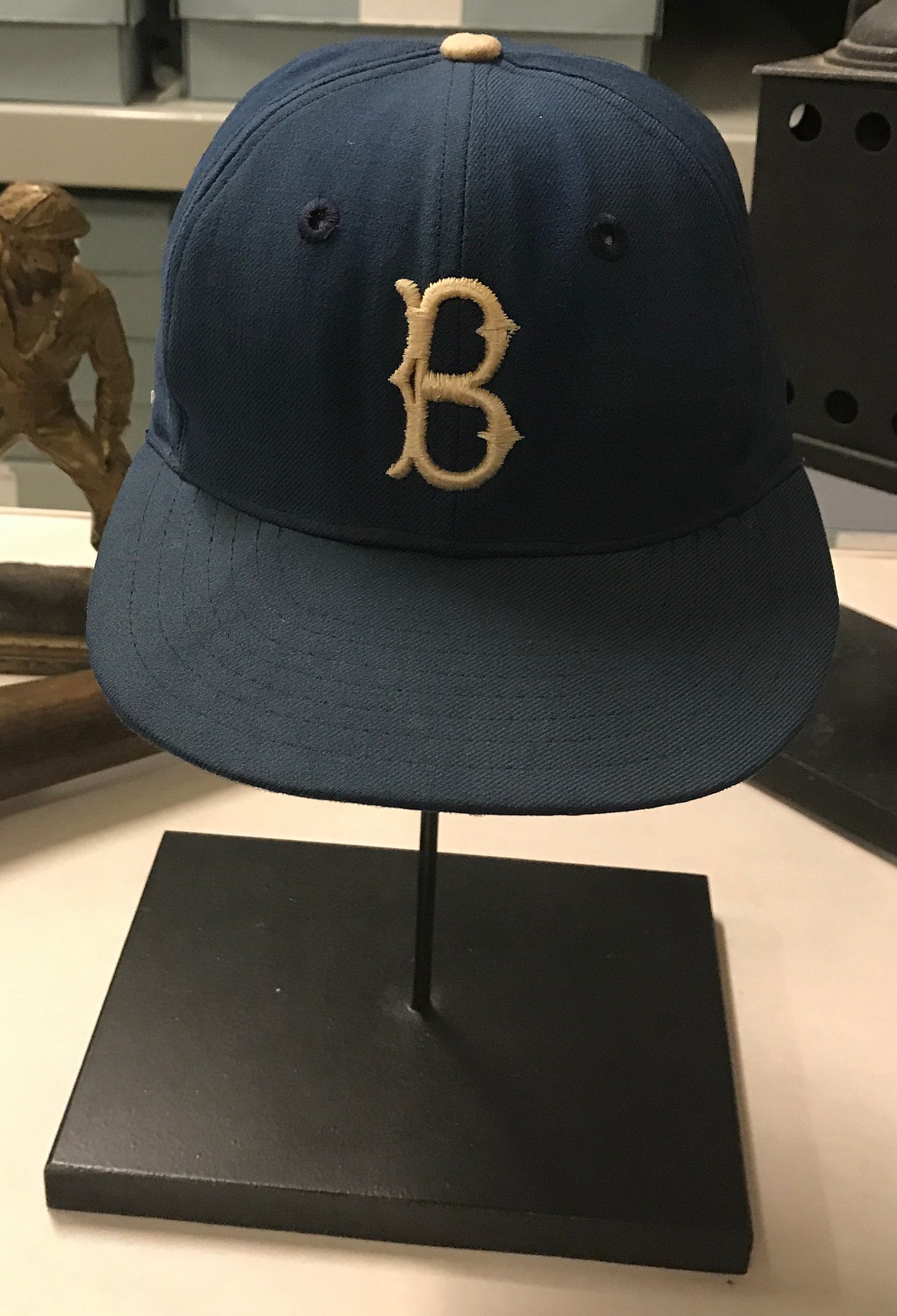 This is the hat Jackie Robinson wore for the 1955 World Series. That is, of course, the only World Series Jackie Robinson won in his career. Anyway, I bring this up because Tom brought up a great trivia question for this hat:
What position did Jackie Robinson play MOST OFTEN in the World Series?
We'll get back to you at the bottom for that one.
* * *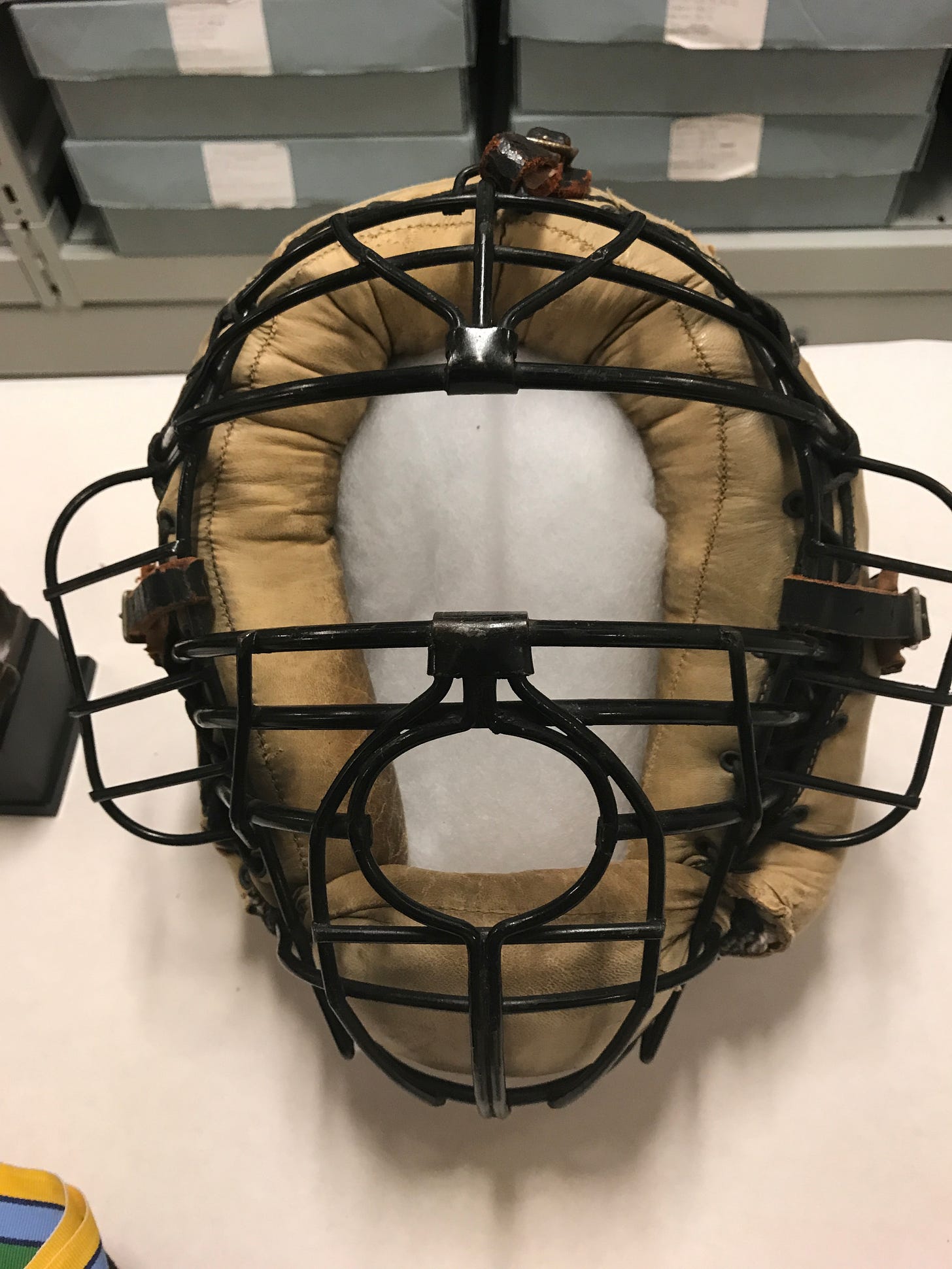 This might be my favorite one -- that's Moe Berg's catcher's mask. You know Moe Berg -- baseball player, spy, apparently Paul Rudd is going to play him in a movie next year.
In any case, that's his mask but the reason I love it is that mask was specially made -- there's a special innovation about that mask. Can you see it? Notice how around the mouth area there is a giant circle -- not quite big enough to fit a baseball? Right, that was put in there so catchers could spit without having to take off the mask.
* * *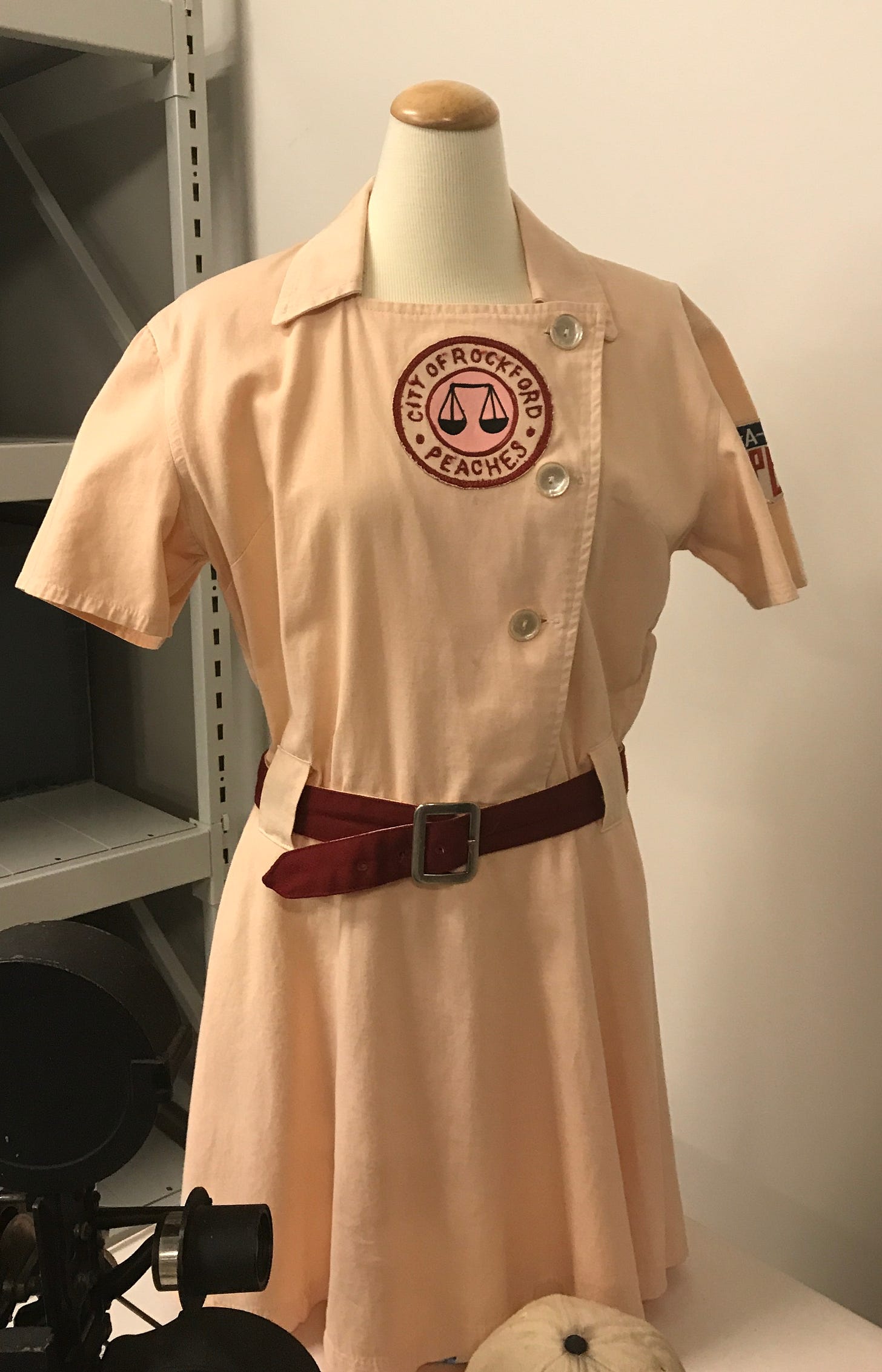 This jersey was not actually worn in the All-American Girls Baseball League, but it's really cool for this reason: It was worn by Marla Hooch in the movie "A League of Their Own." Marla Hooch! I have so many favorite parts of that movie, but I think my ultimate favorite is when she's smashing baseballs in that gymnasium against the local college boys, and then her father says, "OK, now left-handed," and everyone groans.
* * *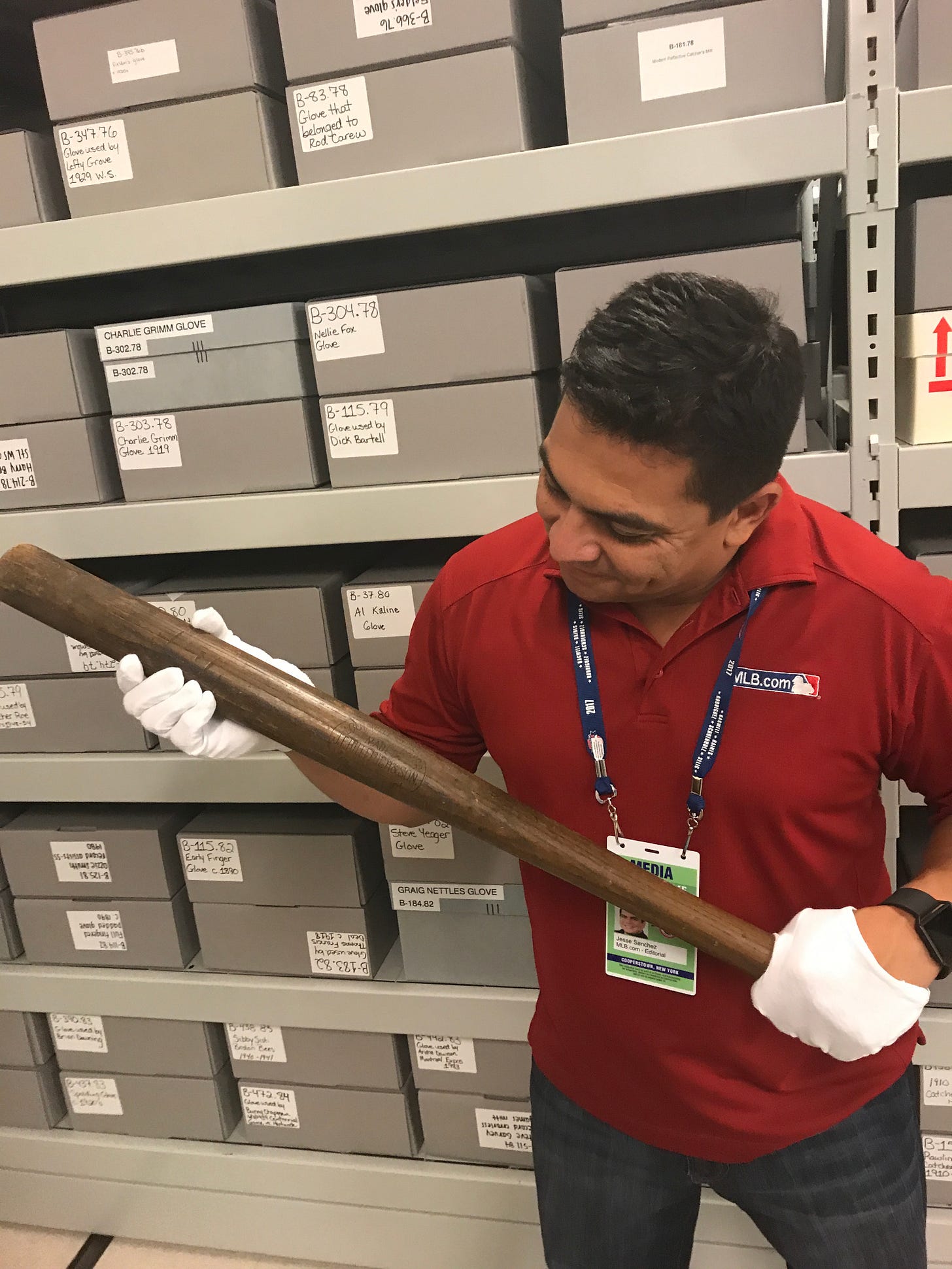 That's MLB.com's Jesse Sanchez holding a bat used by Honus Wagner. I'm not sure if you can tell but that bat is basically just a slab of wood. The handle is about the same size as the barrel. No, it's not a slab of wood -- it's a lead pipe. It's heavy too. It's so much fun to compare generations, and I think most baseball historian types would tell you that Honus Wagner remains the greatest shortstop ever. And he was certainly that good in his time. But it's pretty clear: That was a different game.
* * *
OK, the Jackie Robinson question: What position did Robinson play most in the World Series?
Answer: Third base.
Well, I would NEVER have guessed that one. In fact, I did not guess it. I guessed second base, then first base. I always think of Billy Cox as the Dodgers third baseman during that time but he was gone in 1953. Robinson played 13 games at third, 12 games at second, 7 games at first and 6 games in left field.