50 things that make me happy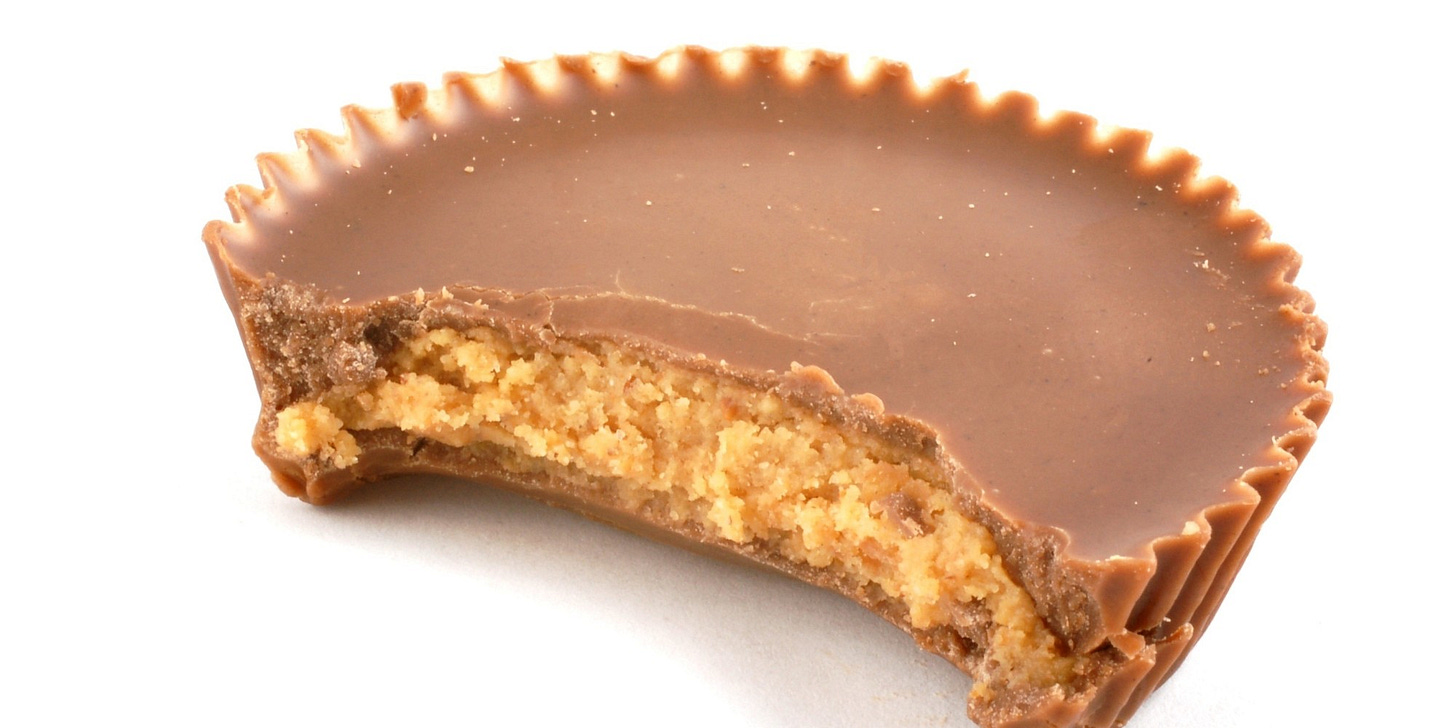 1. Reese's Peanut Butter Cups
There is no order to this list, no purpose beyond fulfilling a promise to a friend. "The Internet is so negative," she says. "I go on there every day and see rage, I see racism, I see sexism, I see anger at the world. Even the jokes are cynical and angry."
"Well," I said, "what if I made a thoroughly non-cynical list of 50 things -- people, places, things -- that make me happy?"
"How long would that take you?" she asked.
"I think I could do it in a couple of of hours," I said.
It took me closer to three, but that's because I had to get the photos and videos and stuff. Reese's Peanut Butter Cups are thoroughly delicious no matter what mood you are in. Two great tastes that taste great together is also a wonderful wordplay that perfecty describes chocolate and peanut butter.
---
https://twitter.com/dog_rates/status/887517139158093824
2. The We Rate Dogs Twitter Account
Rate it 13/10. Makes me happy every single post. They're good dogs, Brint.
---
https://www.youtube.com/watch?v=8pvHZ4ddR-4
3. Junk of the Heart (Happy) by The Kooks
Not sure how I came across this song ... I think someone mentioned it when I wrote about songs that make you happy. I listen to it at least once a week every week, and I still have no idea what it means, and I don't want to know -- don't tell me. I just know that it makes me happy.
---
4. Harry Potter books
I've read them all myself, read them all to my oldest daughter, read the first four to my youngest daughter, and I still find myself every now and again picking up one of them, just to read a Dumbledore-Harry discussion or the amazing Snape flashback or the time turner sequence or something. And it makes me feel young, like a kid, and young like a new parent, and young in ways I never was young.
---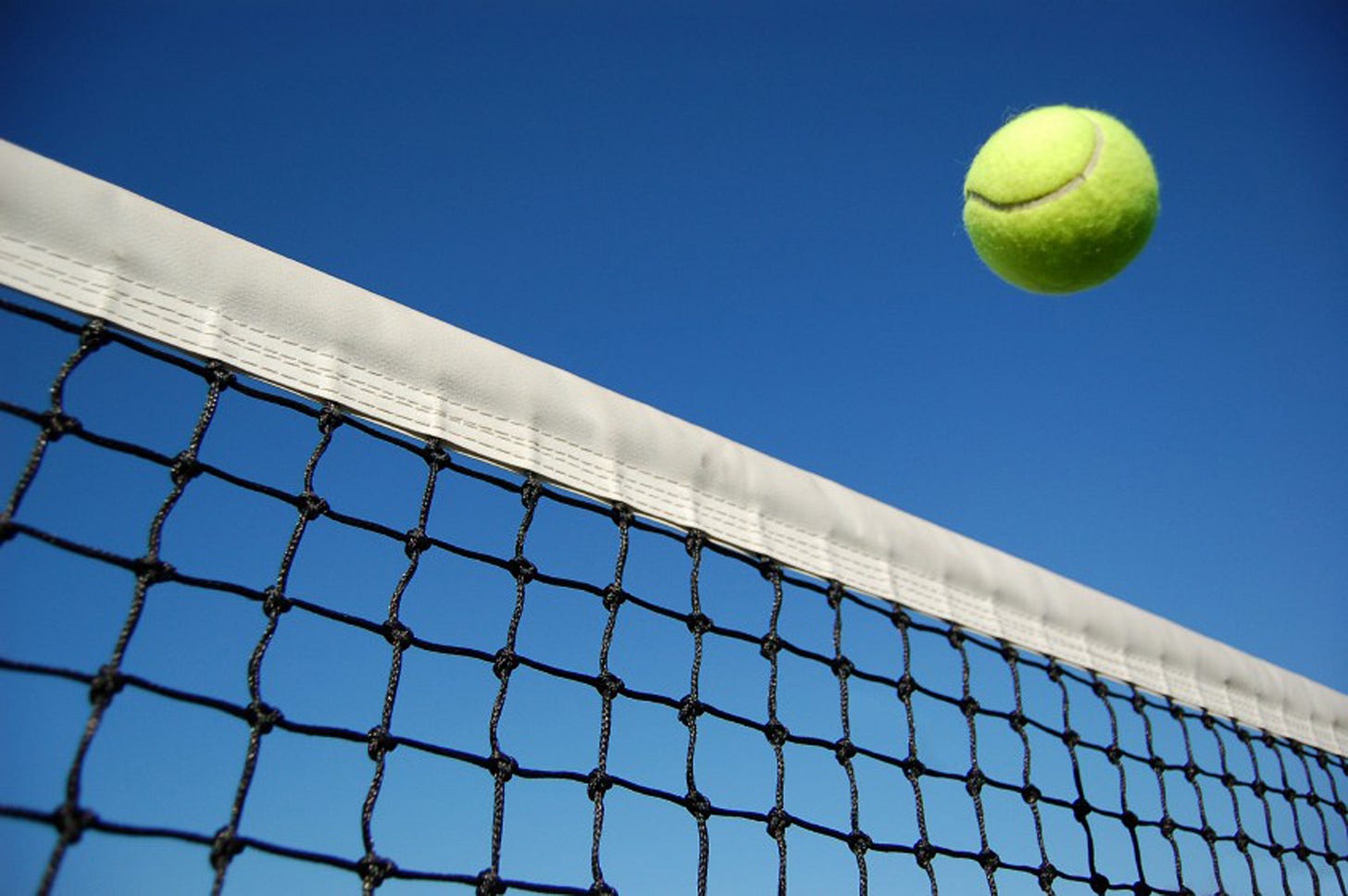 5. Playing tennis
I'm 50 now, and I think I have tendinitis in my left knee -- it hurts a lot, anyway -- and I had some disturbing heat exhaustion/dehydration moment a few weeks ago, and all I can think about is how much my backhand has improved this year. I sometimes ask friends: "What is the thing that takes you out of your own head, the thing that makes the world go away for a time and allows you to just feel alive. Golf? Yoga? Playground hoops? Wine? Beer? Running? For me it's getting on a tennis court.
---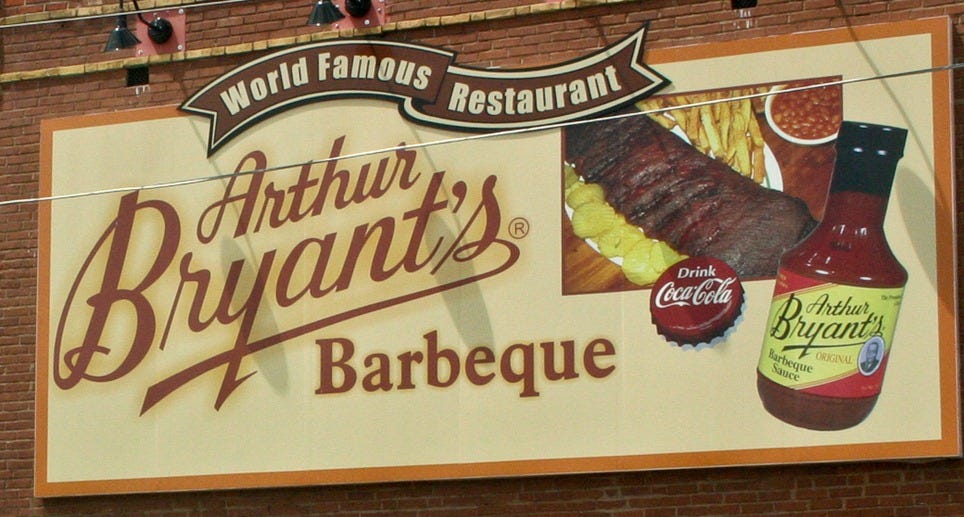 6. Arthur Bryant's Burnt Ends
The best foodstuff at the best restaurant in the world.
---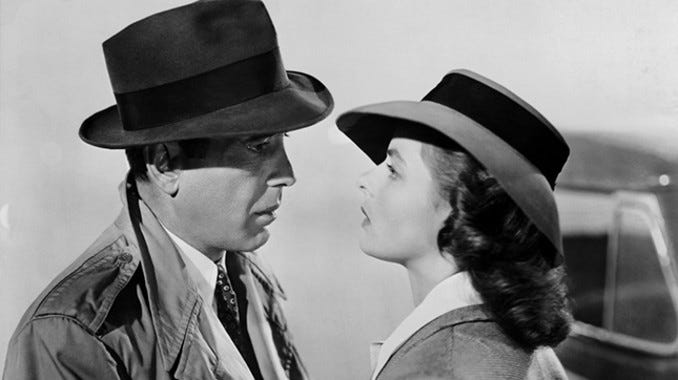 7. Casablanca
It doesn't matter how many times I see it -- I've probably seen it 50 times -- it always makes me happy, and I always notice something new. I came to Casablanca for the waters.
---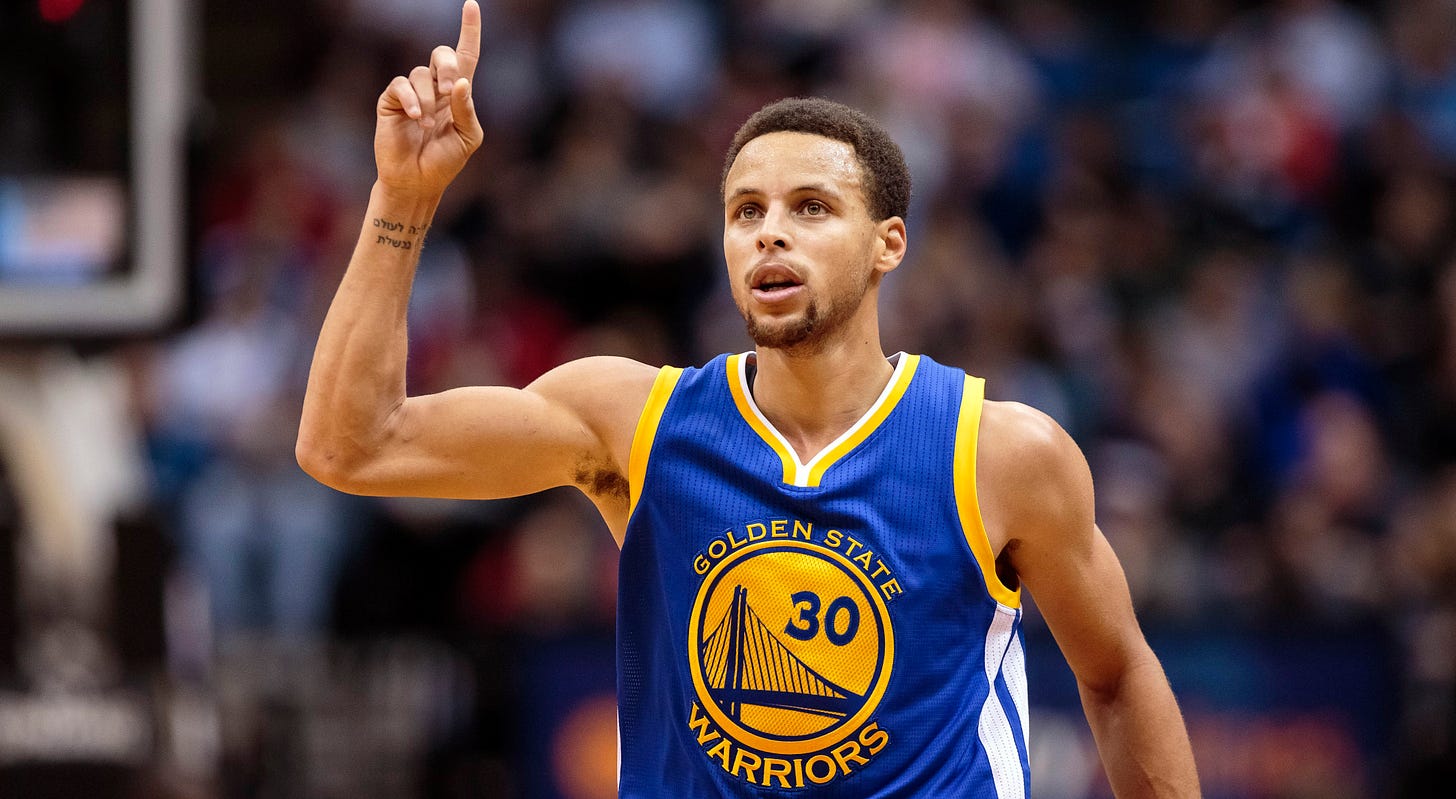 8. Steph Curry
He's been making me happy since his days at Davidson. One of the greatest and rarest gifts an athlete can have, it seems to me, is the ability to not only feel joy when playing but to transmit it, to take us all into his or her world and make us feel what they feel. When I watch Steph Curry make one of those absurd long jumpers -- even when I'm technically rooting against his team -- I involuntarily feel that joy, as if I made the shot.
---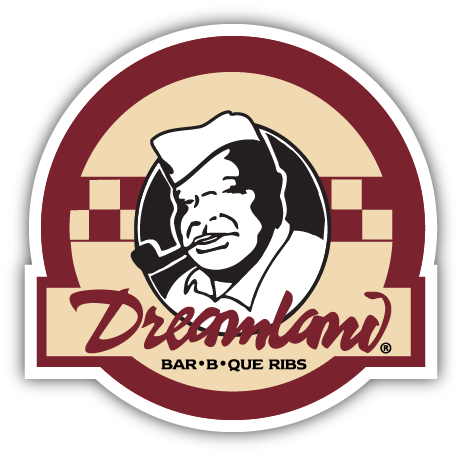 9. Dreamland Bar*B*Que Ribs
The best foodstuff at the best restaurant in the world.
https://www.youtube.com/watch?v=qybUFnY7Y8w
10. OK Go's "This Too Shall Pass" Rube Goldberg video
All OK Go videos are awesome -- the one with the treadmills is another favorite -- but the sheer delight in this impossibly complex video makes me so, so happy.
---
https://www.youtube.com/watch?v=kc2-lw6P2ow
11. Emma Stone's dance to "I Ran" in La La Land
I don't care if it's not cool or anything else, I loved La La Land, and Emma Stone's mock dance at the 1:20 second mark above is one of the most wonderfully gleeful movie scenes ever.
---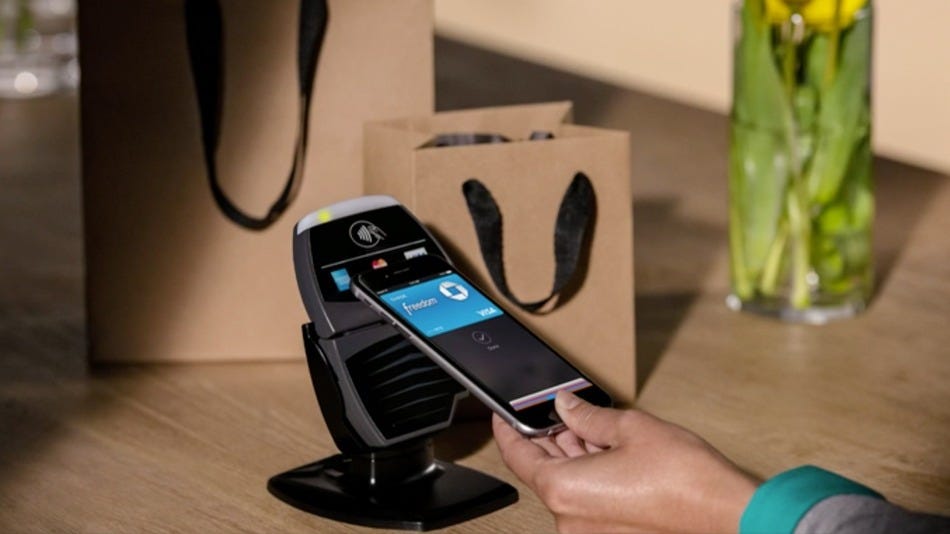 12. Paying with my phone
I don't know if this will ever really become the ubiquitous way to pay for stuff. All I know is every time I actually DO pay for stuff with my phone, the person behind the counter inevitably says, "Wow, that's cool, I've never seen that before." Makes me feel like I've transported from the future.
---
Death Cab for a cutie - I will follow you into the dark from Aditya Bandi on Vimeo.
13. I Will Follow You Into the Dark by Death Cab For Cutie
The song I sing most often with my 15-year-old daughter.
---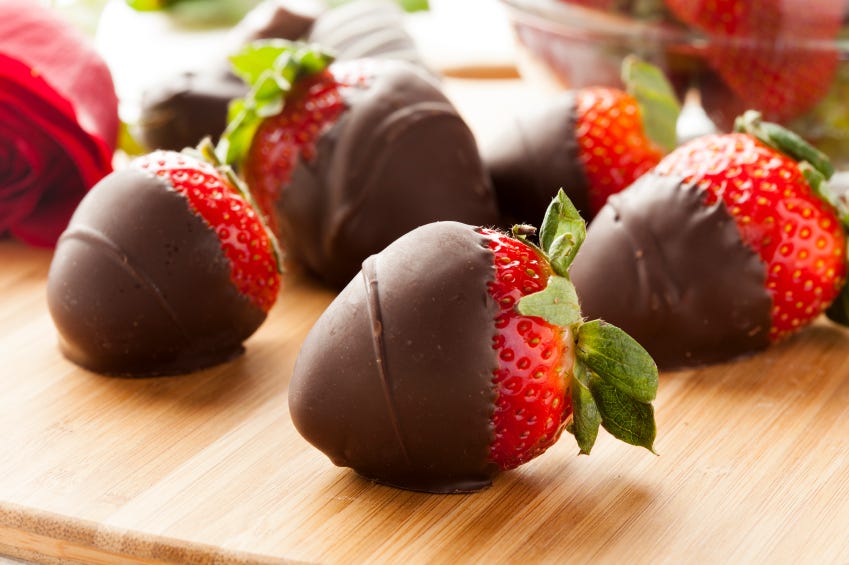 14. Chocolate covered strawberries
Strawberry doesn't need chocolate. Chocolate doesn't need strawberries. Still amazing together.
---
https://twitter.com/IMKristenBell/status/887547989165658115
15. Those Kristen Bell-Dax Shepard commercials
I don't know if those commercials are still on, with Kristen Bell and Dax Shepard having preposterously cute exchanges regarding their new appliances, but I fell for them every time. And based on Twitter it seems like they really are like that. My wife desperately wants to be best friends with Kristen Bell. I think they'd make for good couple friends, a rare thing.
---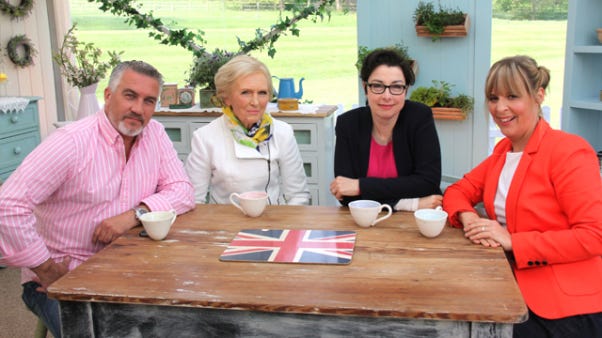 16. The Great British Baking Show
Everything about this show, absolutely everything -- a wise and kind chef with the perfect name Mary Berry, a slightly difficult but with a heart of gold chef with the perfect name Paul Hollywood, two saucy women who crack wise in glorious British accents, the gorgeous tent in the British countryside, the odd camera cutaway to sheep, the constant rain, the collection of bakers who are all wonderful and help each other so that you don't root against any of them -- all of it is entirely perfect. I wish life was the Great British Baking Show.
---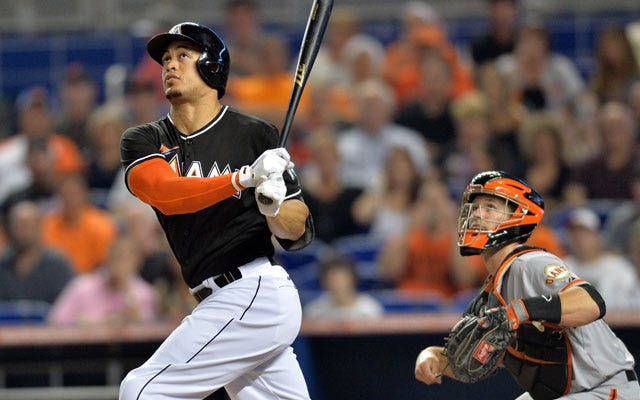 17. Giancarlo Stanton
My 12-year-old daughter's favorite baseball player. Those home runs ...
---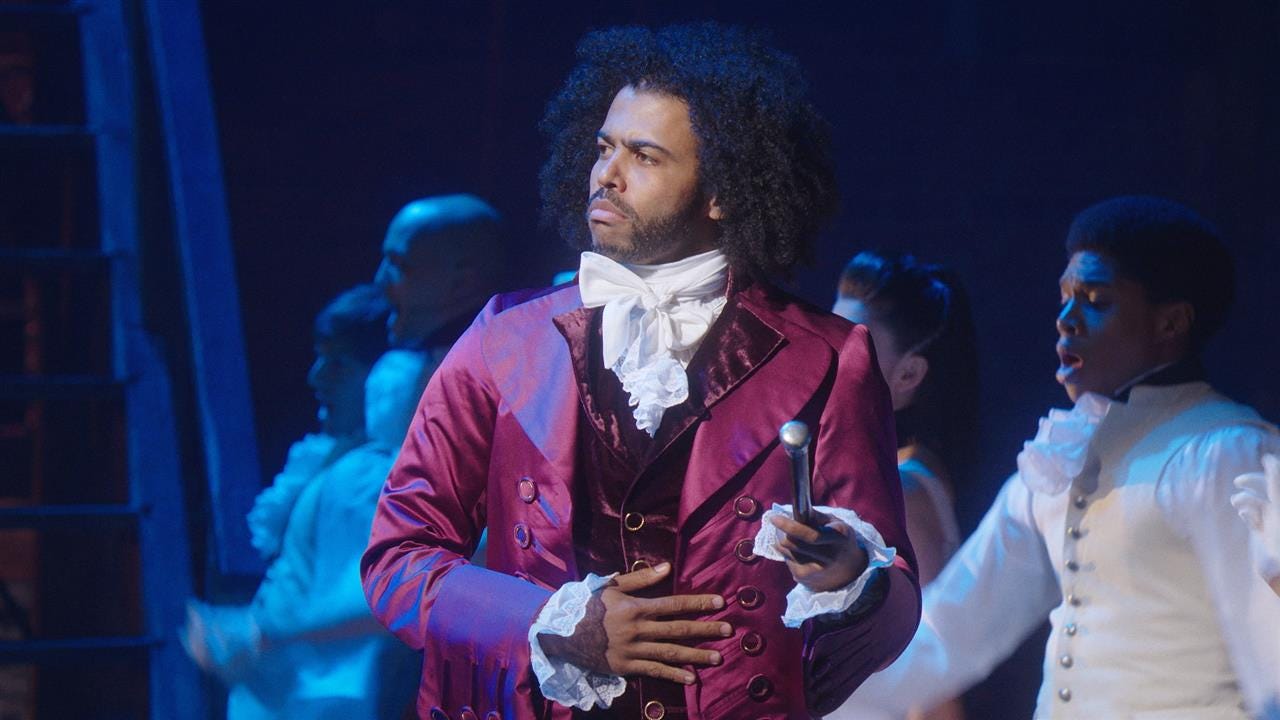 18. Daveed Diggs as Thomas Jefferson in Hamilton
You haven't met him yet, you haven't had the chance
'Cause he's been kickin' ass as the ambassador to France
But someone's gotta keep the American promise
You simply must meet Thomas. Thomas!
---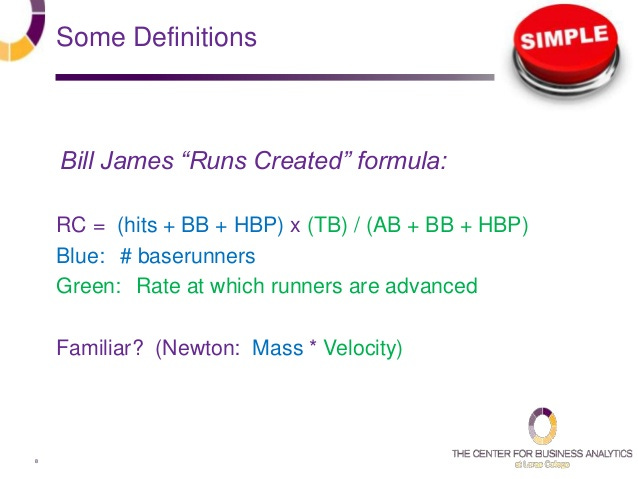 19. The Runs Created Formula by Bill James
Baseball stats in general make me happy, but none makes me happier than this simple but beautiful little formula created by Bill James about 40 years ago.
Take times on base and multiply it by total bases.
Divide it all by plate appearances
And, like that, you have a remarkably accurate picture of just how many runs that hitter created. I don't know enough about science to fully appreciate the genius of E=MC2. But I think I get the same kick out of runs created.
---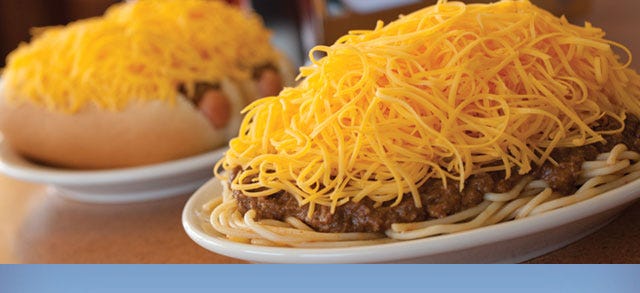 20. A Skyline Chili 3-Way
The best foodstuff at the best restaurant in the world.
---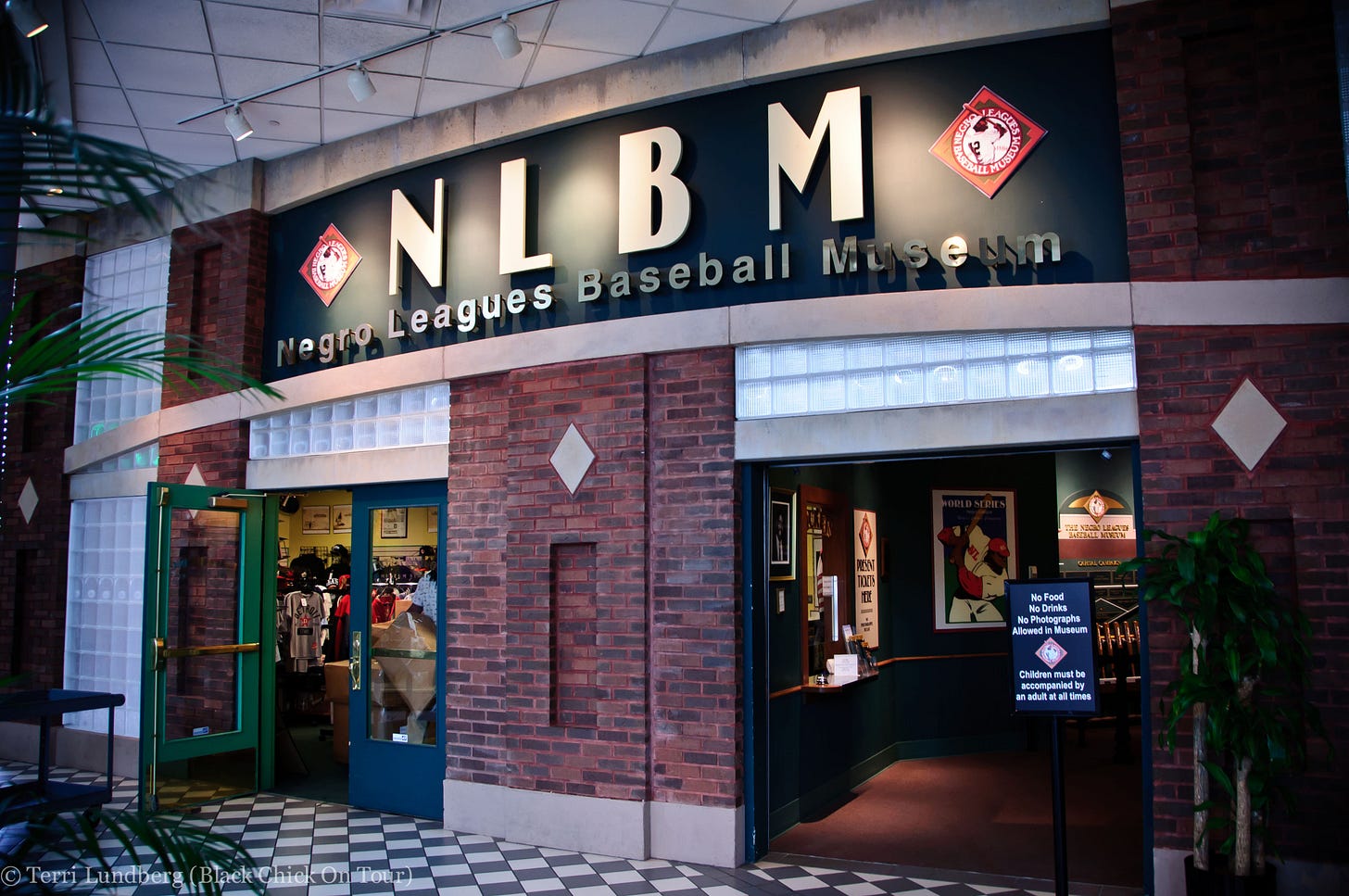 21. The Negro Leagues Baseball Museum
It used to be that you would come to the Museum and there was a good chance that the great Buck O'Neil himself would be there to give you a hug, take you on a tour, make you feel alive. Buck's gone but he isn't -- you can still feel his presence here. The Negro Leagues Museum tells a story that has much sadness in it, but it isn't a sad story. It's the happiest story imaginable, a story of triumph and baseball.
---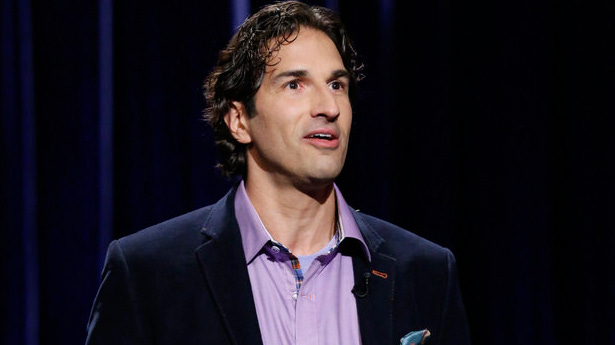 22. Gary Gulman
"I'll recommend a couple (documentaries) right now. Helvetica! Riveting. I've seen it twice, I gave it five stars. I loved it. And now you're thinking, 'Not the font." Yeah the font. 'Wait a minute, is it about fonts?' It's about fonT. Helvetica. 'Hevetica bold?' Oh no, no, they didn't have time to cover the more exotic forms of the typeface."
Genius. Everything he does: Genius.
---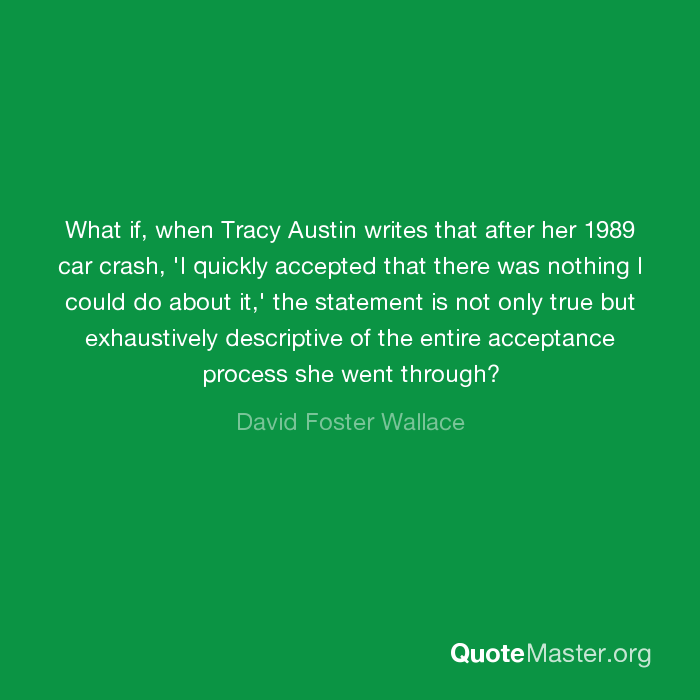 23. David Foster Wallace on tennis
Obviously David Foster Wallace wrote beautifully on everything, but he was especially wonderful on tennis and my favorite DFW tennis essay isn't even the brilliant "Roger Federer as Religious Experience." It is the review he wrote about Tracy Austin's autobiography called "How Tracy Austin Broke My Heart." It is funny and insightful and perfect in more or less every way.
---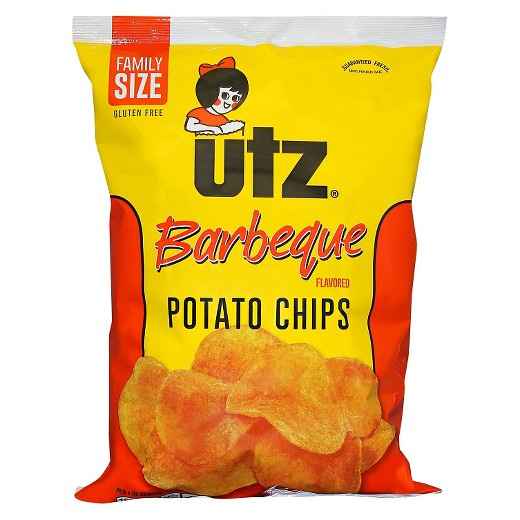 24. Utz Barbecue Potato Chips
Michael Schur makes the fair point that as an avowed Yankee loather, it's not right to eat and love Utz chips since they are a famous Yankee sponsor. But they're so good.
---
https://www.youtube.com/watch?v=1ogD0aIpe9s
https://www.youtube.com/watch?v=1ogD0aIpe9s
25. Lionel Messi
When you are feeling a little bit down, the day has got you, Twitter has you twisted up inside, your boss is being a jerk, just watch this video (or one of about a 1,000 like it on YouTube).
---
https://www.youtube.com/watch?v=puSkP3uym5k
26. Jake Shimabukuro's While My Guitar Gently Weeps
Or this video -- now more than a decade old but still as amazing and wonderful as ever. Sometimes I just go to 2:40 or so when Jake starts going crazy on the ukelele, and that look on his face ... gets me every time.
---
https://www.youtube.com/watch?v=qAXzzHM8zLw
27. This is Spinal Tap
Funniest movie ever made. "I don't think the problem was that the band was done. I think problem may have been that there was a Stonehenge monument on the stage that was in danger of being crushed by a dwarf."
---
https://www.youtube.com/watch?v=nQDUJntMw1Y
28. Card tricks
I love card tricks, they make me so happy. I've worked on a few -- ugh, here's that video I did for The Machine eight years ago -- but I really prefer watching the masters at work, like my friend Joshua Jay.
https://www.youtube.com/watch?v=0ncm7wAMRjM
---
29. Wall-E
A perfect little movie.
---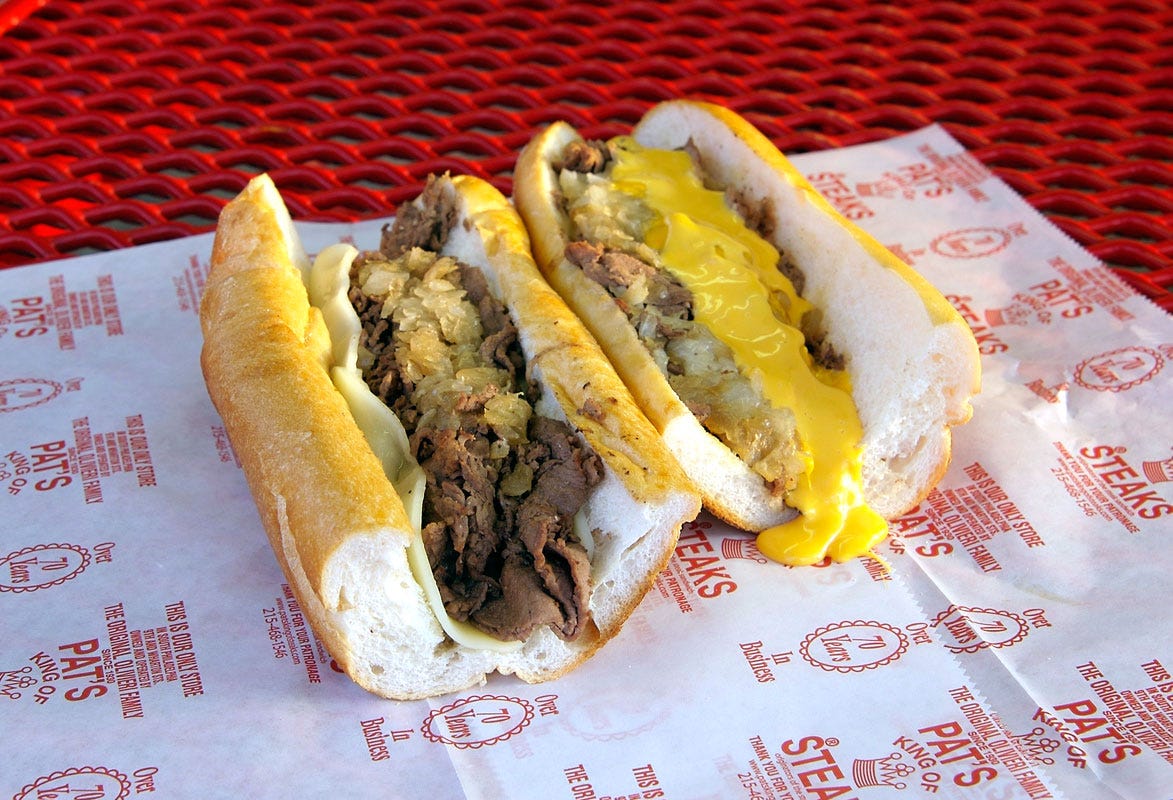 30. Pat's King of Steaks Cheesteaks
The best foodstuff at the best restaurant in the world.
---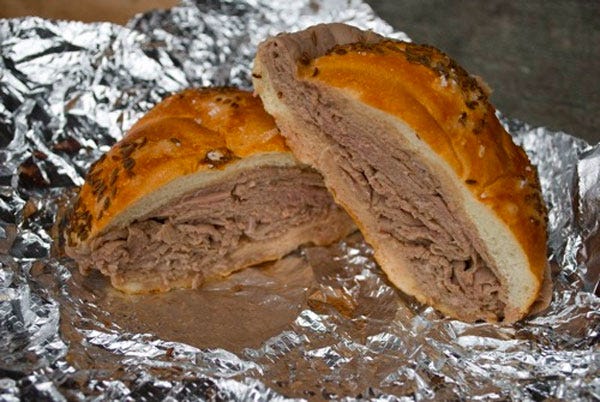 31. Beef on Weck at the Anchor Bar in Buffalo
They're famous for the Buffalo wings, of course, but this is the best foodstuff at the best restaurant in the world.
---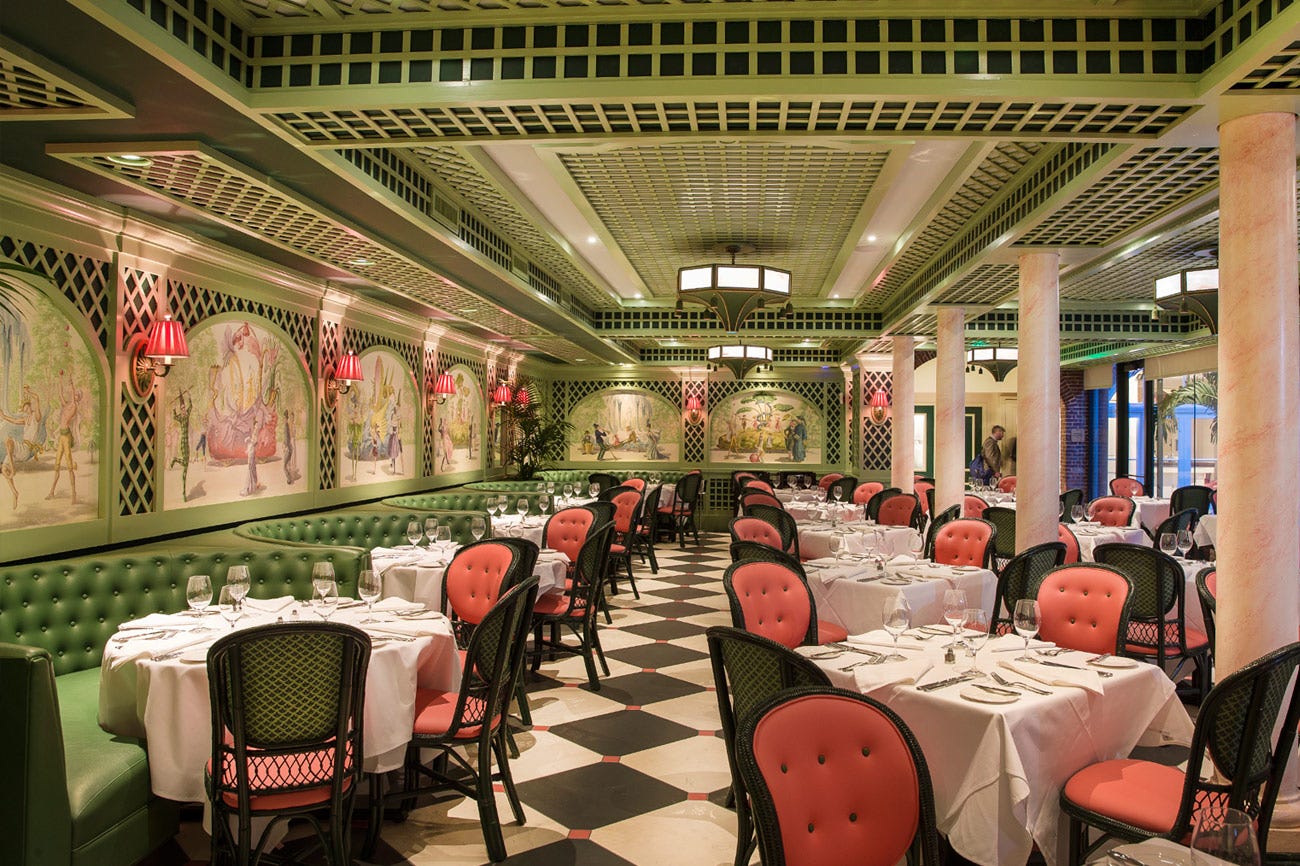 32. Seafood Gumbo at Brennan's in New Orleans
Best foodstuff at the best restaurant in the world
---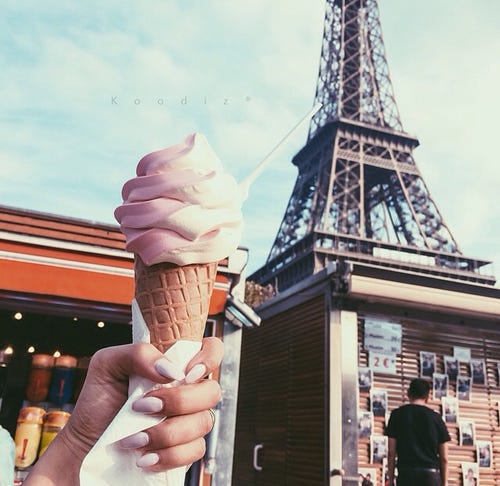 33. Ice Cream cone at Eiffel Tower
I don't care how cliche it is, how touristy it is, how ridiculous it is -- getting a chocolate ice cream cone and walking around Paris is one of the happiest things I've ever done.
---
https://www.youtube.com/watch?v=NQSAr8Y9N3A
34. Bruce Springsteen's Out in the Street
Put on your best dress baby
And Darlin', fix your hair up right
'Cause there's a party, honey
Way down beneath the neon lights
---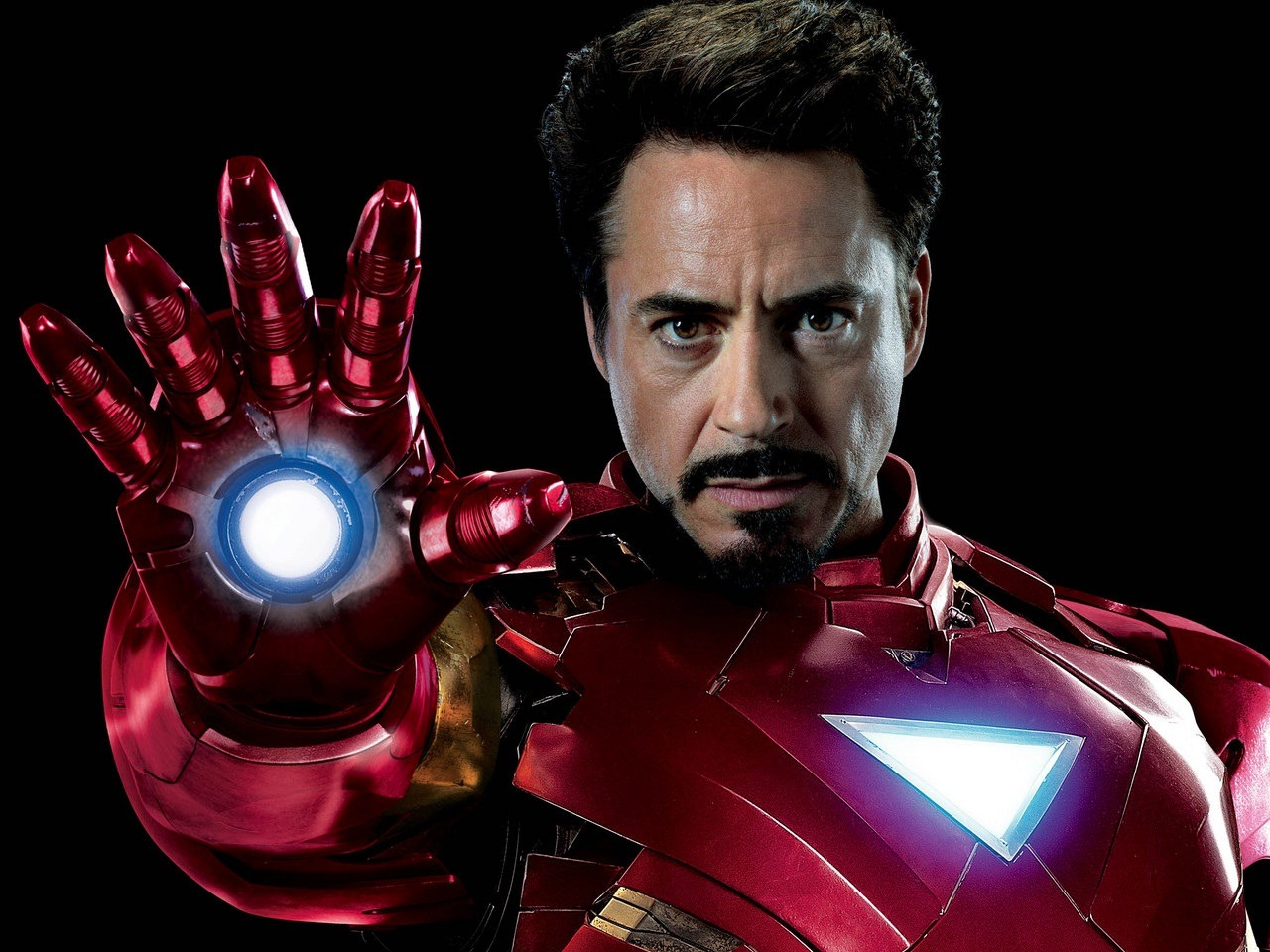 35. Robert Downey Jr. as Iron Man
Different people play Batman, Superman, James Bond and so on, but I never want to see anyone else ever play Iron Man.
---
36. Dave Barry writing about women in sports.
This wonderful paragraph, written in 1985, is one of the inspirations for me to become a writer.
"As far as I can tell, our second basewoman is a pretty good player, better than I am, anyway, but there's no way to know for sure because if the ball gets anywhere near her, a male comes barging in from say, right field, to deal with it. She's been on the team for three seasons now, but the males still don't trust her. They know that if she had to choose between catching a fly ball and saving an infant's life, she would probably elect to save the infant's life, without even considering whether there were men on base."
---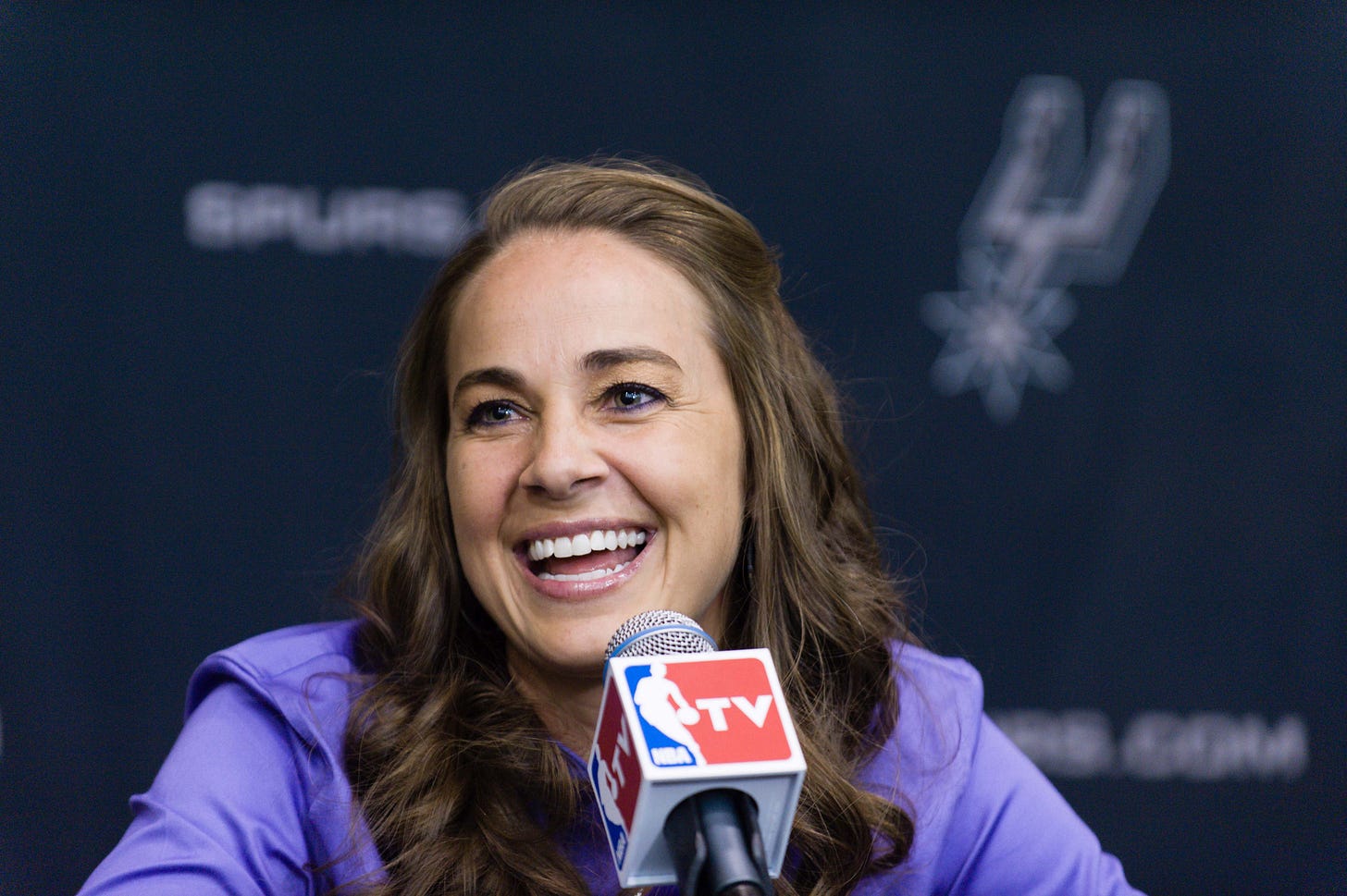 37. Becky Hammon
My daughters ask me all the time, 'When will there be a woman playing in the Major Leagues." I don't know the answer to that. It will happen, I feel sure of it, and it will happen in their lifetime ... and hopefully mine. In the meantime, I root constantly for someone in the NBA to hire Becky Hammon as their coach, not because she's a woman but because she's a smart, funny, tough and accomplished woman who commands respect and will break down walls. Her awesomeness makes me so happy.
---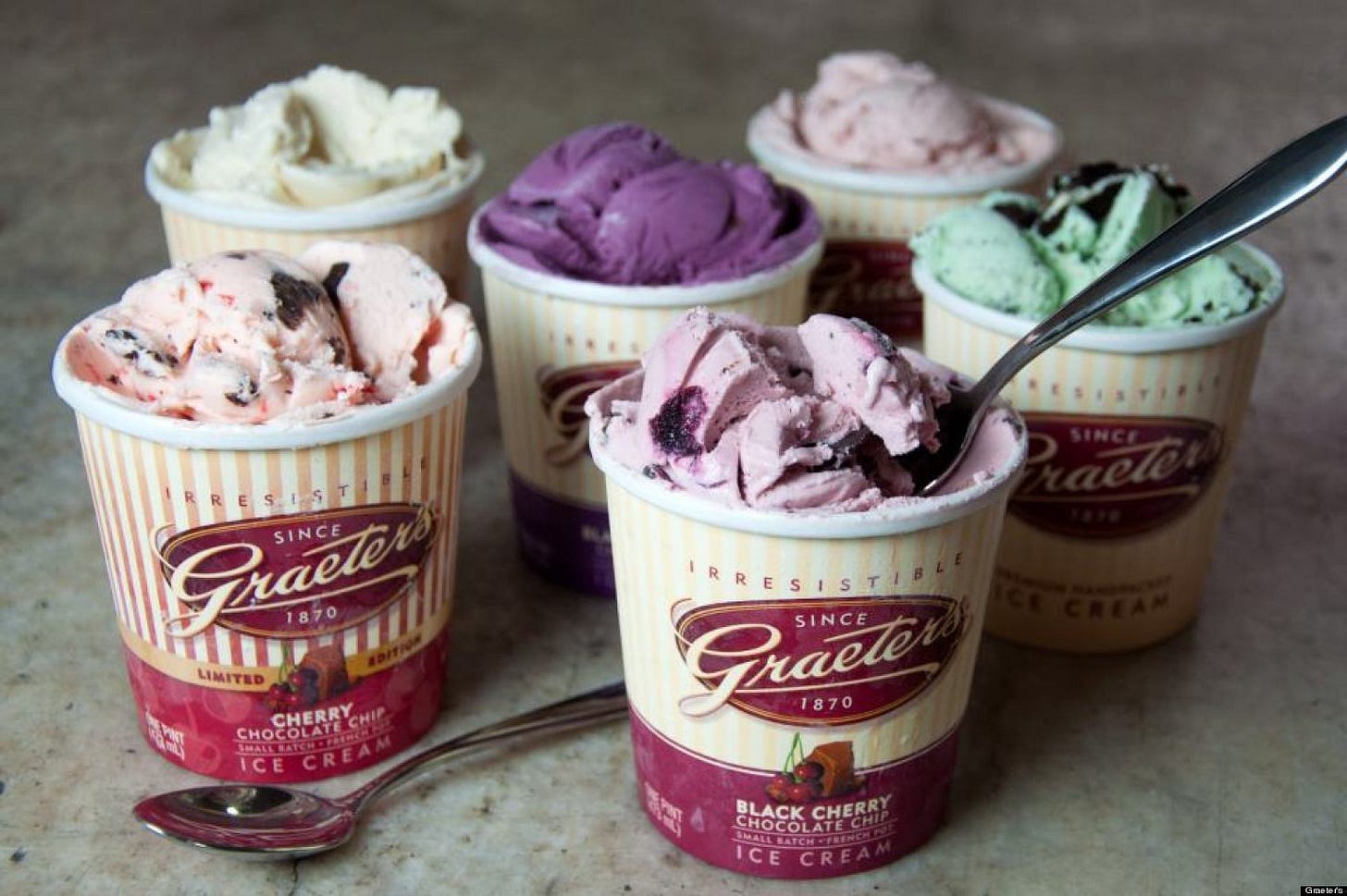 38. Graeter's Raspberry Chocolate Chip Ice Cream.
The best foodstuff wherever you happen to be.
---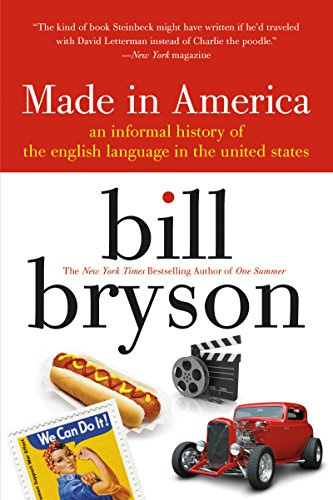 39. Made in America, by Bill Bryson
Every single Bill Bryson book is awesome, but this is my favorite, a little gem that is a story of American English and also the story of America.
---
https://www.youtube.com/watch?v=Bo0RpBGHjwA
40. ELO's Don't Bring Me Down
Is it a great song? I don't know. I do know that it's impossible to listen to it without it bringing your happiness level up five spots. Mr. Blue Sky too, especially when you see Baby Groot dancing to it.
---
https://www.youtube.com/watch?v=N1SNoDYDegI
41. Diner Sinatra vs. Mathis scene
The whole scene is brilliant, but especialy at the end when a flustered Steve Gutenberg tells Mickey Rourke, "You've gone two steps below in my, my, uh, book."
---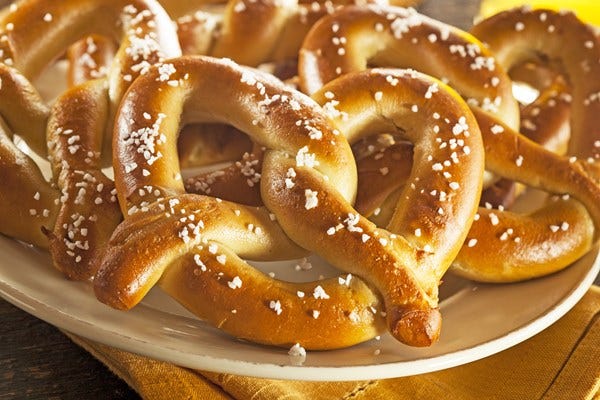 42. Soft Pretzels
Another argument with Mike Schur ... but he's wrong. Soft pretzels are heavenly.
---
https://www.youtube.com/watch?v=muFOeZSIC2U
43. Here Comes the Sun
When my girls were very young, babies really, I used to hold them at night and very quietly, so only they could hear, sing to them "Here Comes the Sun." There is, of course, no way they could remember that, and I have never told them that. The other day, I asked my 12-year-old what here favorite Beatles song is. She said "Here Comes the Sun."
---
https://www.youtube.com/watch?v=GykaB6Fip8U
44. Barry Sanders highlights
I've written before that I don't think Barry Sanders was the greatest running back ever ... that's a technical football argument. From an entertainment standpoint, yeah, no one has ever been more fun to watch.
---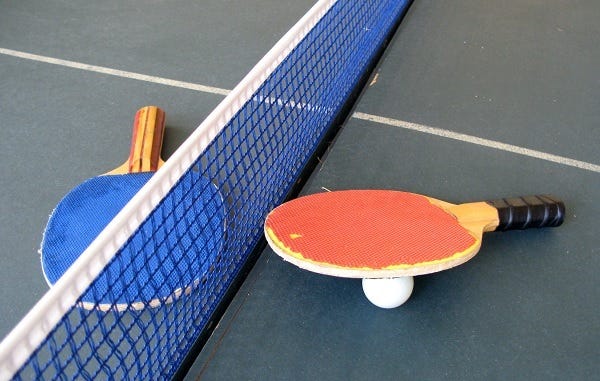 45. Table Tennis
Every time I play table tennis or ping pong or whatever you want to call it, I'm reminded how much I love it.
---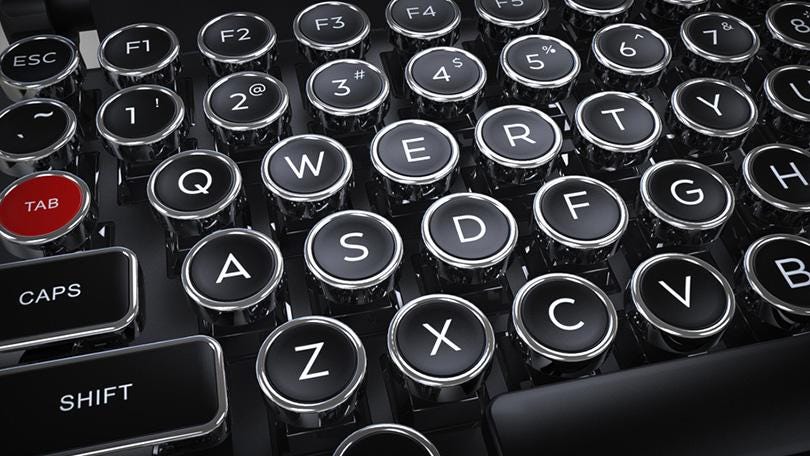 46. Mechanical keyboards
As a writer who types all day, mechanical keyboards just make me so, so happy.
---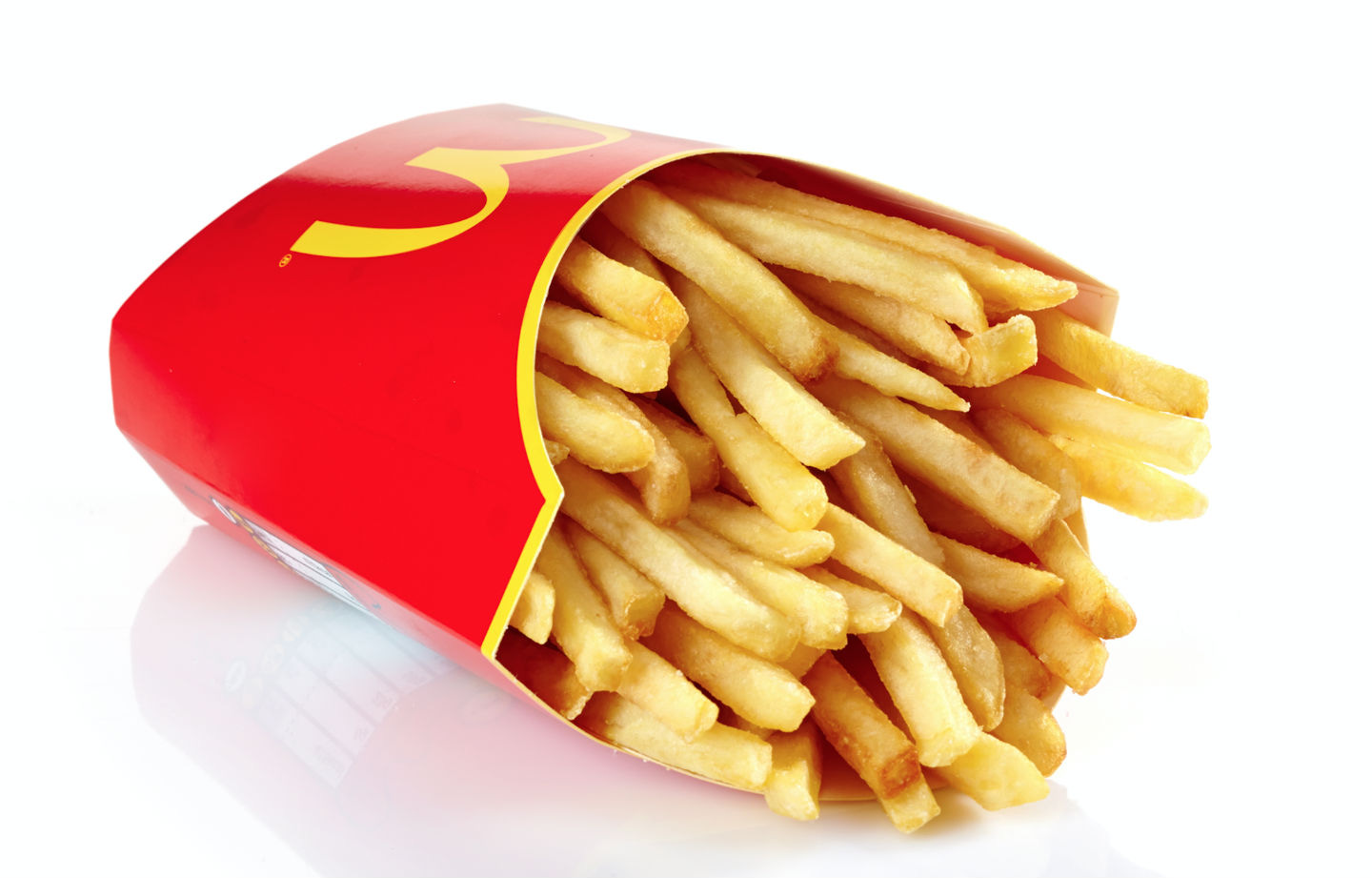 47. McDonald's Fries
Terrible for you, the very essence of junk food, gross if they're left out too long, representative of all this is unholy about food ... and utterly, entirely, competely and wonderfully delicious.
---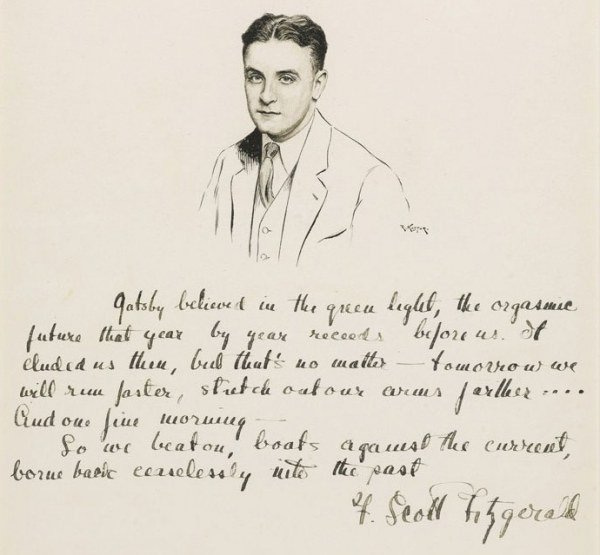 48. The last two paragraphs of The Great Gatsby
I will never reach those heights, none of us will, but this is is the perfection we strive for, and knowing that it is out there, the perfect order of words, gives us hope on those days when the writing is hard.
---
https://www.youtube.com/watch?v=b6pomaq30Gg
49. The moonwalk
It comes at 1:30 of this video, the steps forward and then the perfect mooonwalk. But all moonwalks are perfect.
---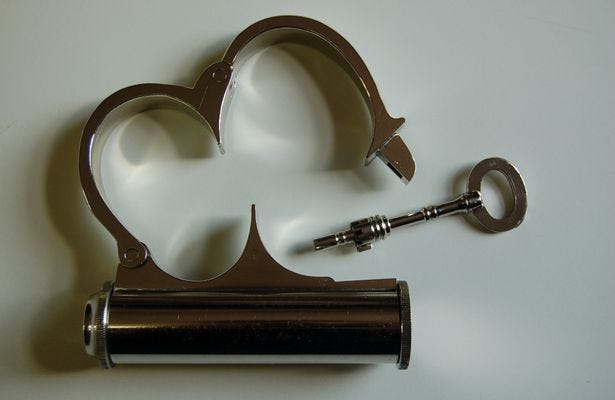 50. The Mirror Cuffs
One day in 1904, Harry Houdini accepted a challenge from the Daily Mirror in England -- they challenged him to escape from a pair of handcuffs that took a locksmith in Blackburn five years to build and design. It is one of the most famous moments in magic, a dramatic duel between Houdini and the impossible cuffs. You will get the whole story in this book I'm writing -- did I mention that I'm writing a book about Houdini? -- but here's the part that makes me happy. It has been 113 years. And while there are countless theories from many of the smartest people in magic, the truth is: Nobody knows for sure how Harry Houdini escaped.