1914: The End of the Intentional Walk (Almost)
The rabbit hole takes us to 1914, a great American sports year. Wrigley Field opened. Babe Ruth pitched in his first game. A baseball prospect who could switch-hit AND switch-throw put the sport aside for a week to play in the U.S. Open golf tournament -- Walter Hagen won that Open to launch one of the most remarkable American sports careers. Heavyweight champion of the world Jack Johnson continued to batter the array of Great White Hopes promoters put in front of him.
It was a good time for sports fans ... and everyone was looking for new ways to make sports even better. Reform was in the air. For instance, when Frenchman Jules Goux became the first man from Europe to win the Indianapolis 500 in 1913 -- this might be the greatest thing I've ever heard, by the way -- he guzzled champagne during every pit stop. Even in those days, this was a bridge too far. Rules were changed. And in 1914 René Thomas won the first dry Indy 500.
Another great one: In the 1913 Army-Navy game -- back then the Army-Navy game was more or less the ONLY football game that mattered -- Army quarterback Vernon Pritchard repeatedly baffled Navy defenders by throwing the ball directly into the ground as they were about to sack him. Three months later, the Football Rules Committee invented the intentional grounding rule: "A team purportedly grounding the ball when forced back in the act of making a forward pass is to be penalized ten yards from where the ball was put in play."
And in baseball? Brilliant reader Aidan Jackson-Evans came across a wonderful find, a short 1914 New York Times story about how umpire Hank O'Day -- recently inducted into the Baseball Hall of Fame -- came up with an idea to end the intentional walk. His idea: Shrink the catcher's box and "make it imperative to remain in the box until the ball is delivered." The idea was that if catchers couldn't stand outside the box, pitchers wouldn't be able to easily throw the ball out there. The writer of the story immediately threw cold water on the idea by saying, "Baseball men doubt if this will be effective, as after the ball is thrown the catcher may jump out and catch it."
This, of course, was exactly what catchers would do back before intentional walks were made automatic. They would stand behind the plate with one arm outstretched, wait until the intentional ball was thrown and then jump out to catch it.
Anyway, the O'Day thing seemed an interesting little tidbit. People were talking about how to get rid of the intentional walk more than 100 years ago ... that's cool, right?
As it turns out, the rabbit hole goes deep.
* * *
Sometimes, you'll hear people talk about a Mount Rushmore for baseball. Everybody knows that Jackie Robinson and Babe Ruth would be on that mountain. Most people would put Branch Rickey up there too; after all, he was not only instrumental in desegregating the game, he also invented the minor leagues as we know them.
And the fourth? You'll sometimes hear that it should be Marvin Miller. Kenesaw Mountain Landis would probably get some votes. There's an argument for managers such as Casey Stengel or John McGraw or Connie Mack. If you were talking players, you certainly could put Henry Aaron up on that mountain or Willie Mays or Ted Williams. Pitchers? Satchel Paige. Bob Gibson. Walter Johnson. Pedro Martinez. You know the names.
But there is an argument to be made for Ban Johnson. His impact on baseball remains overwhelming; it's not clear what baseball would be without him. Ban Johnson lived an unlikely and surprising life. He never played high-level baseball. He wasn't an owner or team president; he had very little money. He wasn't exactly a charismatic figure; only a few people liked him. He was a sportswriter, for crying out loud.
Johnson, though, had a clarity of vision; he understood the future of baseball really before anyone else.
In 1893, when he was sports editor of the Cincinnati Commercial Gazette, he was approached to become the president-secretary-treasurer of the fledgling Western League. You couldn't be more fledgling than the Western League; they had shut down halfway through the 1892 season. He took the job; it turned out that he was born to do it.
Johnson turned the league around by building a whole new brand of baseball. He loathed the style of play in the National League. He thought it was too rowdy, too violent, without honor. He thought the owners treated the players badly. He thought the umpires were treated ruthlessly -- "Kill the umpire," was already a prominent taunt. He decided that Western League play would be the antithesis of the National League. His players would be gentlemen; Ban Johnson practically invented the fine in American sports. Any player who acted in a way that Johnson found detrimental to the game would be hit with one of those Johnson fines. He granted umpires a new sense of power and respect. He discovered some good baseball cities like Kansas City, Detroit and Milwaukee. The Western League began to turn a profit.
Then Johnson made his boldest move -- he waited for the moment when he could take his league into the big time. That moment came in 1900; he saw it more clearly than anyone else. The National League showed signs of serious weakness. Attendance in 1899 had bottomed out. Owners couldn't meet payroll demands. Between 1899 and 1900, the NL eliminated four teams: Baltimore, Cleveland, Louisville and Washington. The league also announced a salary cap of $2,400 for any player -- about $70,000 in today's dollars.
Johnson knew this was the time. For the 1900 season, he changed the league's name to the American League. He took teams out of Columbus and St. Paul and put them instead in Cleveland and Chicago. A year later, he announced that the American League was now a major league, and he put teams in Washington and Baltimore. He told the players that the American League would have no salary cap, and they came over in droves -- Cy Young, Nap Lajoie, John McGraw, Jessee Burkett and more than 100 others over the next couple of years.
And then Johnson's teams scouted America with a buzzing energy. Detroit bought a Georgia firebrand named Ty Cobb. Washington sent an injured catcher to Idaho to see a brilliant pitching prospect named Walter Johnson. The Boston Red Sox signed, then passed on, then bought a failed pitcher with a pretty good bat named Tris Speaker (Speaker pleaded with Giants manager John McGraw to sign him but was rebuffed). Philadelphia's Connie Mack signed a South Carolina factory team player named Joe Jackson. And Major League Baseball, the game we know now, began to take shape. Ban Johnson was as pivotal as anyone in making that happen.
In December of 1913, Johnson was at the height of his powers. He ran his league ruthlessly; nobody questioned that he was in charge. So it shook baseball when he announced that 1914 was the year, once and for all, that he would rid the world of the blight that is baseball's intentional walk.
* * *
"The intentional base on balls," Ban Johnson told the papers, "has come to be one of the most, if not the most, unpopular play in baseball. The great majority of the game's patrons seem to oppose it."
It was a call to arms. Johnson admitted that he did not know exactly HOW to stop the intentional walk. But it had to be stopped. He could not abide teams simply pitching around the game's best hitters in the biggest moment. It was scandalous. The intentional walk, he believed, did not match up with his picture of baseball; it was not gentlemanly, not sportsmanlike, not in the spirit of fair and robust play. In this way, Ban Johnson was a man after my own heart.
The legendary Deacon McGuire -- who played parts of 26 years in the majors and was so admired for his sense of fairness that they called him Deacon -- summed it up nicely:
"The next problem that must be faced and solved is the intentional pass affair," he said. "There is apparently no way in which to force a pitcher to pitch to a man if wants to pass him. It has become so bad nowadays that the managers of the clubs simply tell their men when to pass certain batters, and the pitcher and catcher go through the motions of pitching to him, while the crowds in the grandstand generally howl in derision.
"This is the one problem that the most astute baseball men in the country admit there seems to be no solution for. They also admit that it is a problem that must be solved."
Ban Johnson said he would solve it. And for a couple of weeks at the start of 1914 -- with the world on the brink of World War I -- the intentional walk question was the talk of the American sports world.
The headline in Bridgeport: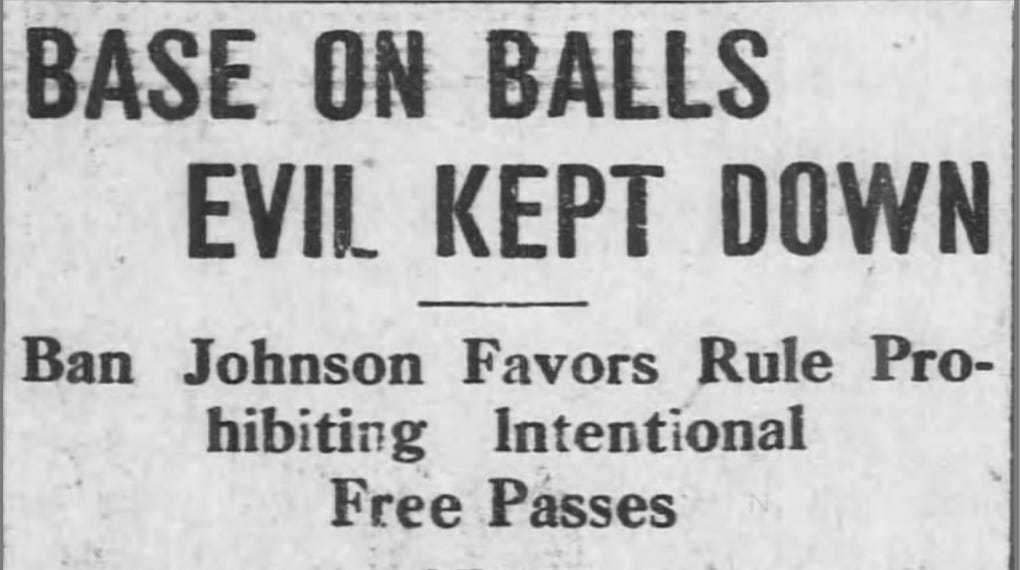 In Buffalo: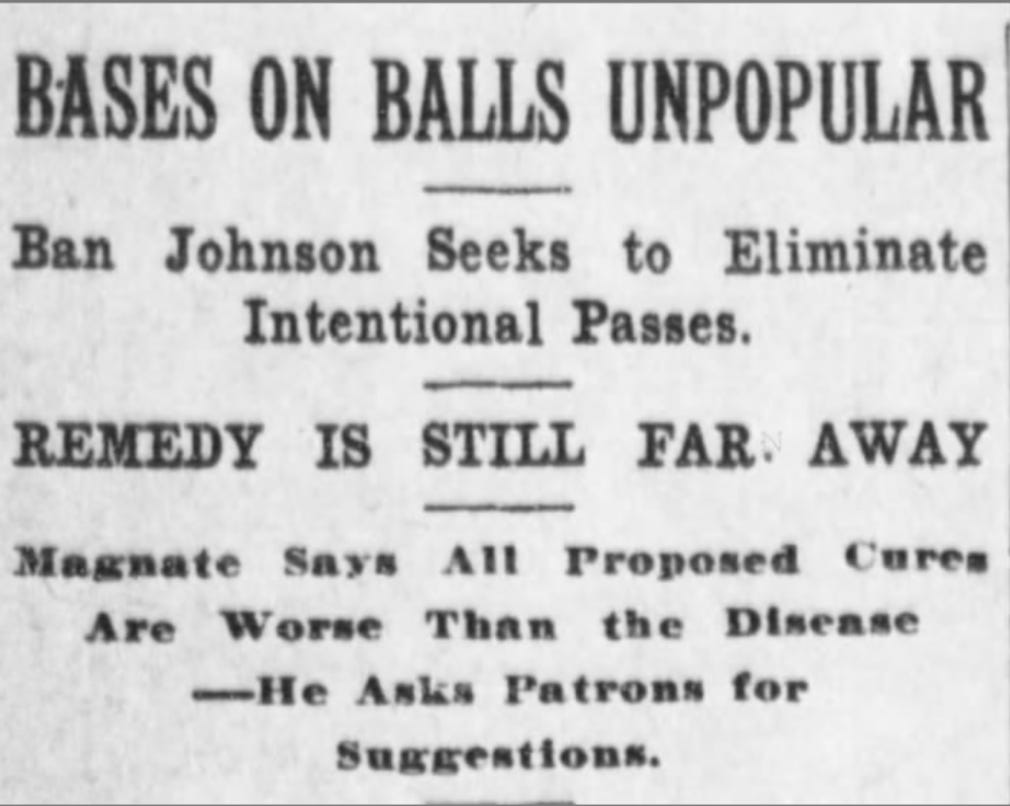 In Philadelphia:

In Washington: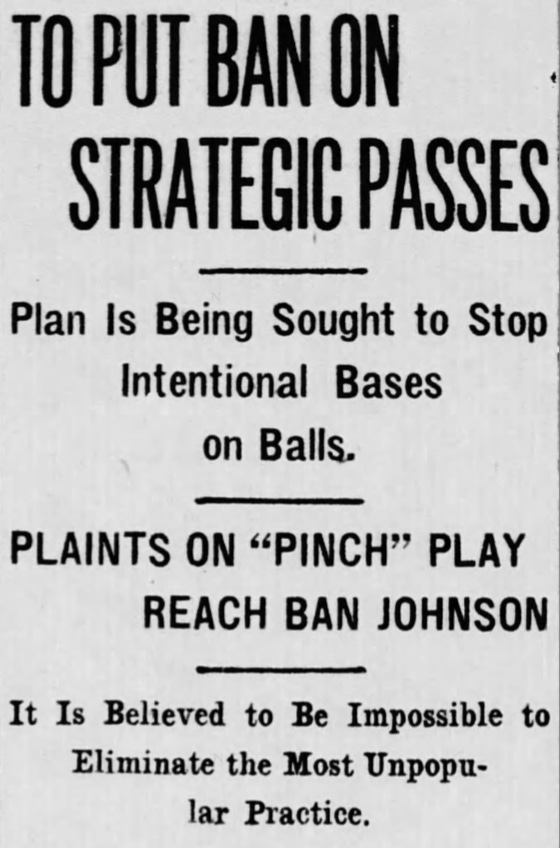 In San Francisco: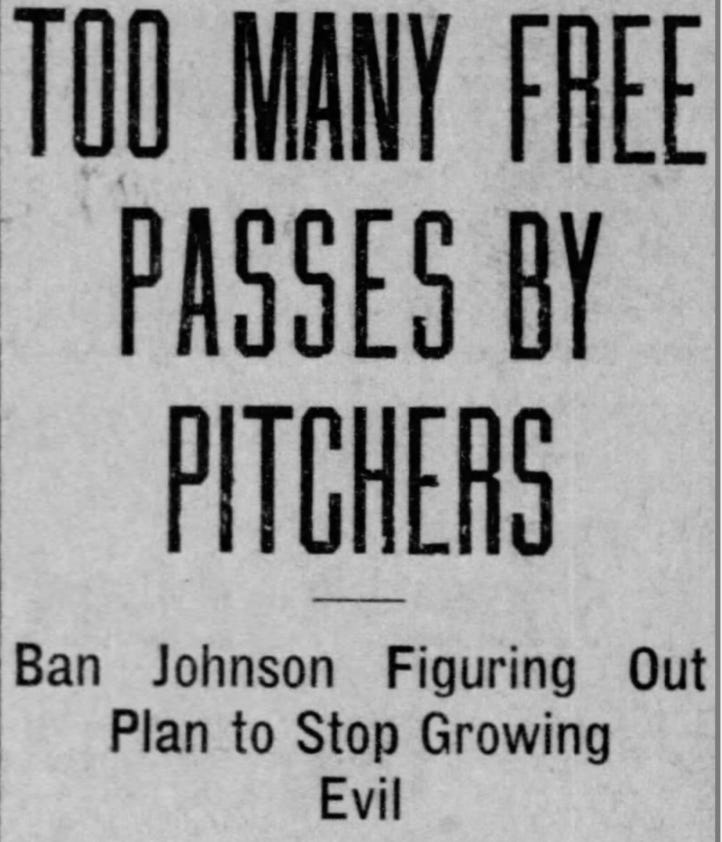 A growing evil! How many times have I said that? Hundreds of letters from baseball fans poured into Ban Johnson's office; everyone had an idea for stopping the intentional pass. I'll get to those solutions in a minute because I was shocked at how similar they are to the solutions that people come up with today.
But before going to those, I should say that even in 1914 Johnson was fighting against the wind. Even though professional baseball was still pretty new -- and the American League was only 13 years old -- many people lobbied for tradition. Christy Mathewson wrote a newspaper piece arguing that the intentional walk was a vibrant part of the game. His sledgehammer reason: The IBB often doesn't work.
"Perhaps the careful follower of baseball has not observed one fact that, in my capacity as a pitcher, I have," he wrote. "That is that when a twirler passes a batter who is rated to be a tough bird in order to get some easier man, the next hitter oftener than not drives one safe."
The Mathewson argument, then, was that the penalty for intentionally walking a hitter -- giving the batter first base -- is commensurate with the offense. He was saying that intentionally walking a hitter in a pinch* is not a way of skirting competition but is instead a strategic gamble that sometimes pays off and often does not. Many people make that same argument today.
*You know, until diving into this rabbit hole it never even occurred to me that "pinch-hitter" refers to sending up a hitter when your team is in a pinch. Baseball is filled with so many words that we say automatically and never think about -- like "pitcher," which goes back to the days when they actually pitched the ball underhand like horseshoes.
Washington manager and owner Clark Griffith also fought back against Ban Johnson -- he used my least favorite argument against sports change, the "It will take away strategy" reasoning.
"Why should the game be robbed of its strategy?" he yelped. "Take strategy out of the game, and we will be going back. I fail to see any objection to walking a good hitter in a pinch. It adds interest to the game."
Let me pause here: "It adds interest to the game." Yeah. He said that about the intentional walk. OK, here's more from Griffith:
"Naturally, the fans in a home town do not want to see their best hitter disposed of in this way when there is a chance for runs, but what are the joys when the succeeding batsman comes up and gets the hit which wins the game?"
Let's just say: I'm unimpressed with this counterargument. Think of the stupidest rule you could imagine. Say this one: "Any baserunner reaching third base must then promptly jump into a potato sack (without the help of the third base coach) and hop home in order to score an official run."* If that was a rule, and you wanted to change it based on the fact that it's impossibly stupid, the argument against changing it would be the Clark Griffith argument, that changing it would rob us of "strategy" (the manager would no longer have to make decisions based on a player in a potato sack) and at the same time rob us of the rare moments when good things happen despite the rule ("what are the joys when a baserunner hops home ahead of a grand throw?").
*This actually would be hilarious.
The Montpelier Morning Journal made its own argument based on what it considered the unachievable task of getting rid of intentional walk: "Ban Johnson, president of the American League, says he is opposed to the intentional giving of a base on balls. It looks as if Ban Johnson must have been misquoted. He may have said that he was opposed to the abuse of the practice, and so is everybody, but as long as pitchers are gifted with brains one might as well rule against the tide as to rule that such brains should not be used in an emergency."
One might as well rule against the tide ...
[caption id="attachment_22949" align="aligncenter" width="316"] Johnson may well have altered the intentional walk rule a century ago, had other issues not emerged.[/caption]
* * *
Meet a Chicago sportswriter named J.P. Sanborn. Someone might know this off the top of their heads, but I think he has to be the renowned journalist and magazine publisher John Sanborn Phillips. He co-founded American Magazine with famed muckrakers Lincoln Steffens and Ida Tarbell; Phillips even wrote a couple of baseball pieces for it.
In any case, Ban Johnson trusted J.P. Sanborn and decided to show him the letters he had received from people about the intentional walk. Sanborn wrote a spectacular column about it in the Chicago Tribune on New Year's Day, 1914. I can't begin to describe how terrific it is -- he breaks down the intentional walk with such a modern pitch, it's hard to believe that more than 100 years have passed.
Sanborn was undoubtedly ghostwriting for Ban Johnson, by the way. He explained the problem with the intentional walk the same way Johnson had publicly: "The real problem is to differentiate between the intentional and unintentional base on balls." He then broke down the proposed solutions into four categories.
Category 1: Try and determine the intention of the pitcher.
A proposed solution: Give umpire the leeway to determine whether the pitcher purposely walked the hitter.
-- Sanborn and others immediately wrote this off as unworkable; Ban Johnson said, "this likely would result in a lot of wrangling if the umpire was made to penalize what he thought was an intentional pass because the pitchers would protest that they were trying to put the ball over."
A proposed solution: Punish four-pitch walks by making them worth two bases or by moving the base runners up a base even if not forced.
-- Sanborn (and Ban Johnson) was intrigued by this idea. But they came down believing it wouldn't work because four-pitch walks are not always intentional walks.
"This [four-pitch walk] happens sometimes when the weakest batsman is facing a good pitcher," Sanborn wrote.
A proposed solution: Make it so that pitchers are barred from intentionally walking good hitters.
-- I love this solution, not because I think it would work -- it really wouldn't -- but because it's so complicated and stat-heavy. The person wrote in suggesting that "no batsman whose average is over .300 be allowed to take a base on balls." Sanborn and Johnson must have been at least intrigued with this idea because instead of knocking the merits, Sanborn wrote that it was not practical.
"This would necessitate figuring out the official batting averages every night," Sanborn wrote, "and supplying it to the umpire staff with a list of all the .300 hitters in advance of each game since batting averages vary consistently."
Category 2: Give the batting team and batter a way to counter the intentional walk.
A proposed solution: Give batters the choice of accepting a pass or remaining at bat.
-- This is also Bill James idea. Bill never said he was the first person to come up with, it but I had never heard it from anyone else. It turns out that people were suggesting it in 1914. Sanborn doesn't bother to counter it in the story; I guess Ban Johnson never took the idea seriously which is too bad because there's something here.
A proposed solution: Allow a batter to send in a sub-runner when intentionally walked.
-- Now, here's something interesting. What if a player who was intentionally walked was given the option to send a pinch-runner to first and take another at-bat? That would end intentional walks tomorrow. Sanborn's problem with this goes back to the original problem -- how do you know if the walk was intentional?
Category 3: Treat all walks the same
A proposed solution: Make all walks two bases.
A proposed solution: Eliminate all walks.
-- From Sanborn: "The trouble with all the suggestions is that bases on balls are an unfavorable feature of the game, and the unintentional passes outnumber the intentional about 100 to 1 in a season. The remedies for the intentional pass are almost certain to put as severe a handicap on the pitcher who issues unintentionally passes that the remedy would do more harm than the original disease.
"Vean Gregg, for example, issued 121 passes last season. That was nearly one base on balls every two innings he pitched, while he probably did not give half a dozen intentional passes during the year. To apply any penalty to all the passes he gave beyond the batsman to first base probably would put Gregg out of business."
Sanborn was quite concerned about Vean Gregg, a lefty pitcher from Clarkston, Wash., who had been one of the best pitchers in the American League the previous three seasons despite his control issues. Gregg quickly faded even without the walk rule being changed.
Category 4: Change the structure of the game to make intentional walks harder.
This is where Hank O'Day's proposed solution comes in -- the idea of putting the catcher into a box that he cannot leave until after the pitch is thrown. Sanborn credited the idea to a "Washington newspaperman;" it was only later that O'Day insisted that he came up with it first.
Shortly after Sanborn's story, Johnson announced that this was his choice too. He would change the rule so that catchers had to stay behind home plate until the pitcher had thrown the ball.
In the end, the rule was not changed. Instead, our rabbit hole has one more weird turn.
* * *
Have you ever heard of the expression "Cincinnati hit?" I'm embarrassed to say that I had not. I'm embarrassed to say that because in 1914, at just about the same time that this whole intentional walk thing was blowing up, there was an outcry about the Cincinnati hit. And here's the craziest part: The Cincinnati hit was so well understood in 1914 that the articles didn't even explain what it was. I had to open up, no exaggeration, 25 different Cincinnati hit articles before even figuring out what they were talking about.
The Cincinnati hit is this: A batter hits or bunts a ball and would very clearly be thrown out at first base. The fielder instead tries and fails to get the lead runner. In 1913, the batter was awarded a hit for that -- the Cincinnati hit. It makes sense. No out was recorded. The batter reached base. That's a hit, right?
Um, no. The Baseball Writers Association was outraged at the very idea of the Cincinnati hit -- imagine giving a player a hit when he would have so clearly been thrown out. The BBWAA could not imagine a bigger injustice. Something had to be done about it. The intentional walk could wait. The Cincinnati hit had to be dealt with immediately.
And so, by a vote of 35-26, the BBWAA determined in 1914 that a batter will be credited (debited?) with a fielder' choice and an out on such plays, even if no out was recorded. And it remains that nonsensical way to this day.
Meanwhile, the intentional walk talk was tabled. It never even came up. And, at the same time, Ban Johnson lost interest. That year, 1914, the Federal League announced itself as a major league, which forced Johnson to deal with a rival trying to undercut him the way he had once undercut the National League. There were also big problems with his most important team , his New York team, which had only just become known as the Yankees. The Yankees were poorly run, and they had serious ownership problems and this could not stand. Johnson desperately needed his New York team to be successful. He co-authored the firing of manager Frank Chance and personally negotiated the deal to sell the team to the brewer and former congressman Jacob Ruppert. The Yankees did OK after that.
And intentional walks no longer mattered to Band Johnson.
Looking back on this moment, I think it's sad that Johnson couldn't find a way to find a viable intentional walk solution. I still believe the way exists -- I wonder if managers could be given one "protected batter" chip they could play during a game. If the batter is granted protected status, there would be an extra punishment to walk him. I like the idea that if you intentionally or unintentionally walk a protected hitter, the hitter would be allowed to stay at the plate and a pinch-runner would instead take first base. I think something like that could work.
But, you probably don't. Realistically, people's appetite for change in baseball seems extremely limited. There are always countless reasons why baseball shouldn't change a thing; it's such a great game with such a great history, and any change feels to many like a break from the past. People still gripe about the designated hitter, and that has been an American League rule since the Nixon administration.
Yeah, 1914 was the time for bold action. Ban Johnson was the right man to get it done. But the moment passed, the opportunity missed. And all these years later, the only thing left to do is complain about the intentional walk day after day until everybody is sick of hearing it.